Is China's growth really slowing? Does it matter? I think it all depends on where you're looking.
Every year, China's GDP growth numbers are released and they get lots of attention. Is it accurate? Is China's growth slowing? How much? Does it matter?
My answer is that certainly some China industries are slowing, such as smartphones, construction materials and basic automotive. However, others, such as entertainment and the Internet, are growing really fast. You have to go industry by industry – or even smaller.
I keep an eye out for companies that are actually accelerating in China, relative to their past performance. So what companies are gunning the engine this year? Below are 6 companies that have accelerating in China.
1. Adidas AG
The German sportswear company has +10,000 China stores. And it is their fastest growing market, with +30% sales growth in 2016. This trend is continuing with a reported +28% growth in the first quarter of 2017.
Adidas has also announced plans to open 2,000 more China stores within the next five(?) years. They also plan to double the number of China cities in which they operate.
That's a pretty impressive acceleration for an already big number. Adidas China head Colin Currie described their China business as "healthy and sustainable" (pretty understated I think) and he cited continued "sports participation growth" as part of the reason for their expansion.
2. McDonalds
McDonalds China has announced plans to add 2,000 China restaurants, bringing their total to 4,500 in five years. However, even at 4,500 outlets, China will still be only 6-8% of their stores globally. And they will still be way behind KFC in China. So there is a lot more runway for them.
Note: it took McDonalds about 20 years to reach 1,000 stores in China (1990-2010). But they then doubled to 2,220 stores in just a few years. So the planned increase to 4,500 is really a continuation of this current acceleration. And all of this is part of a larger planned expansion into Asia, where they have plans to open 1,500 stores total by 2020.
3. Starbucks
CEO Schulz said Starbucks will open 500 stores a year in China for the next five years. That will take Starbucks from about 2,000 to +5,000 China outlets. That number sounds big. But it's actually not for China.
Starbucks is unique on this acceleration list in that they are the only one without a major China competitor. There is no local China giant flooding local money into opening coffee outlets. That is tremendous good luck or something. They have also said China is one of, if not their most, profitable markets. So they should put the pedal to the floor and grab as many markets as they can while this unusual situation lasts.
4. H&M
H&M has a great China story. In fact, fast fashion in China generally seems pretty fantastic across the board. In 2015, H&M opened 86 China stores, out of 413 new stores globally. So like Zara, China is over 20% of their global growth annually (in stores, not sales).
Assuming a similar plan going forward, we can probably expect another 80-90 stores and +20% China growth annually. It's pretty impressive.
5. Apple and Xiaomi retail stores
Back in January 2015, Apple announced plans to increase from 15 to 40 China stores within two years. They hit 33 stores in January 2016 and 40 stores in July 2016. So even with slowing smartphone sales in China, Apple is continuing to expand their retail footprint fairly significantly.
This picture is a little complicated, as so much of their business depends on the popularity of their latest iPhone. Plus their marketshare has been declining. But China remains the only country besides the USA where Apple has more than 40 retail stores.
A similar story an be seen with competitor Xiaomi, which is currently opening fantastic stores around China. They are full of lots of smart devices (scooters, air purifiers, phones, tablets, etc.) and it is my favorite new place to go on a Saturday.
But really, this is just a much more complicated business than the other examples.
6. Pagoda Garden
This is one of my favorite new China businesses to follow. They have colorful outlets that offer fresh and unique fruits to rising Chinese consumers. They bring in cherry plums, avacados, durians and all sorts of other interesting products from around the world.
And they have been expanding faster than any other company on this list. They have jumped to +2,500 in just a few years and have announced plans to get to 10,000 in a couple years. They are worth paying close attention to.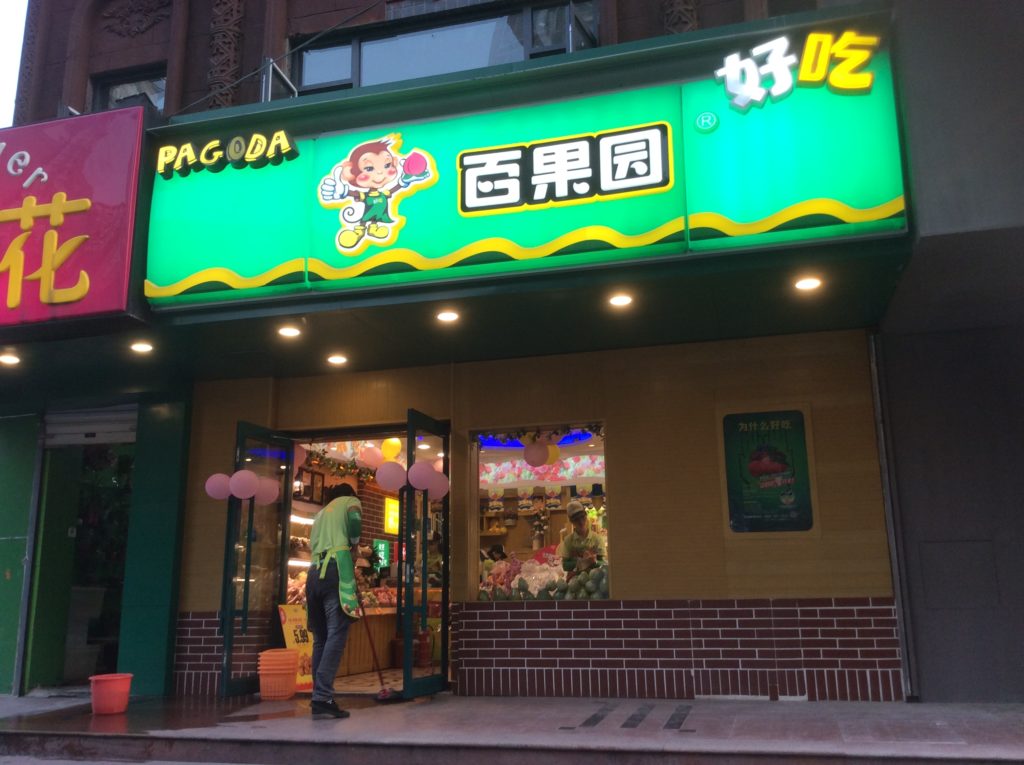 And finally, Taco Bell has come back after 13 years
Yum! Brands has re-opened Taco Bell in China. This is about 10 years after they closed their last China outlet on their first attempt. Ok. This isn't an acceleration story but I really like Taco Bell and have waiting for them to come back for a long time. I did a visit to the Shanghai Pudong outlet and wrote it (here). So they made my list. Now if we can just get Krispy Kreme to come back and give China another try?
Thanks for reading. -jeff
—-
I write and speak about "how rising Chinese consumers are disrupting global markets – with a special focus on digital China".
Photo by pedram ahmadi on Unsplash