In Part 1, I wrote about hypermarkets as business models. It is one of the few retail business models I kinda like.
But it is the combination of Sun Art's hypermarkets and the Alibaba ecosystem that is really interesting. That combination puts it at the frontier of new retail. And it makes it almost entirely unique. Think of the capabilities that are in place with that combination.
An e-commerce site and a widely used mobile app.
National logistics infrastructure.
On-demand delivery in every neighborhood.
Local retail locations in every neighborhood.
Now imagine:
You are a traditional supermarket or hypermarket in China. Could you replicate Alibaba plus Sun Art?
You are a convenience store and Alibaba plus Sun Art has just announced their new mini store format. How big of a problem is that? Can you replicate what they are offering?
You are a Chinese ecommerce player (say Pinduoduo). You don't have Alibaba + Sun Art's 483 hypermarkets, which were built over 20 years. What should you do? Note: JD / Tencent has partnered with Walmart China. Carrefour China was purchased by Suning.
But I think the really interesting question is:
What Are Alibaba's Intentions with Sun Art Retail? How Big Could it Grow in the Alibaba Ecosystem?
Does Alibaba view Sun Art as a growth engine and/or profit center? This is how they view Taobao, Tmall and probably Alibaba Cloud.
Is it viewed more like infrastructure? This is how they view Cainiao.
Is it a complement? Like Tudou and the media assets.
Is their intention to consolidate China's very fragmented grocery market? Note: the top 5 supermarket companies command under 5% of the market.
Will it be used a starting point to transform and consolidate convenience stores, mom-and-pop shops and other retail?
Online grocery sales in China have been growing at +30% per year. But Sun Art has been flat with revenue for 4-5 years. Is Sun Art going to start growing at 30% per year now? Or will it remain flat? 
I think it depends on Alibaba's intentions. So let me go into that a bit.
Hypermarkets and Supermarkets Are the Center of Alibaba's New Retail Strategy
Alibaba announced their new retail plans in 2017. And they rapidly launched their Hema / Freshippo supermarkets and did their initial investment in Sun Art. They also invested in Intime Department stores around this time. And they did some initiatives in mom-and-pop stores and convenience stores.
I have argued that new retail is really about online-merge-offline (OMO). We are seeing a radical transformation of the consumer experience where the digital and physical assets are combined into one seamless, data-driven experience. It is about merging the online and offline assets and then experimenting and innovating. And retail is just the first sector to do this. We are already seeing a surge in the new digital tools and use cases in new retail. And in new business models.
Years ago, I asked Alibaba President Michael Evans what new retail business model he was the most excited about. He said it was supermarkets. Because there are so many dimensions to the consumer experience. And there are so many opportunities to innovate.
Here is Michael Evans a few years ago. The below picture is him with CEO Daniel Zhang and CMO Chris Tung, right at the end of Singles' Day.
Ok. that's all fun theory.
But another way to look at new retail is this is ecommerce finally taking on the grocery sector.
E-commerce has systematically gone after retail sector by sector. It started with books and moved into consumer electronics. To appliances. To fashion (sort of). But there have always been problems with groceries. Supermarkets have small margins, perishable goods, fewer SKUs, lots of different items per order and frequent purchases with immediate delivery. E-commerce companies have pretty much avoided the grocery sector for twenty years.
It turns out adding physical retail stores to ecommerce and logistics operations solves these problems. Take a look at the below McKinsey chart on what consumers want from supermarkets (online vs. offline).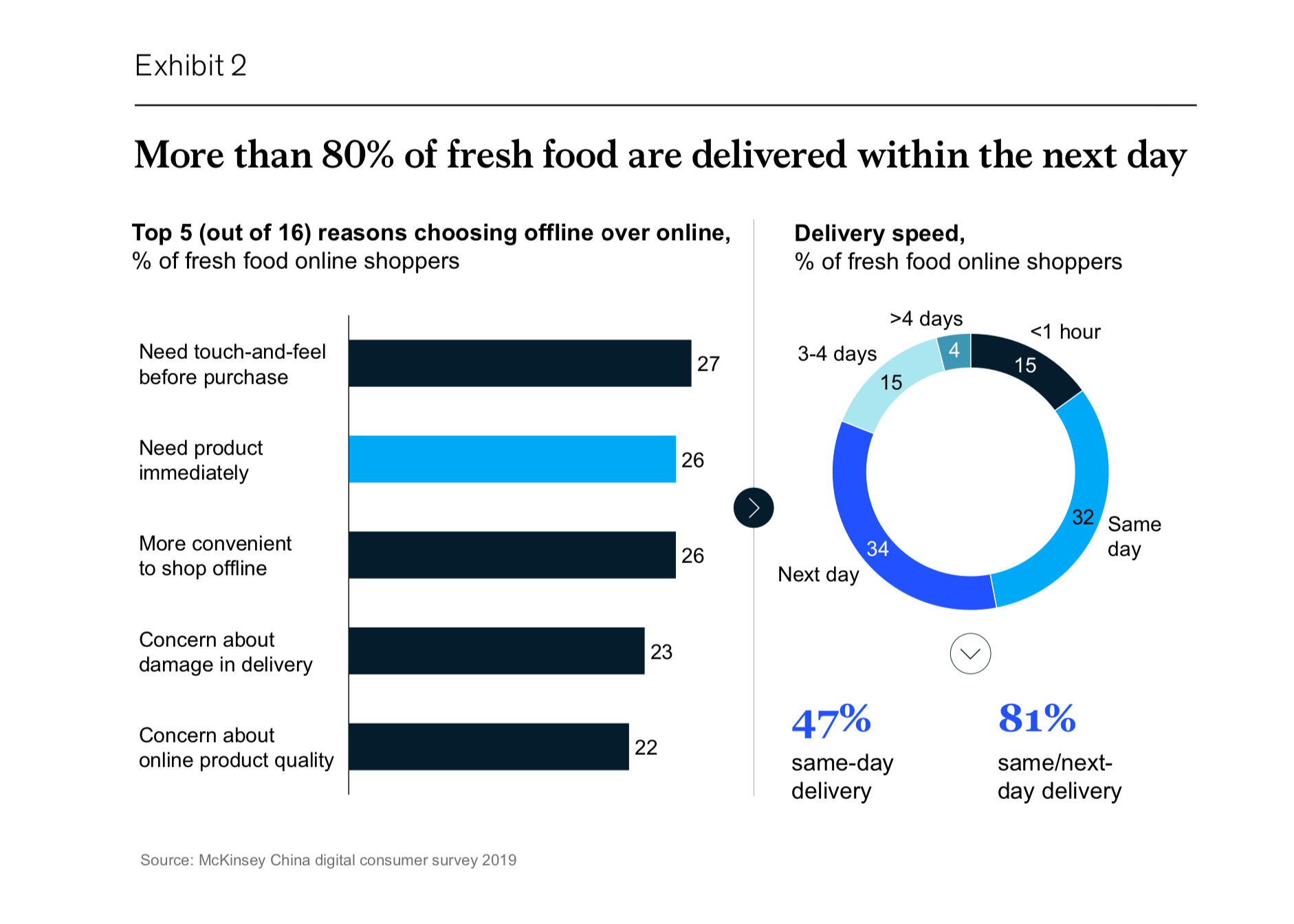 New retail was a good solution.
It took advantage of the fact that consumers are used to going to local supermarkets frequently. The behavior was already in place.
It shifted some inventory out of centralized warehouses and into local stores. This decreases delivery times. And it solves the perishability problem. It also somewhat changed ecommerce from a hub-and-spoke logistics model.
It created a location to layer on services.
It is the natural location for in-person OMO engagement with consumers.
But…
It required Alibaba to create a footprint of physical stores. They had to have a physical presence within 2-3km of every Chinese consumer's home. It was a big addition to their physical infrastructure of a software company. It likely means +800(?) stores across China. Alibaba has since opened +200 Hema supermarkets. And the acquisition of Sun Art got them +483 hypermarkets.
And I put this into my blue diamond charts this way:
Think about new retail as bringing on an entirely new (and huge) user group. Physical merchants and retailers.
It also adds a lot to the supply-side assets.
***
Today, Alibaba + Sun Art is focused on:
Achieving a national footprint of physical retail locations.
Integrating with ecommerce.
Upgrading increasingly intelligent logistics.
Adding localized services.
Experimenting with use cases, store formats and business models.
Could This Be a Land-and-Expand Strategy in Groceries, Daily Necessities and FMCG?
Take a look at the growth of groceries and daily necessities during Covid.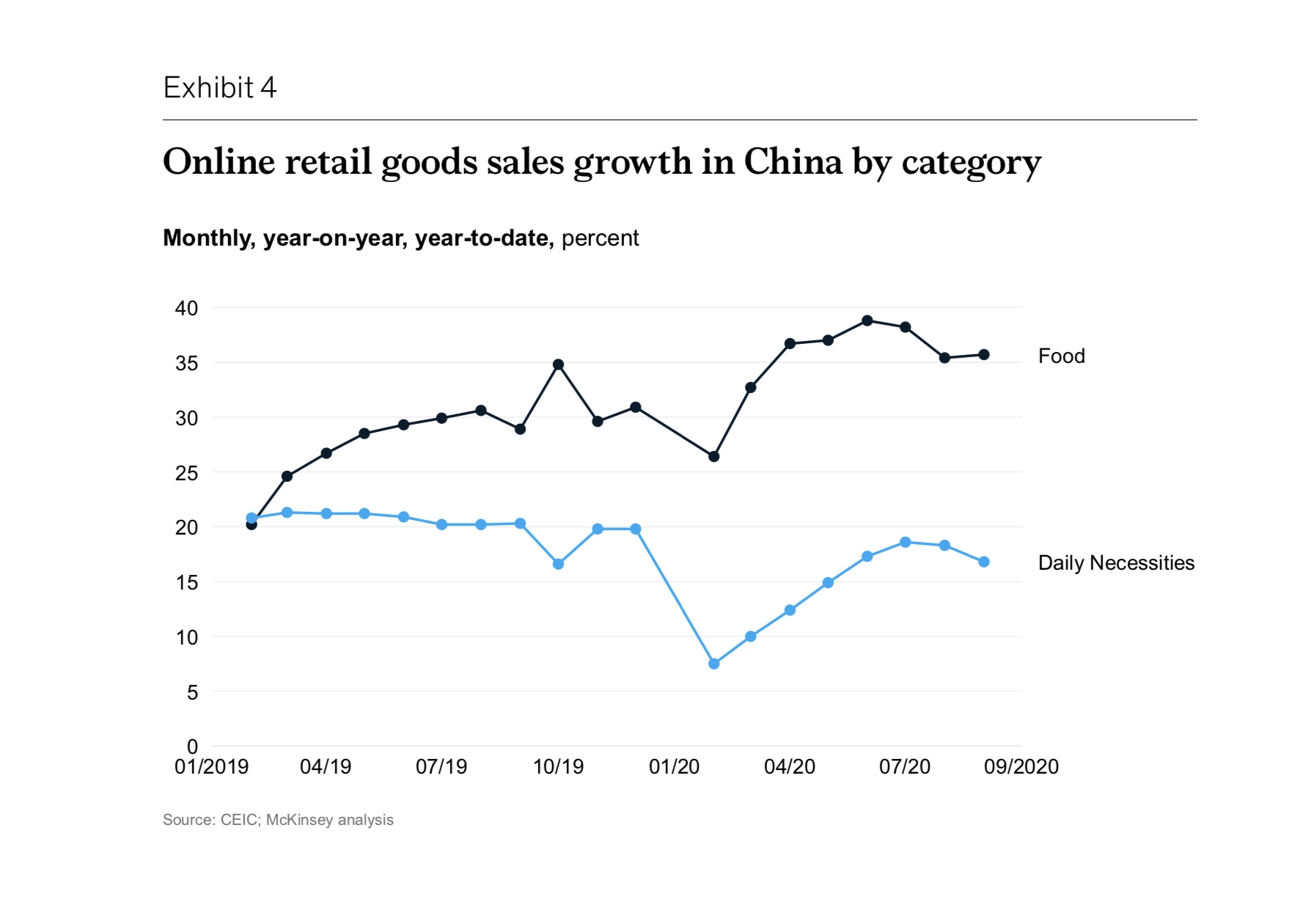 Basically, the trend didn't move. It kept growing, although it shifted from offline to online.
The biggest opportunity might be to go after the entire fragmented sector of groceries, daily necessities and FMCG. I suspect that is what Alibaba is doing. They always go really big. They always try to provide the complete solution to consumers.
And when I look at what Sun Art has been doing with Alibaba, it strikes me as a lot of experimenting and movement in that direction. For example:
In 2019, Sun Art began integrating its inventory with Tmall. It began a half-day-delivery service with "Tmall Supermarket Inventory Sharing". By the end of September 2019, all Sun Art stores had launched a one-hour-delivery-to-home service with the "Inventory Sharing" initiative.
In 2020, Sun Art launched community group buying. This lets local retailers and community members sell on social media to their neighbors. And then source from Sun Art. The company said "the pilot (warehouse) stores will not only meet the needs of the store itself, but also support half-day delivery, community group buying and B2B business of the city."
In 2020, Sun Art launched 24 mini stores. They also opened 6 superstores. These are expansions into other retail formats. It would not surprise me if they also did membership centers (like Costco) and community center stores.
Sun Art is currently piloting a "warehouse-based" store model. As the non-food areas within stores continue to shrink, they are turning parts of these stores into local warehouses. This is consistent with Freshippo where likely 50% of the store is basically a forward distribution point in the logistics network.
What if the supermarkets / hypermarkets plus ecommerce is just the beachhead for new retail in this sector? What if they consolidate large portions of the fragmented grocery, convenience and small retail businesses in China?
Isn't Sun Art's Real Competition Taobao and Tmall?
The key investment question here is how fast is Sun Art going to grow? Is it going to stay flat in revenue? Or is it going to start growing at 20-30% with a very long runway?
But that ultimately depends on Alibaba's intentions.
Do they view Sun Art as a profit center or infrastructure?
Are the profits going to end up with Sun Art? Or with Taobao and Tmall? Or Hema / Freshippo?
If you want to be a devious business person, here is a good tactic:
You have a core profitable business you own.
You then create a second controlled business to raise capital and build out the infrastructure. You are a minority owner in this second business but have effective control.
You push all the profits to your core company. The secondary company, whose shareholders provided the capital, gets very small returns.
Over time, the secondary company stagnates financially. The share price falls. And when it is cheap, you buy it back.
This US railroad companies used this tactic in the 1800's. It is also how some very famous Hong Kong tycoons like to operate.
Finally, what about Hema / Freshippo? Isn't that a competitor? Does the distinction between supermarkets and hypermarkets really matter in new retail?
We are really looking at a physical retail footprint that will cover the country. And will be part of one integrated consumer experience. Maybe it will end up being mostly supermarkets. Maybe mostly hypermarkets. Maybe it will be mini-store and membership clubs? It's not clear.
***
Final Point. Where Does Sun Art Sit on My Blue Diamond Graphic?
It looks to me like Sun Art is:
Infrastructure on the supply side.
An early anchor tenant for a new user group on the platform (i.e., physical retailers).
That's it. Cheers, jeff
————
Related articles:
From the Concept Library, concepts for this article are:
From the Company Library, companies for this article are:
Alibaba
Sun Art Retail Group
Photo by Joshua Fernandez on Unsplash
———-
I write, speak and consult about how to win (and not lose) in digital strategy and transformation.
I am the founder of TechMoat Consulting, a boutique consulting firm that helps retailers, brands, and technology companies exploit digital change to grow faster, innovate better and build digital moats. Get in touch here.
My book series Moats and Marathons is one-of-a-kind framework for building and measuring competitive advantages in digital businesses.
This content (articles, podcasts, website info) is not investment, legal or tax advice. The information and opinions from me and any guests may be incorrect. The numbers and information may be wrong. The views expressed may no longer be relevant or accurate. This is not investment advice. Investing is risky. Do your own research.