In Part 1, I summarized my visit to a media event at JD Central (JDC) Thailand. And I teed up some of the difficulties for Chinese ecommerce giants trying to go international, especially in Southeast Asia.
After the media event, I sat down with JD Central CEO Vincent Yang, which turned out to be a pretty interesting conversation.
But first…for insights into the digital strategies of the best tech companies
Background on Vincent Yang and the Early Days of JD
Vincent is from Guangxi, which is just about the prettiest part of China. Located in the southwest, it is most well-known for Yangshuo and Guilin. If you ever see pictures of rafts going through green mountains in China, that is Yangshuo. People also bring super-soakers and these raft trips turn into massive water fights. Super fun.
Vincent attended Jiangxi Agriculture University where he majored in computer science(?). He said software so I'm assuming it was computer science. And upon graduation in 2007-2008, he joined JD right out of school.
JD was a fairly small company back in 2008, with only about 500 employees. And it was an online retailer that had just made its decision to build logistics and fulfilment in-house. And it was before the name JD. It's brand was 360buy back then. Note: they have gone through a number of name changes over the years.
These were the early days of B2C ecommerce in China. But people were starting to  buy everything online. It was a consumer fad. I can remember asking my assistant in Shanghai to get me a new pen. And an hour later when I asked about the pen, she said 360buy would deliver it the next morning. Everyone was just having fun buying stuff online.
But even back then, 360buy / JD was the trusted ecommerce name. We all bought most things with cash on delivery. And when it was something valuable, you used JD because you could trust the products would not be fakes. And if you had any concerns, you just returned it. That was a huge differentiation back then. Fakes and scams were everywhere (online and offline). If you were buying an iron in a department store, it was normal that the salesperson would plug it in when you bought it to show you that it worked.
The other big consumer lever back then was the spectrum of goods available. Keep in mind, China retail was still relatively underdeveloped back then. In a typical second tier city (Hohhot, Changsha, etc.) may be a couple of big stores and malls, but your average retailer was a small store or a mom-and-pop shop with a few items. And distribution was a mess. And the breadth of available brands was very small. That is still the case in much of the West of China today.
So JD's offering at that time of trusted quality, a wide spectrum of goods and the convenience with rapid delivery was a B2C phenomenon.
During these earlier days, Vincent says he worked mostly in merchandising, beginning in consumer electronics and moving to other sectors over time. Keep in mind, this was prior to JD being a marketplace model. It was an online retailer handling its own inventory and sales. And its biggest vertical was consumer electronics. So merchandising meant lots of focus on identifying the right items to carry against projected near-term demand. And then getting the right inventory to the right locations for rapid delivery.
JD is really one of the great China business stories. From its founding by Richard Liu as a small electronics booth in Zhongguancun in 1998, to its move into e-commerce as a response to the 2003 SARS crisis, to its unconventional move into delivery (and the massive investments required), it's just a great story.
But what has always struck me as most fascinating about JD was the expansion in their operations between 2009 and 2015, arguably the golden years of Chinese e-commerce. This was the period Chinese consumers all got smartphones, went online and started becoming a major consumer spending force.
And during this period, JD executed at a rate that should go in the record books. E-commerce sales in China were doubling every year. And from 2008 to 2013, JD grew from 300 to 40,000 employees. And then they increased to +70,000 in just another year. Today, JD has +200,000 employees.
And during this big growth, they were frantically building out a national logistics infrastructure. They went from having virtually no delivery staff in most of China to having delivery stations in +1,800 of China's 2,600 districts and counties. Also they promised same day delivery, something unheard of in the chaos of China at that time. If you placed the order by 11am, you got it the same day.
And during all this crazy building and hiring, JD was also engaged in repeated price wars with Gome, Suning, Amazon, Dangdang, Newegg and others. It was a brutal game of who could be the most efficient and could therefore offer the lowest prices (which then let you grow market share and further lower costs). When the dust settled, JD had outrun and outfought virtually everyone. Alibaba is the dominant marketplace platform. But JD got to the top tier of B2C by being the most ferocious competitor.
I have long argued that JD's management are the Spartans of online retail. For much of their existence, there were neither the clear leader nor the favorite to win. They were usually smaller than their online competitors (Amazon, Dangdang, Newegg) and they were very much smaller than their offline competitors (Suning, Gome).
But the growth of Chinese e-commerce was stunning and JD was smart and caught the wave. And they just outfought and outran their many competitors. They executed remarkable operational growth, did bold category expansions, fund raised aggressively and fought bitter price wars (which they often won but not always). Like the Spartans, they just fought better than others. And they eventually got to the top of the rapidly rising Chinese e-commerce market.
So it was pretty interesting to talk to someone who was there through all of this. And I think the history of JD is relevant to what they are doing in Southeast Asia.
Here are my 5 take-aways from my discussion with Vincent.
Take-Away 1: JDC is Focusing on Merchant Services and Digital Transformation
As mentioned in Part 1, JDC appears to be mostly focusing on merchant services. Digital transformation on the merchant and brand side was the biggest topic. And this also appears to be the biggest limiting factor in Thailand ecommerce.
Most ecommerce is Thailand today is connecting Thailand-based merchants with Thai consumers (apparently 90%). And many of these companies are just beginning to move online. So we're aren't at OMO. We aren't at O2O. This is still about going online and becoming an omnichannel seller.
For JDC, that means helping brands / merchants open their first retail online stores. Providing them with logistics and fulfilment. Providing them with after sales support and customer service. And helping them begin to do digital marketing and CRM. The goal is not for them to start to make additional online sales quickly. But to help them transform their operations and build out their online capabilities.
I think these two slides summarize JDC right now.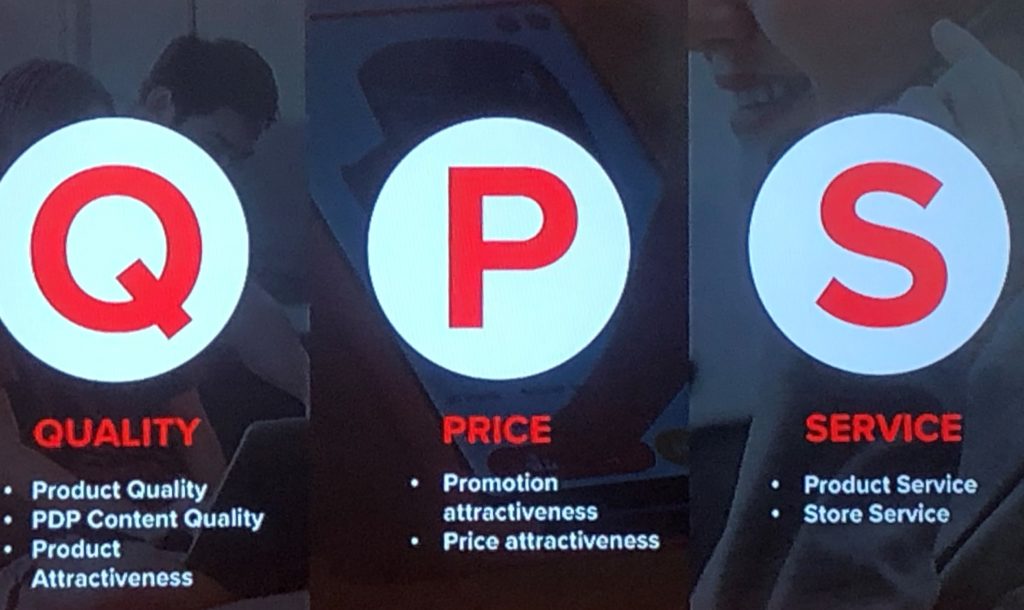 Lots of basic capabilities. Lots of training and education in digital operations. And lots of repetition of JD's mantra of QCP (quality, price, service).
In Thailand, JDC has about 600 staff plus additional part-time and contract staff. Vincent mentioned 9 warehouses and no cloud warehouses. So compare that to JD's +800 warehouses and +1,400 cloud warehouses in China. Most delivery is not done in-house, which is a contrast to China.
Take-Away 2: JDC Is Sitting Out the Lazada-Shopee Marketing War
The most conspicuous aspect of JDC in Thailand is how quiet they are. You don't see their ads all over the subways or online. You don't see anything like the pervasive presence of Lazada and Shopee (and GoJek and Grab). So either the parent companies have not allocated the funds for a marketing war – or they are have chosen to sit it out.
I think they are probably sitting it out.
I went through some of JD's history to show they are serious competitors. The Spartans of ecommerce. There is nothing happening in Thailand and Southeast Asia they haven't seen before. They may be new at international expansion but they are veterans at fighting for ecommerce marketshare.
And is the marketing war between Lazada and Shopee growing the market? Or is it about taking each other's market share because the growth rate of the industry is being determined by the merchant side. I think they are playing the long game.
Plus, JDC entered Thailand relatively late and they are still building out their capabilities. There is no point in hitting the gas yet. The fact that they have been media silent for 3 years supports the conclusion that this is a "sit it out" strategy.
Take-Away 3: JDC Will Differentiate by Quality and Cross-Border in the Near-Term
I think JD is also well-aware that ecommerce is not a winner-take-all business. There is room for multiple successful players. Maybe not 20-30. But definitely 4-5.
Ecommerce tends to be more dynamic than utilities like payment and communications. And there are more dimensions to differentiate on (if you have the logistics and other infrastructure). So how will JD differentiate in SE Asian ecommerce?
I think they will go for two things:
A quality reputation with consumers. This has always been their strategy. And it has proven to be a nice, sustainable minority position in China. Both Lazada and Shopee offering a wide spectrum of goods via a marketplace model. JD's quality strategy means they offer a much smaller spectrum of merchants, especially SMEs. And they do a large percentage of transactions as a retailer, not a marketplace. Quality is about the selected products but also the experience of an integrated service.
A focus on cross-border logistics and merchant services. The bigger Asia ecommerce story is the integration of the entire region's logistics and supply chains. We should expect goods being bought in China will increasingly come from across the region. And that Thai merchants will increasingly seek to sell outside of Thailand. People and goods are increasingly moving across the region. JDC is very well-positioned for this as they already have the quality merchants from China via JD. All of the trust, logistics, digital marketing and other merchant services I mentioned become much more significant when things start going cross-border.
Take-Away 4: JD's International Ambitions Are Still Unclear
JD's international ambitions have always been sort of vague. Vincent mentioned it was discussed back in 2015 and the management did an analysis of Southeast Asia. JD settled on Indonesia and Thailand. And their entry to Thailand by a joint venture with Central was an interesting approach given their late entry compared to Lazada.
But outside of these two countries, JD has not had an international strategy like Alibaba. Or even like Shopee, which is moving surprisingly fast. JD has mostly focused on building out international supply chains and merchants to serve Chinese consumers. The strategy in Thailand looks very clever. But I'm wondering why they have not done any other moves internationally.
Do they have to?
No. JD in China is a competitive fortress (like Coupang is building in South Korea).
Take-Away 5: Dramatically Improving the Consumer Experience Is the Most Compelling Strategy of the JD Central Joint Venture Long-Term
I asked about Vincent how the joint venture works with Central, which is a massive retail conglomerate. He said that JDC can basically work with any of the 21 business groups at Central. But that onboarding Central's businesses was a major focus. So again, digital transformation on the merchant side was the biggest issue.
We had a brief discussion about how to combine the extensive physical footprint of Central with the online capabilities of JD. Note: Central has a massive customer membership program. And the basic omnichannel playbook emerged. Combine the channels. Being to build a complete view of all the customer touchpoints.
This is why I think the JV strategy is so clever. Yes, JD and Central both bring strengths to the deal. But it also positions them to move right to new retail / online-merge-offline. In the present, it looks like they are building out channels, digitizing merchants, combining the customer journey and doing data and maybe inventory sharing. But in a few years, it will be about combing Thailand's physical retail with digital assets. And dramatically improving the consumer and merchant experience. That will be a major problem for Lazada and Shopee (which lack physical retail in China). But JDC is well-positioned for Thailand ecommerce 3.0.
***
Those are my take-aways. An interesting day.
Cheers, jeff
——–
I write, speak and consult about how to win (and not lose) in digital strategy and transformation.
I am the founder of TechMoat Consulting, a boutique consulting firm that helps retailers, brands, and technology companies exploit digital change to grow faster, innovate better and build digital moats. Get in touch here.
My book series Moats and Marathons is one-of-a-kind framework for building and measuring competitive advantages in digital businesses.
Note: This content (articles, podcasts, website info) is not investment advice. The information and opinions from me and any guests may be incorrect. The numbers and information may be wrong. The views expressed may no longer be relevant or accurate. Investing is risky. Do your own research.