Last week, I attended a media event at JD Central in Bangkok. And I interviewed CEO Vincent Yang. This is JD's joint venture with Central Retail, one of Thailand largest retailers. Note: This is one of JD's two initiatives in Southeast Asia. The other is in Indonesia.
It was a pretty interesting experience for a couple of reasons:
First, JD has a compelling strategy for Thailand. The joint venture with Central, in theory, creates several impressive advantages. More on this below.
However, JD Central is not widely discussed in Thailand. Shopee and Lazada get most of the activity and attention in ecommerce.
JV has also been particularly quiet. They have largely sat out the marketing war between Lazada and Shopee. I believe this was their first significant media event since they launched in Thailand in 2017.
I was really curious what was going on. And the development of ecommerce in Southeast Asia is one of my big areas.
In Part 1, I'll talk about my visit and my take-aways from their presentations. In Part 2, I'll talk about my interview with Vincent.
Back to G Tower in Bangkok
I really like visiting digital companies in China / Asia. I do this all the time in Shenzhen and Beijing (where tons of them are based). Talking with management is my second favorite activity in life. #1 is reading annual reports.
I've done a couple of visits to digital companies while I've been locked down here in Thailand. And it is always the same building, the G Tower on Rama IX road. I recently took some students to meet with Lazada and Huawei in this building. I also interviewed Huawei about their financial results at their G Tower offices in 2020.
And, big surprise, JD Central was in the same building. Which meant a fun scooter ride across town for their even. Note: Riding a scooter in Bangkok is awesome but a terrible habit. About one foreigner dies everyday riding a scooter in Thailand.
The media event was well done. Lots of cameras and good production quality. Some photos below and then I'll summarize the important stuff from their presentation.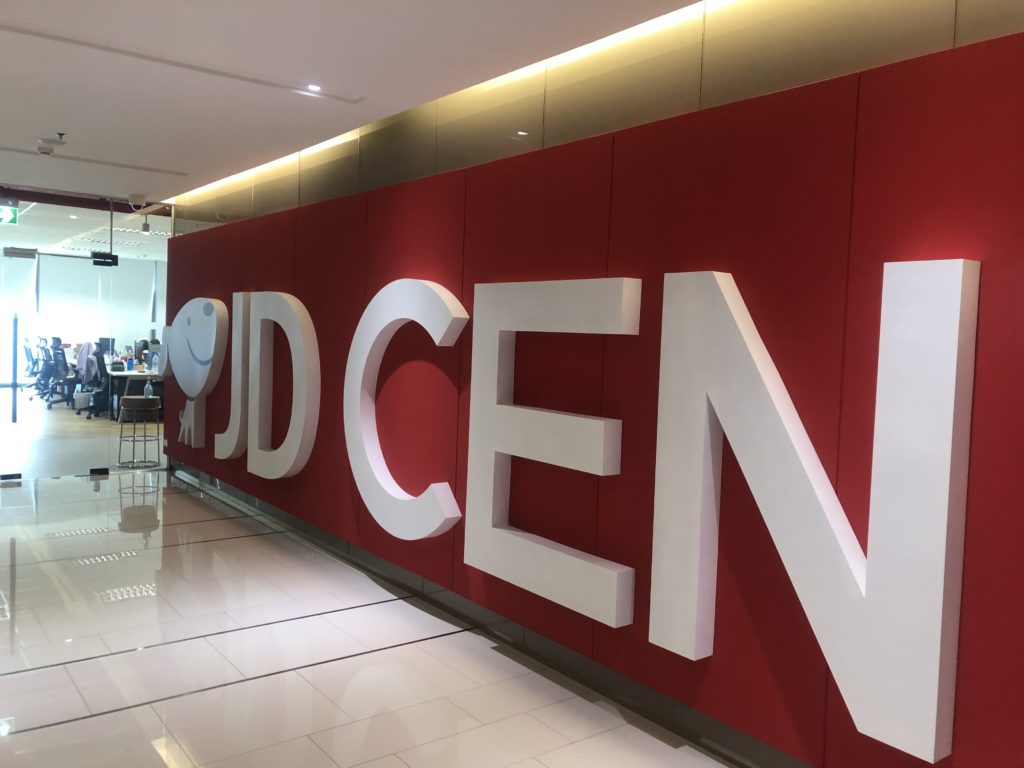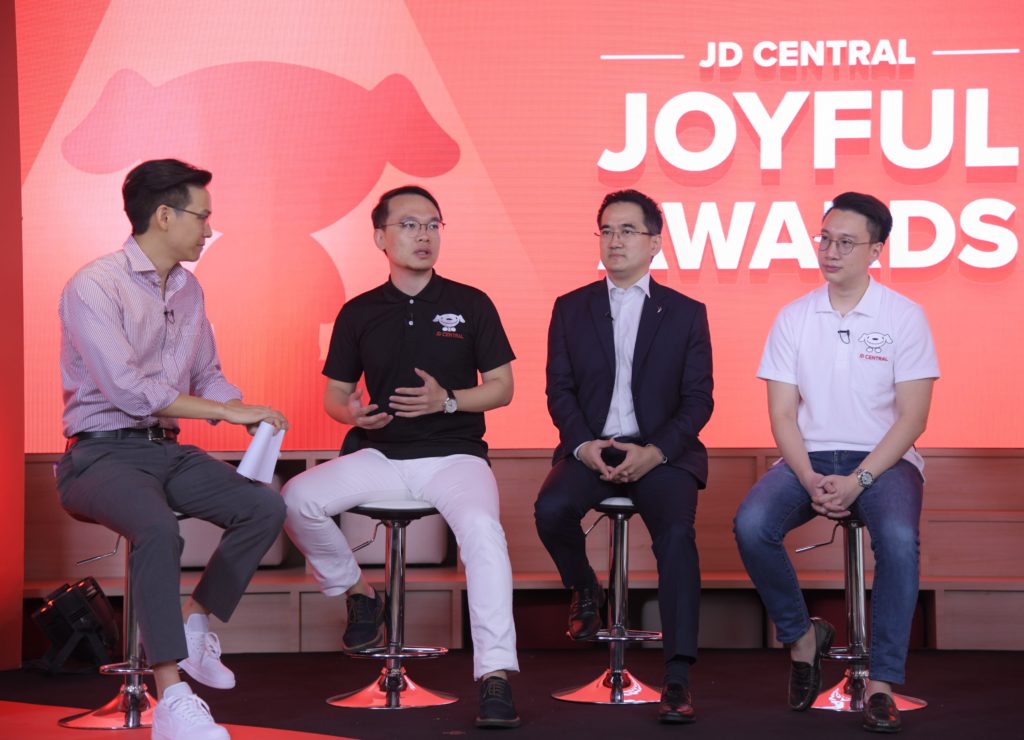 First, An Intro to Central World and Thailand Retail
If you're reading this, you are probably familiar with JD (I write about them a lot). But likely less so Central Group, if you're not in Thailand. JD's partnership with them is a really compelling strategy.
Thailand is actually pretty awesome for retail. It's not a huge market when compared with China obviously. 69M versus 1.4B people. Retail spending in Thailand is approximately $120B per year versus almost $6T in China. But the quality of retail tends to be very high. The shopping malls and stores are great. And it is a large economy for Southeast Asia (second to Indonesia).
Within this, Central and CP All are the retail giants. Founded in 1947, Central Group has +3,700 locations and +80,000 employees. This includes, but is not limited to:
Central Pattana, which has 33 shopping centers under 4 brands: Central World, Central Plaza, Central Festival, Central Village. Plus Central Phuket, Central Marina and Central i-City.
Central Department Store Group, which operates department and retail stores: Central Department Store, Robinson Department Store, CRC Sports, ILLUM, Alsterhaus, and Oberpollinger.
Central Hardline Group, which has home and electric appliances stores including Power Buy, Baan and Beyond, and Thai Watsadu.
Centara Hotel and Resort, which operates +40 hotels and resorts and private residences in Thailand, Vietnam, Indonesia, Maldives, and Sri Lanka.
Central Food Retail Group, which has fresh, grocery and household merchandise. Central Food Hall, Tops Market, Tops SUPERSTORE, Tops daily, Tops Superkoom, Eathai, Central Wine Cellar, Segafredo, Tops Shop Online, and FamilyMart.
Central Restaurant Group, which has Mister Donut, KFC (mall branches only), Auntie Anne's, Pepper Lunch, Chabuton, Cold Stone, Ryu Shabu Shabu, The Terrace, Yoshinoya, Ootoya, Tenya, and Katsuya.
And supporting this retail conglomerate is a very large logistics and supply chain network. And Thailand's #1 membership program with over 21M members. Plus Central Group has a lot of other businesses.
What do they lack?
Digital expertise.
An online marketplace.
Cross-border ecommerce abilities, particularly connecting with Chinese merchants, brands and manufacturers.
Those are exactly JD's strengths.
I expect SE Asian retail is develop similar to China.
Online-merge-offline (i.e., OMO, new retail) with the physical and digital assets being combined into one seamless, data-driven consumer experience.
A big cross-border component. Most of the goods ultimately sold in Thailand, Vietnam and Malaysia are not going to be sourced domestically. The supply chain of SE Asia is becoming increasingly integrated. And most of the manufacturing is in China anyways.
An increasing integration of commerce, entertainment and social media. Think live-streaming, short video, etc.
With that future, the JD Central joint venture makes a lot sense.
Central has the physical assets and customers in Thailand.
JD has the digital expertise to do OMO, to expand into content and social media, and to do cross-border ecommerce with trusted, quality Chinese merchants (not a small problem).
I always thought the joint venture made a lot of sense. So that was my thinking as the presentations started. Note: I also chatted briefly with:
New Chief Marketing Officer Korlap Suwacharangkul, who recently joined from GoJek Thailand (which he co-founded). That was pretty interesting. Their first media event since launch was held 2-3 months after they hired Kor from GoJek.
Chatchai Khunpitiluck, senior vice president of the Digital Economy Promotion Agency (DEPA). This is an interesting Thailand organization / non-profit funded by the government to develop ecommerce in the country.
My Take-Aways from the Presentations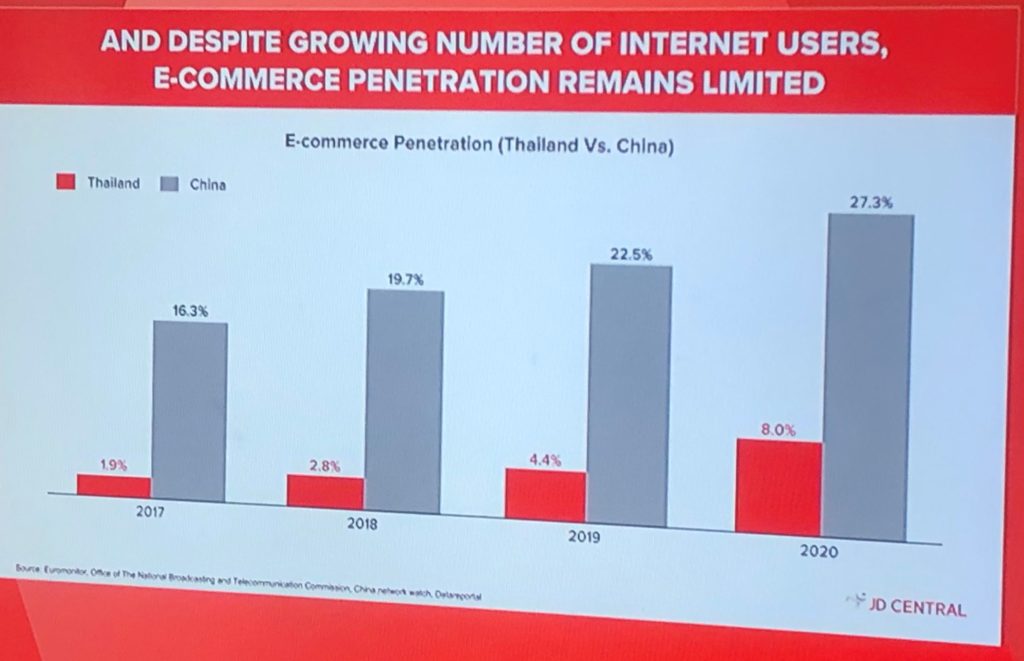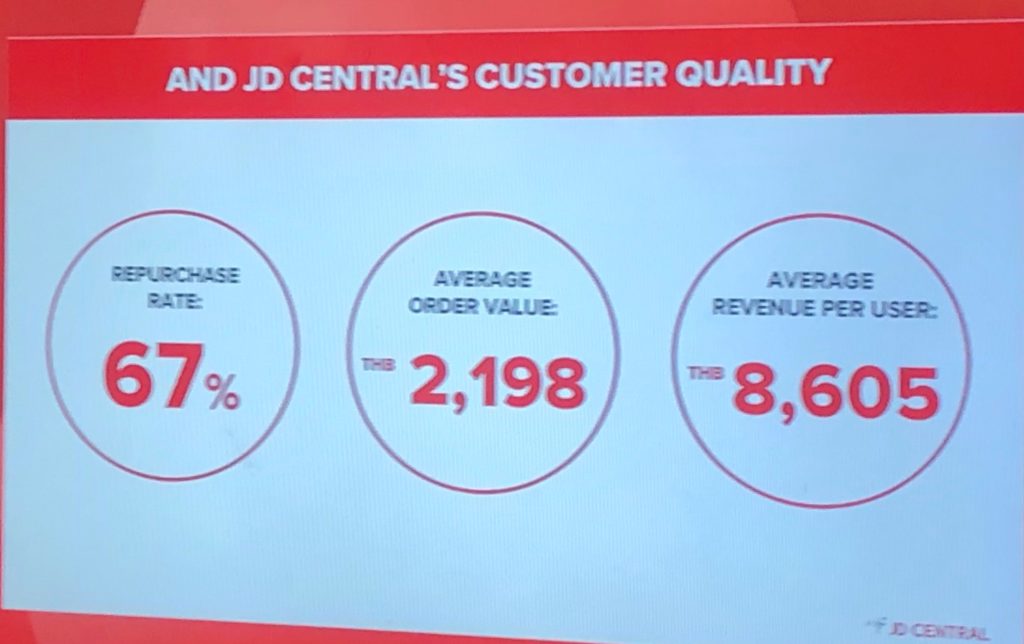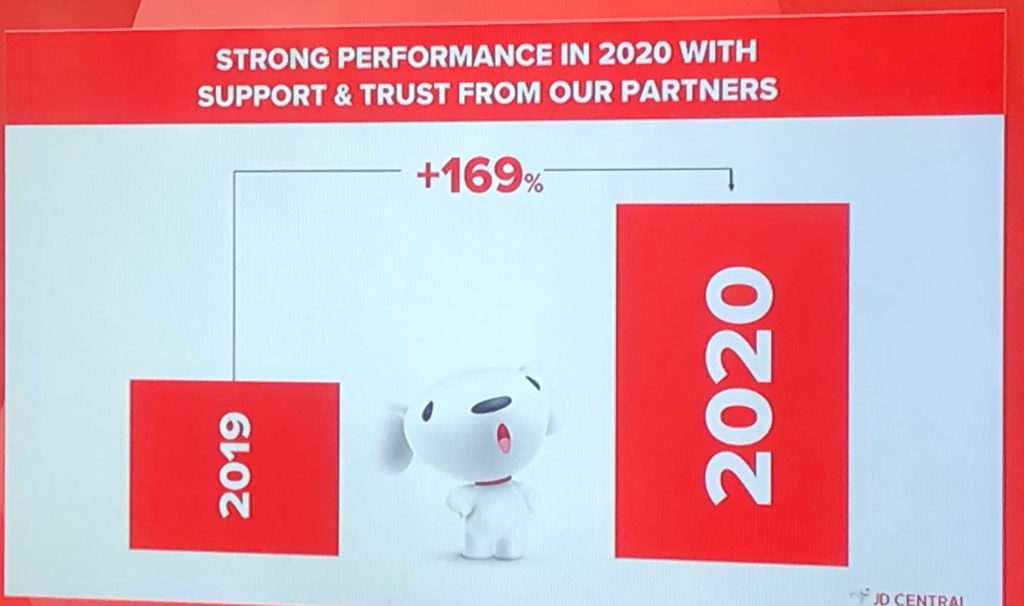 So pretty basic information. Most of the country is online but ecommerce penetration of Thailand retail is still quite small at 8%.
They didn't give any numbers for actual revenue or GMV. That is kind of conspicuous but not surprising. This is their first press event. And they are still relatively small in the Thailand market relative to Shopee and Lazada, which everybody knows.
The average order size (about $70) is interesting.
The part of Vincent's presentation that I thought was interesting was the its focus on services for brands and merchants. In fact, Vincent mostly talked about the suite of B2B services they provide, particularly to SMEs.
Retail Solutions
Marketing Support
Fulfilment Support
And they highlighted their QPS (Quality, Price, Service) mantra. I thought their merchant services / B2B focus gave a good indication of what is happening with JD and ecommerce in Thailand. Basically, the merchant side of the platform is still in its early days.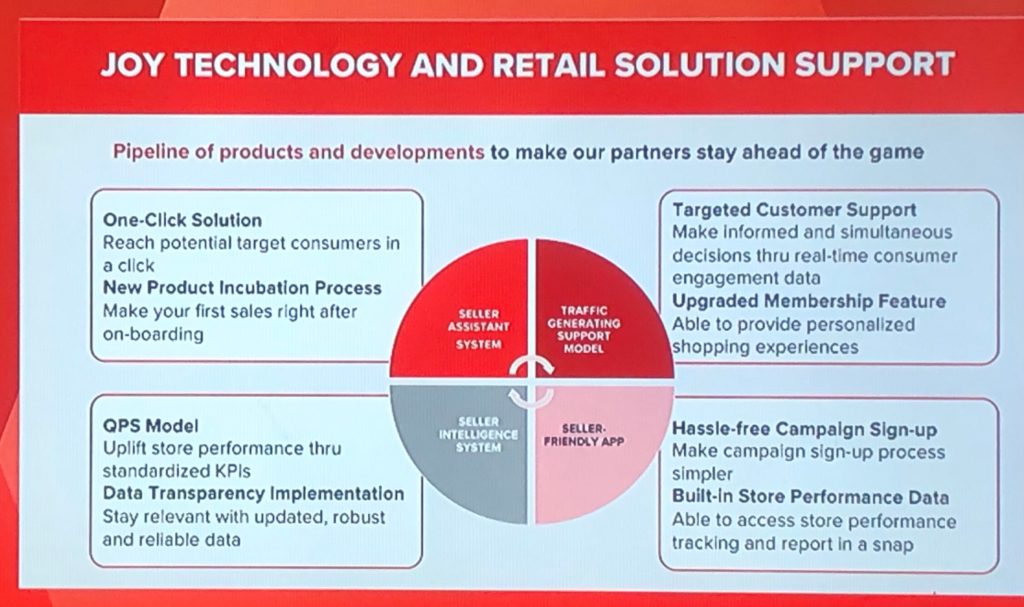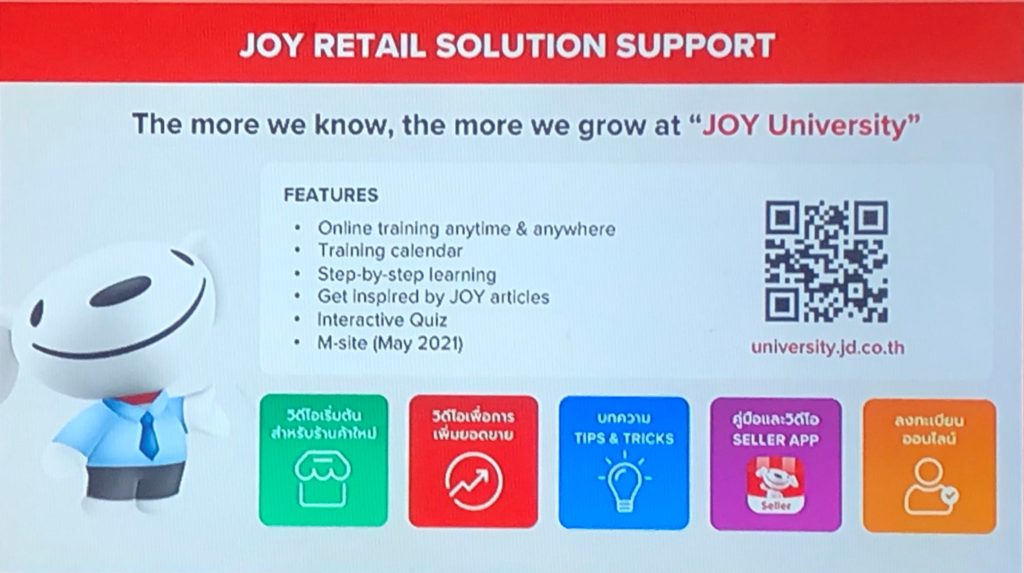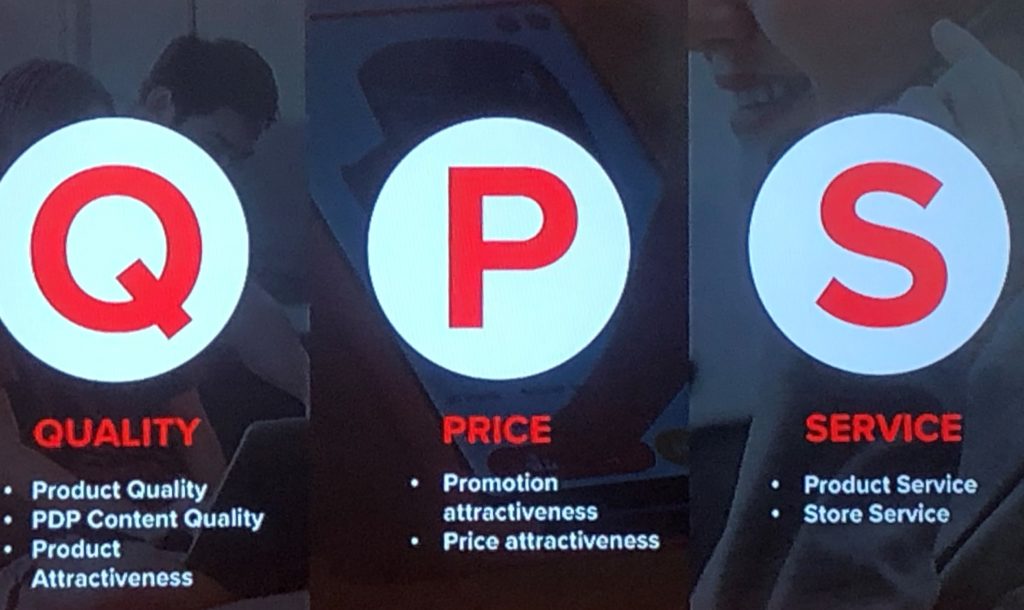 I once asked the president of Alibaba how they determined which country to enter outside of China. And his answer (paraphrasing) was that it wasn't about the biggest market (GDP, population, etc.). First, they liked to go where they they had an advantage to build upon. And second, they looked at the rate of ecommerce development in that country. For example, India has long been thought of as the largest potential market outside of China. But, until recently, ecommerce development in India been very slow. Vietnam, in contrast, has been developing quite quickly.
So what is determining the rate of ecommerce development in Thailand?
It's a long list. Logistics, favorable regulations (especially for cross-border shipments), payment mechanisms, low cost staffing, software talent, merchant education and adoption and other factors.
My primary take-away from the JD Central presentation is that the rate of ecommerce development in Thailand is mostly being determined by the capabilities and sophistication of local merchants. Vincent spoke mostly about merchant services and solutions. About getting them online. About doing education. About starting to get them into digital marketing. I asked him about this specifically in the interview, which I'll discuss in Part 2.
One last question for today.
Can China's Ecommerce Giants Win as Multinationals?
I think that is the question at the center of all this. China's ecommerce leaders are truly giants, built mostly by the size of their home market. But can they go international? Can they become multinationals like Amazon and Walmart?
Alibaba says it likes to expand internationally where it has advantages. That is why Alibaba (like JD) has focused on:
Connecting international merchants / brands with Chinese consumers.
Serving Chinese consumers as they go abroad.
Connecting Chinese manufacturers with foreign consumers (AliExpress in Russia, JD in Thailand)
Outside of those advantages, their only other strengths are technology and capital. But, as Alibaba management has frequently stated, Chinese ecommerce giants have no natural strategy for capturing foreign consumers. It is their biggest strategic gap.
So outside of the above three advantages, I think it's all about management.
It's mostly about the jockey, not the horse. Going international is actually quite difficult. It means leaving a market you are comfortable with and dealing with different cultures, regulations, etc. It usually means getting to a market early when it is still emerging. And the early days are always slower than you hoped.
Certain management teams are just a lot better at international business development. For example, Mobike went international very rapidly and aggressively (Australia, UK, Italy, Mexico, etc.). But that was never really their strategy. They just had a couple managers who were really fast and effective and made it happen (hey Chris Martin). The international expansion was mostly a surprise to their CEO. It's a lot about getting to a market early (e.g., Amazon in Japan) and / or being opportunistic (e.e., Alibaba buying Lazada, Meituan investing in GoJek).
It also helps if you have no choice. Shopee is currently launching in Mexico and Brazil. And parent company Sea just launched an investment group in Hong Kong called Sea Capital.
Why?
Because they have to. Sea Limited is going international for the same reason every Singapore-based company does. Because the domestic opportunities are too small.
***
At the end of the day, doing ecommerce internationally in foreign markets is difficult. It's uncomfortable. And companies usually avoid it. Especially if they have a big domestic market (like China) where they are comfortable. Most foreign adventures are a valley of tears.
I look for situations where:
There are big advantages.
Management is unusually talented.
The company has no choice.
Most of the Chinese ecommerce companies have #1. Some have #2. But #3 is usually their weakness. It's too easy to stay focused on China.
That's it for today. Part 2 is on the way.
Cheers, jeff
——-
I write, speak and consult about how to win (and not lose) in digital strategy and transformation.
I am the founder of TechMoat Consulting, a boutique consulting firm that helps retailers, brands, and technology companies exploit digital change to grow faster, innovate better and build digital moats. Get in touch here.
My book series Moats and Marathons is one-of-a-kind framework for building and measuring competitive advantages in digital businesses.
Note: This content (articles, podcasts, website info) is not investment advice. The information and opinions from me and any guests may be incorrect. The numbers and information may be wrong. The views expressed may no longer be relevant or accurate. Investing is risky. Do your own research.