This is a follow-up to my article on conversational AI with He Xiaodong at JD (article here, podcast here). I also spoke with Tao Mei, who is Vice President of Cloud & AI – and Technical support Vice President of JD. We talked about how AI was being used in fashion, which is a fascinating topic. I did a podcast about this discussion here.
But first…for insights into the digital strategies of the best tech companies
Tao Mei has been at JD for a couple of years and before that spent 12 years at Microsoft Research Asia. For those who aren't familiar with Microsoft Research Asia, it is where a lot of the AI leaders of China have come from. Founded in 1998 in Beijing, it has generated tons of papers, researchers and entrepreneurs. And it was founded by China AI guru Kai Fu Lee (1998-2000). Tao Mei was a senior research manager there. And has a PhD in Pattern Recognition and Intelligent Systems from the University of Science and Technology of China in Hefei.
Below are some of the slides he shared about technology-driven fashion. I thought the first one was particularly helpful. It shows the data and AI tools they are applying to fashion.
I had 3 take-aways from our conversation.
Take Away 1: AI-Driven Fashion is Fantastic. And Fashion Models Are In Trouble.
AI is really good at certain things. And computer vision is one of them. And this, it turns out, can have a big impact on fashion. Computer vision is just getting better and better at detecting items of clothing and classifying them. And that ties nicely with image search and assessments of compatibility.
As discussed in Part 1, conversational AI (a machine personality you engage with) can chat and create lots of types of content. This can be text. It can be photos and videos. But the AI can do multi-modal content generation.  And this turns out to have lots of uses in fashion. For example, the automatic generation of photo descriptions. You take a photo of a model in a new type of boots. The AI can generate the description which goes into the product description on the online listing. Which saves a huge amount of time. AI that can do image-to-language is really useful in fashion and ecommerce generally.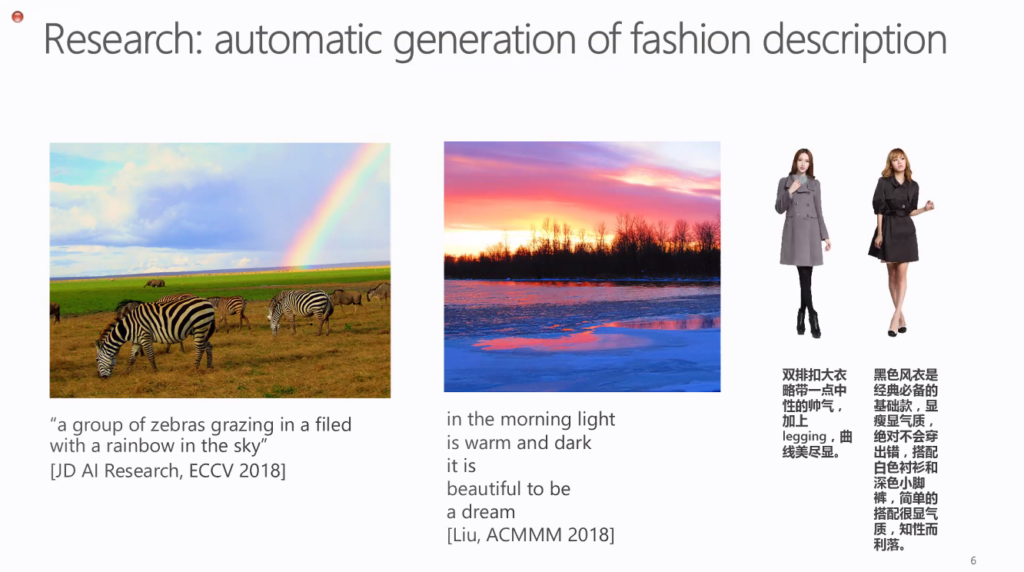 And content generation also gets you new types of fashion and combinations. You take photos of a fashion model in an outfit and then the AI can create lots of other photos in other outfits. This is great for ecommerce but bad for models. Here are some examples.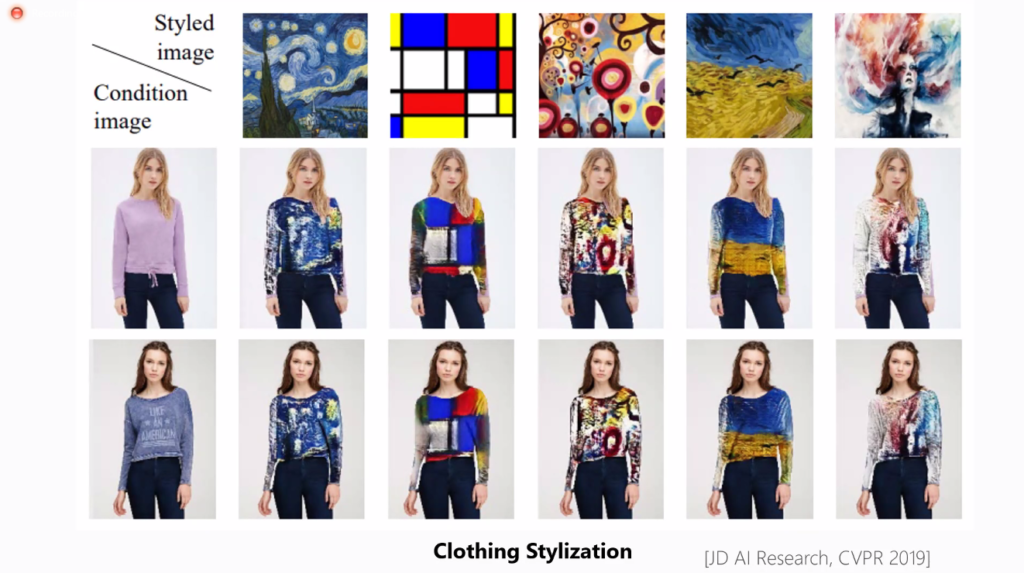 So you can imagine an ecommerce fashion site that is automatically generating tons of combinations and styles. And then creating photos with automatic descriptions online for sale. Suddenly, having a store with 1,000 items is not that much work.
A third tool in this area that I thought was cool was virtual try-on for consumers. Scanning customers in and offering them new outfits automatically. This can be clothes, lipstick, shoes, glasses and such. We are already seeing this deployed in stores in China.
Take Away 2: Real-Time Fashion Trend Tracking, Analysis and Prediction Will Change the Industry.
We are long used to different fashion trends appearing every season or every year. Suddenly everyone is wearing Ugg boots. Suddenly skinny jeans are popular. And these trends often come from fashion capitals like Milan and Paris. Or by what is on TV or celebrities. Predicting or shaping these trends is a big part of the industry. And predicting demand and matching inventory is a critical skill. Not only do you want to be stocking what customers want, but you also have to worry about inventory obsolescence as fashion trends and consumer preferences change.
Tao Mei talked about how AI can increasingly see what fashion trends are emerging around the world. It can collect photos from social media around the world. City by city, AI can see what people are wearing in the photos they are posting. It can see what people are wearing in fashion shows. On the street? At parties?  In theory, the system could create a heat map for fashion trends city-by-city and day-by-day. Tracking and analysis are first. And then comes prediction, which is what AI does best.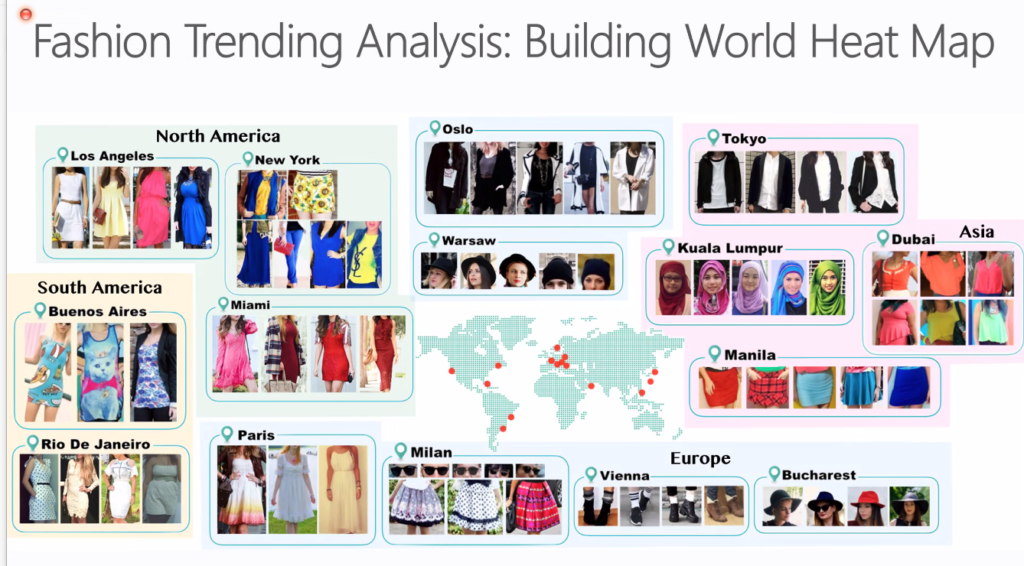 Take Away 3: Merchants, Brands and Developers Are Going to Get a Ton of Fashion APIs.
Of course, JD's goal is not to be in the fashion business itself that much. It doesn't want to hire a bunch of designers and have runway shows in Milan. It is in the business of providing data and digital tools to fashion brands, merchants and retailers, especially SMEs. Using digital tools to level the playing field between big and small merchants is the goal of ecommerce platforms. It makes the marketplace more democratic and robust.
So most all of these fashion tools (i.e., APIs) and data are going to be open to merchants, brands and developers. They can all start to do fashion detection and parsing. Creating content and descriptions from photos. Offering visual search. Incorporating virtual try-on in their online and physical stores. And so on.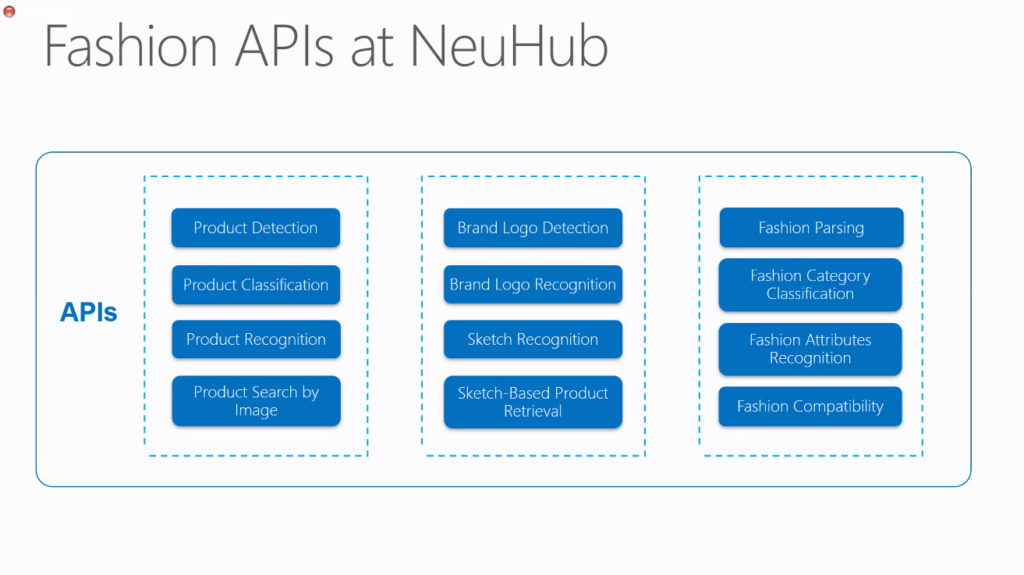 Those are my main take-aways from out talk about fashion. But I did ask him a final question about where AI was going to have the biggest impact in ecommerce. Here are my summary of his answer (my words, not his).
Personalization, two-way communication and exceptional user experiences.

The goal is to improve the consumer experience. And personalization is still the biggest lever in this. Stores are going to adopt digital tools that let them go from one-size-fits all to individualized merchandise and experiences.
Improving the consumer experience will depend on analyzing human behavior in a more dynamic way, which means video. This is actually tricky because applying AI to video is much more complicated than photos. It's in a three-dimensional space. It is difficult to understand intent.
There is always a rising bar for excellence in the user experience. And this is driving the movement of everything towards two-way communication and CRM.

Connecting and opening up logistics.

Deploying AI in the warehouses and supply chain is a well-known situation. The ecommerce and delivery giants of China are aggressively building on national smart logistics platforms. There is tremendous room to grow by connecting and opening up these logistics platforms to everyone. Watch for JD to increasingly open up their logistics platform to SMEs across China. This offers immediate benefits in delivery planning. Even 1% improvements in planning can make things much cheaper.

Integration of consumers, logistics, the supply chain and manufacturing.

Perhaps the biggest idea is connect all the partners into the loop. Consumers, logistics, supply chain and manufacturing. If you can connect intelligent consumption with smart logistics and intelligent manufacturing, things will become really interesting. For example, you can feed data back directly to manufacturers (C2M) and adjust products rapidly. Tao Mei mentioned that +2,000 Jingxi products have been created by manufacturers based on user preferences.
***
Overall, there are just tons of interesting things happening in AI, ecommerce and fashion. It's fascinating.
Cheers- jeff
———–
I write, speak and consult about how to win (and not lose) in digital strategy and transformation.
I am the founder of TechMoat Consulting, a boutique consulting firm that helps retailers, brands, and technology companies exploit digital change to grow faster, innovate better and build digital moats. Get in touch here.
My book series Moats and Marathons is one-of-a-kind framework for building and measuring competitive advantages in digital businesses.
Note: This content (articles, podcasts, website info) is not investment advice. The information and opinions from me and any guests may be incorrect. The numbers and information may be wrong. The views expressed may no longer be relevant or accurate. Investing is risky. Do your own research.