In this class, we discuss Chinese bike-sharing company Ofo. And their spectacular rise and fall.
You can listen here or at iTunes here.
The exercise for this class is:
What should Ofo have done?
1) Partner with a major digital platform ASAP. No matter what it takes.
2) Copy Hellobike. Avoid the competition. Go to markets or segments with little competition and try to get to operating break-even.
3) Split the company into a good co and bad co. Fund the good company and don't tie it to the cash drain of the bad co.
4) Carl Icahn option. Go activist investor and try to split the company, replace management or other.
What would you recommend to the CEO?
Write 3 paragraphs with your answer. Do it on your smartphone. Or a PC. Or a piece of paper (take a picture and save it).
Think about bundling and the emergence of greater ecosystems.
Here is the McKinsey & Co slide cited: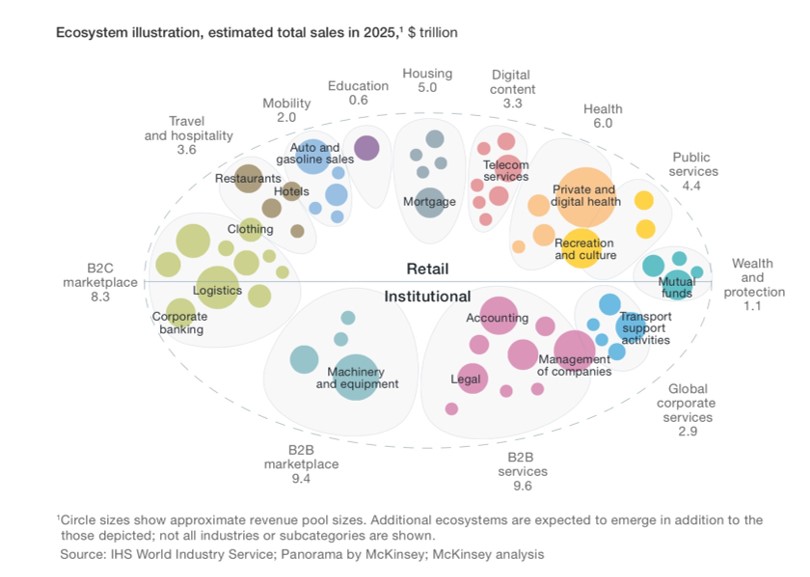 Articles / podcasts cited in this class:
Concepts for this class:
Money Wars
Ecosystems
Bundling
Willingness to Pay and Consumer Surplus
Companies for this class:
Ofo
Mobike / Meituan
Hellobike / Alibaba
———-
I write, speak and consult about digital strategy and transformation.
My book Moats and Marathons details how to measure competitive advantage in digital businesses.
I also host Tech Strategy, a podcast and subscription newsletter on the strategies of the best digital companies in the US, China and Asia.
With my subscription newsletter, you will:
Get a deeper understanding of the strategies and business models of the best digital companies.
Get specific frameworks for measuring competitive advantage in digital businesses and for traditional businesses doing digital transformation.
Get an edge in predicting what is going to happen next and who is going to win.
Note: This content (articles, podcasts, website info) is not investment advice. The information and opinions from me and any guests may be incorrect. The numbers and information may be wrong. The views expressed may no longer be relevant or accurate. Investing is risky. Do your own research.