In Parts 1 and 2, I wrote about how digital infrastructure is being developed in Thailand, which is a good proxy for digital infrastructure SE Asia. I also wrote about my interview with Huawei Thailand CEO Abel Deng (see below).
In this part, I'll detail Huawei's 4 big initiatives in Thailand. And this is pretty much where the rubber hits the road in all this. This is a lot of the stuff that is happening on the ground. This is when big plans for connectivity actually become base stations being installed.
Abel has outlined an interesting plan for Huawei in Thailand. It has 4 points, which I will summarize. But it's mostly centered on how "new infrastructure" requires connection density plus computational power.
"Connection density", in practice, means 5G plus IoT.
"Computational power" means AI plus Cloud.
This approach is pretty similar to Huawei's overall focus on "ubiquitous connectivity, pervasive intelligence". Make everything connected and smart. And you do that by providing full solutions that go from devices to connectivity to cloud.
Here is my interpretation of what Huawei is doing in Thailand (and really SE Asia). However, this is my assessment and my language. None of this is statements or positions from Abel Deng or Huawei.
Big Project #1: 5G Roll-Out and Critical Mass
As of the end of 2021, Huawei had deployed +20k 5G base stations in Thailand. And Thailand now has +5M 5G subscribers. Those numbers are important. It's about reaching a critical mass in a new technology. At 1-3% of the population, 5G is still in the early phases of diffusion and adoption. We don't see large and widescale investment by businesses into new services for the technology.
However, 5M subscribers is about 9% of the Thai population. That is way ahead of most of Southeast Asia. Huawei says it is working with the Thai government to get to 16% 5G penetration. At that point, we should see a dramatic increase in the rate of adoption and investment.
The limiting issue in 5G roll-out is usually industry adoption. Consumers tend to sign up fast (better streaming!), but it takes time to implement digital capabilities into businesses. In most industries, there is a lot of training and development required. This is especially true in areas like manufacturing and agriculture (both big in Thailand), which have historically not been digitized. Financial services and banks (which are already information companies) are moving more quickly to digital.
I asked Abel where he was seeing the fastest 5G adoption in Thailand and he mentioned retail, financial services, and cloud native companies (i.e., internet companies). Healthcare is also moving.
Ultimately, the race to 5G is about the number of base stations deployed, the number of subscribers, the degree of industry adoption and the number of pilot projects and use cases.
Big Project #2: Cloud and Local Data Centers
Who is going to win in cloud in SE Asia? This is one of my favorite strategy questions right now.
Cloud companies have powerful business models. They are innovation platforms with significant switching costs. They also have great scalability and attractive unit economics. These are new businesses but look like winner-take-all or winner-take-most business models. It's the kind of business Warren Buffett would look at.
Right now, we mostly know who is going to win in cloud in the US (AWS, Azure, Google). We also mostly know who is going to win in China (Alibaba Cloud, Huawei Cloud, maybe Tencent. Maybe Xiaomi/Kingsoft Cloud).
But SE Asia is still an unknown. And most of these cloud companies are going after the region. The fight for cloud in SE Asia is an interesting strategy question.
I asked Abel how Huawei Cloud is different than AWS. How are they competing? Are they differentiating? Is it mostly about speed at this point?
Abel mentioned how Huawei was the first global cloud company to build local data centers in Thailand. Now it has built three data centers here. AWS does not appear to be doing this, which is not surprising. Amazon / AWS is not a manufacturing giant. But Huawei is.
This is not surprising. Huawei's differentiator has long been (among other things) its willingness to go where others won't. To pursue the projects that others avoid. In the early 1990s, telecommunications giants like Ericsson and ZTE were focusing on big companies in Beijing and Shanghai. But much smaller Huawei was selling PBX systems to hotels and small businesses out in more rural areas. And in the late 1990s, Huawei was one of the first Chinese companies to go international. But they ignore Europe and the West and went off into the Middle East, Africa, and other developing economies.
Huawei is famous for this and takes a sort of pride in doing the most difficult projects. You will often hear Huawei talk about its "wolf culture" and "wolf spirit". The books Huawei has published about itself are titled "Dedication", "Pioneers" and "Explorers". And when civil war breaks out in places like the Congo and Libya (which happened) and all the foreign companies leave, Huawei usually stays. Note: in 2020, the first 5G base station was placed on Mt. Everest. Totally not surprising that Huawei and China Mobile put it there.
So, I totally expected Huawei to be the company most aggressively building data centers in Thailand and SE Asia. I think we are going to see a lot more of this. Especially in less developed countries (i.e., Sri Lanka and Bangladesh, not Singapore).
And local data centers are an interesting dimension in the emerging competition for cloud.
We see governments and companies talking more and more about "localization" and being "multi-cloud".
How much data should be held locally in data centers under local control?
How much data should be held in one cloud company versus multiple companies?
How does this impact perceived risk vs. comfort for governments and corporates?
How does this impact reliability, decreased latency (important for banks) and data consistency?
How does localize impact compliance?
"The move aims to improve the operational effectiveness of digital governance to strengthen the country's digital competitiveness, as well as utilise the Huawei Talent development programme to support professional digital skills training for Thai government experts within three years."
I fully expect Huawei to pull ahead of Ericsson and Nokia in SE Asia in ICT / connectivity. But the situation with AWS, Google, Alibaba, and others in cloud is more complicated.
I'm going to put a stake in the ground and say I think AWS (launched in 2002-3) and Huawei Cloud (launched in 2017) are going to win in Thailand long-term. Alibaba Cloud will also do well but will be limited to areas related to ecommerce. But that's just a guess.
Ok. Next project.
Big Project #3: Digital Power
Huawei's international consumer business got hit pretty hard by the US entity list ban. Most of their high-end smartphones are now sold only in China. And their smartphone value brand Honor was spun off as a separate company, which (in theory) makes it outside of the US sanctions. We'll see.
But regardless, post-entity list ban, Huawei has to look for new sources of growth. This is nothing new for them really. They have been expanding into other businesses for 20-30 years. So, we have been hearing announcements about how Huawei is moving into data centers. And cloud. And maybe autonomous vehicles. And I think their Digital Power business has really emerged as an interesting new growth avenue for them.
I wasn't familiar with Huawei's smart power projects, now its own business unit. But the company apparently has been #1 in market share for solar inverters globally for a long time (23% of market share). This has been ramping up in Thailand where they are +50% of the market.
And this makes sense. Huawei has been making batteries for base stations forever. And they have lots of AI and digital tools. And combining Huawei's manufacturing abilities and with digital software gets you "digital power" solutions. Abel mentioned their digital power business is already active in 170 countries. And Thailand has a big industrial and commercial base for this.
Abel also mentioned they have been adding B2C to B2B. Basically smart PV for solo residential homes, which is 80% of Thailand. That makes sense. Thailand is a big and rural country, which makes power transmission difficult. And most people live in homes, not apartments. So, putting solar panels on residential homes makes a lot of sense. Huawei is now selling Residential Smart PV that can be deployed on roofs. Power captured can be used or sold back to the power grid. And Huawei is working with the department of energy on this.
Which brings me to the last priority – which is the most challenging long-term project.
Big Project #4: Digital Talent
In digital transformation, people and talent are always the limiting factor.
From Brazil to Mexico to Malaysia, every company I talk with is struggling to get enough digital talent. Companies all need software people. They all need more abilities in digital. So do government agencies. The usual, not great solution is to hire some new people and then do lots and lots of training of current people.
Digital talent is arguably the best and most difficult project for Huawei in Thailand and SE Asia. It is the best because it shows long-term commitment. It is what governments and businesses need most. But it is also the most difficult because it is not like manufacturing and installing base stations. Education and training are a long-term grind. You have to do it business by business. Fortunately, Huawei has +2,600 staff in Thailand, of which 80% are engineers. And 86% are Thai nationals. So, they are pretty well set up to develop and train digital talent in the country.
Huawei has three initiatives in this area that are worth keeping an eye on:
The 5G Ecosystem Innovation Center (EIC). As mentioned, in coordination with depa, Huawei has an innovation center that is supporting +30 pilots and working with +100 partners. Launched in March 2020, this is about training but it's also about incubating projects and ideas. They have to get factories and other Thai companies to start going digital and deploying 5G and other capabilities. Abel said they have brought in +200 startups to work with companies and innovators.
The ASEAN Academy. This is their regional initiative with offices in Thailand, Malaysia, Indonesia, and other locations. In Thailand, the ASEAN Academy coordinates with government ministries and over 20+ universities to provide training. Some of these trainees then end up joining Huawei. And that is really where the best training happens. You have to get Thai engineers into the big tech companies where they can learn by doing. Abel mentioned that 41,000 people have trained with the academy.
HUAWEI Spark is an accelerator program launched in 2020 for tech startups in Asia Pacific. The purpose is to incubate and accelerate startup growth.
***
Ok. That is pretty much the Huawei plan in 2022 (from my understanding).
What's next?
Lots and Lots of Pilot Programs
The key question for 5G has always been about the use cases. Where does the fast speed plus low latency really make a difference?
The standard answer to that question is transportation, financial services, and healthcare. But who really knows? These things really evolve over time.
So, it's all about launching lots of pilot programs. Abel mentioned that the Prime Minister's 5G Committee has approved +40 5G projects, including smart hospitals and smart cities. There are also ten 5G factories in the EEC – including a 5G automobile manufacturing factory.
Ultimately, digital transformation and new digital infrastructure is about doing lots and lots of pilot programs. That's how it develops. And that is how most people end up getting training.
***
That's my take so far. I'll be writing more about this. I'm also looking into the development of digital infrastructure in Indonesia. Thailand and Indonesia are the two most exciting markets in SE Asia right now (in my opinion).
Last point.
I always ask people for their favorite book or mobile app. Abel said it was Anti-Fragile by Nasim Taleb, author of Black Swan.
That's a fantastic book. Although, to be honest, I don't enjoy it as much after encountering Nasim on Twitter. There's no to say this nicely but he is a total jerk online. He yells at everyone. I made one comment (I don't know him) and he started randomly insulting me. That's another story.
Cheers, jeff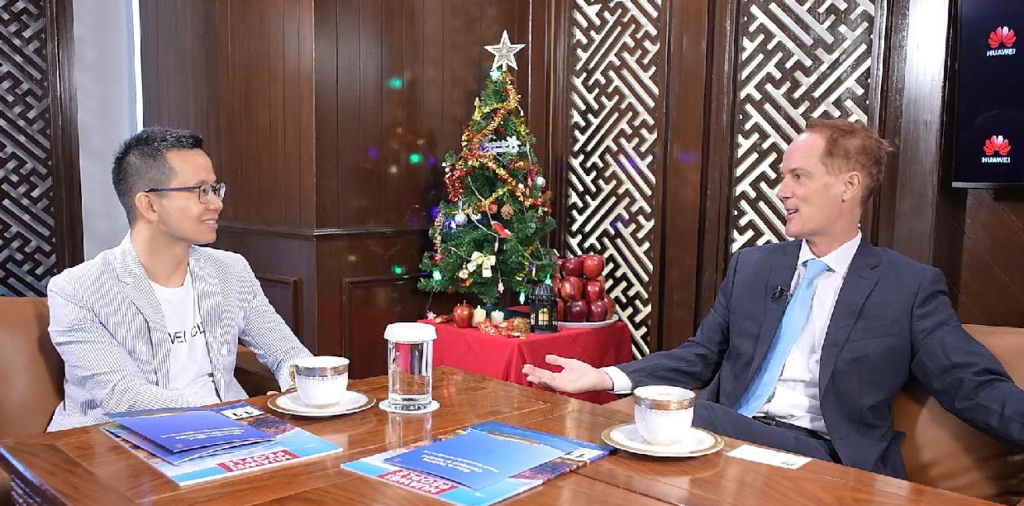 ——
I write, speak and consult about how to win (and not lose) in digital strategy and transformation.
I am the founder of TechMoat Consulting, a boutique consulting firm that helps retailers, brands, and technology companies exploit digital change to grow faster, innovate better and build digital moats. Get in touch here.
My book series Moats and Marathons is one-of-a-kind framework for building and measuring competitive advantages in digital businesses.
This content (articles, podcasts, website info) is not investment, legal or tax advice. The information and opinions from me and any guests may be incorrect. The numbers and information may be wrong. The views expressed may no longer be relevant or accurate. This is not investment advice. Investing is risky. Do your own research.