In Part 1, I summarized my list of digital business model types.
For Web2:
Linear business models (i.e., pipelines)
Production Ecosystems
Consumption Ecosystems
Company Ecosystems
Platforms
Pipeline plus Platform Business Model
For Web3 (and Web1):
Protocol networks (i.e., blockchains) as stand-alone businesses
Platform-protocol hybrids
Protocol ecosystems (i.e., building blocks)
Which I showed in this graphic.
In these two articles, I am detailing the three of these business models that I have not written about yet:
Production Ecosystems
Consumption Ecosystems
Pipeline plus Platform Business Model
In Part 1, I did an introduction to Production Ecosystem as a business model. And I mentioned that Production and Consumption Ecosystems are the most common business models I see when traditional linear businesses go digital. In this article, I'll go into Consumption Ecosystems.
But first, recall Digital Operating Basics 4.
Why Haier Focuses on DOB4: Connectedness, Interoperability and Coordination-Based Operating Models
I have gone into depth on the digital operating basics, but mostly on DOB2 and DOB3. However, DOB4, which is about coordination and interoperability, is a big, important topic. Because once you digitize a business, its assets and its products, you can then connect these with other things. You can connect them internally, which was what Production Ecosystems are about. But you can also connect them externally, which is what Consumption Ecosystems is about.
A good example of this is Haier, the Chinese multinational giants that does home appliances and consumer electronics. Think lots of manufacturing facilities making air conditioners, refrigerators and washing machines.
Haier began aggressively digitizing about 10 years ago. And it began with DOB3 (digital core for management and operations). They focused on digitizing their manufacturing processes and distribution. This has been covered in case studies by McKinsey & Co. The company mostly did 4 things initially.
They digitized the operations and created a visualization of "IT and OT convergence", which means combining their operations technology (equipment, factory processes, etc.) with IT. That included:

Lots of IoT
Information communication network
After-sales service network
Enterprise resource planning (ERP) system
Product lifecycle management (PLM) system
Industrial control system
Logistics system

They created a "visualization of user information", which required "wider interconnection".

This is building out the internal and external communications.
Connecting users with design and production departments as well as with machine equipment to access product data and user data.
Breaking barriers between R&D and manufacturing
Virtual-real integration

They created a more transparent supply chain. Data was shared across design partners, suppliers, and ecommerce / logistics partners, which reduced order fulfillment cycle time.
They enabled device-driven feedback. Haier's products are end-point connected. After delivery, data on how users engage with the product gets sent back to Haier.
That's all pretty standard for a manufacturer with increasingly smart products. Pretty standard.
But then Haier did something interesting. They focused on becoming connected and interoperable. They put "Interconnected Factories" at the center of their digital strategy.
Haier began talking about itself as an "interconnected factory" and an  "interconnected ecosystem". They digitally integrated all the manufacturing facilities – as well with suppliers, distributors, partners and customers. They announced projects like the Shenyang Interconnected Refrigerator Factory and the Qingdao Central-AC Interconnected Factory.
This type of coordinated and interoperable business model has lots of benefits. One of which is it can create better customer solutions.
It allows for personalized product customization according to customer demands.
It enables collaboration with users who lack basic technological knowledge. And it connects with designers and suppliers who do not know the needs of users.
Haier describes itself as "the world's largest mass customization solutions platform."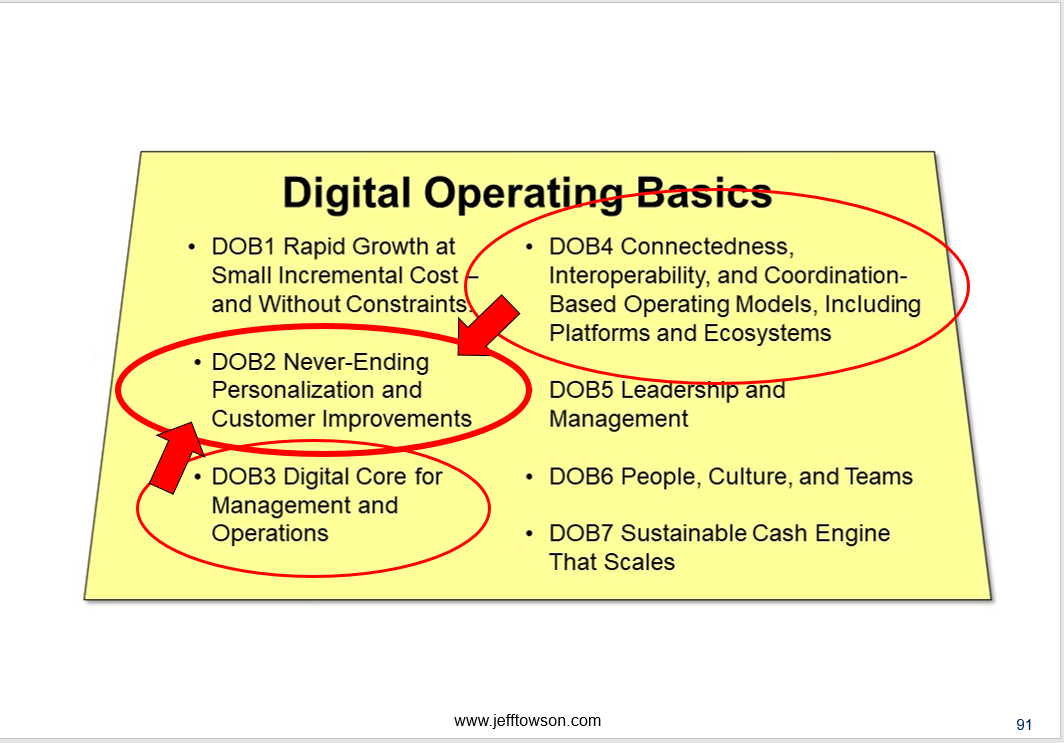 That's a good example of how powerful collaboration-based business models can be. And it brings me to Consumption Ecosystems, as a business model archetype.
An Introduction to Consumption Ecosystems
Production and Consumption Ecosystems are terms (I believe) coined by Professor Mohan Subramaniam, who wrote the book The Future of Competitive Strategy: Unleashing the Power of Data and Digital Ecosystems. The book is about how traditional linear businesses often digitize their core processes and then build out their interactions (which creates value). Keep in mind, most traditional linear businesses cannot become platforms. It is rare to get the large scale you need for a digital platform. But most all linear businesses can add production and consumption ecosystems to their core business.
If Production Ecosystems are mostly about DOB2 and DOB3, Consumption Ecosystems are mostly about DOB4. This is when a business model digitizes and begins to connect and coordinate with external parties (and their products, services, assets, and capabilities). It's one of my 9 business model types. Note how it is moving further to the right, towards platforms and ecosystems.
Haier is an example of a complicated coordination-based ecosystem. But Consumption Ecosystems (as described by Professor Subramaniam) is narrower and more focused. It is mostly focused on connecting with complements to its service or product. It is about creating more connections and collaborations with external products and services that add value to its own product / service. Here is the definition:
Consumption Ecosystems
Are based on digitizing products and assets and then sharing interactive data with parties external to the company. This can involve lots of partners.
However, this is mostly focused on data-sharing with complements to the core products and services. Unlike production ecosystems, external partners in consumption ecosystems can provide entirely new sources of data. But, unlike in Production Ecosystems, the company does not control these assets.
An example (from Professor Subramaniam) is smart tennis rackets. Tennis rackets now have sensors and can gather data about how a player is hitting and not hitting the ball. They data is shared with the comapny. But it can also be products and services that complement the tennis racket. This data can be combined with camera feeds to create new analytic services for how a player is doing. Or for new training services. Collaboration by the complementors can create new types of customer value.
Another example is smart toothbrushes. Sensors in brushes gather data on how they are used. Cameras in brushes can see teeth. This data can shared with dentists and other service providers (beauty treatments) who offer related programs.
Here is my graphic for this business model.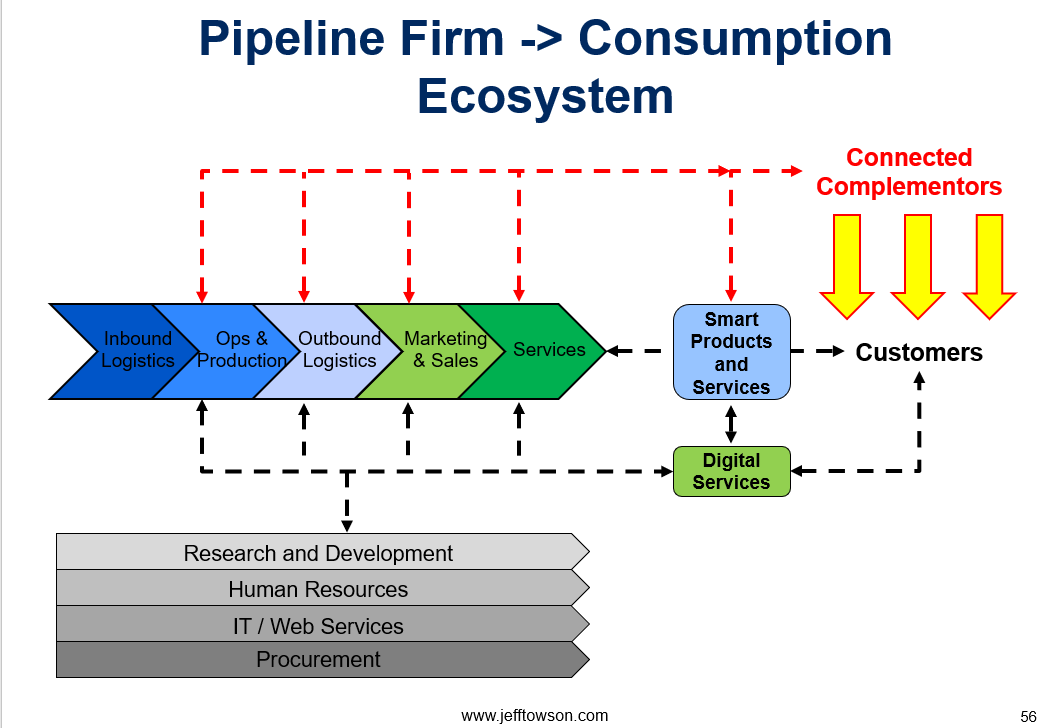 Note the red dashed connections between the complementors and the smart products and services. This can create multiple benefits:
Adding data-driven services by connecting smart products/services with complementors and their products and services.
These external partners can increase in type and variety. They can even be large user groups that can sometimes become platforms.
This data-sharing ecosystems can evolve into operational coordination, like we see at Haier.
A big example of this right now is Tesla and other smart, connected automobiles. The automobile has been digitized and connected. It is a smart product that can increasingly interact with its complements – such as smart roads, smart street lights, smart parking garages, maintenance shops, charging and gas stations, media / entertainment services and so on. All the complements to an automobile are becoming increasingly connected and coordinated. It happens first with data sharing, but it increasingly means coordinated operations. Companies like Tesla are both Production and Consumption Ecosystems. And it is trying to go further and become a platform.
Final Point: You Can Be Both a Pipeline and a Platform
Some linear product and service businesses have successfully added platforms.
Tractor manufacturer John Deere added a secondary marketplace platforms for leasing equipment.
Walgreens digitized in-store activity and its customers. They connected this user group to health plans and other health services.
This is actually pretty rare. Most of this activity is Consumption Ecosystems. But every now and then, a Pipeline Plus Platform business model emerges, which you can see in the center of my graphic. It's one of my 9 business model types.
We can show this as a variation on the previous Consumption Ecosystem graphic.
Recall one of my 5 platform types was a coordination, collaboration and standardization (CCS) platform. This is when a platform has two large user groups and the interaction being enabled is a type of coordination. Zoom enables online discussion. Microsoft Teams enables online projects. And so on.
I've broken this into 4 sub-types of CCS platforms. They are:
Communication. Zoom, Slack, etc.
Data Intelligence. Snowflake and Confluent.
Team Projects. Manual and complicated projects like architecture, media creation, software development.
Operational Automation.
I expect we will some of these automobile (Tesla) and manufacturing (Haier) giants become pipelines plus platforms. And I think they will mostly be CCS platforms, a natural evolution from Consumption Ecosystems.
Ok. That's it for today. Cheers, Jeff
———
Related articles:
From the Concept Library, concepts for this article are:
Production and Consumption Ecosystems
Pipeline Plus Platform Business Model
DOB4: Connectedness Interoperability and Collaboration Based Business Models
From the Company Library, companies for this article are:
———
I write, speak and consult about how to win (and not lose) in digital strategy and transformation.
I am the founder of TechMoat Consulting, a boutique consulting firm that helps retailers, brands, and technology companies exploit digital change to grow faster, innovate better and build digital moats. Get in touch here.
My book series Moats and Marathons is one-of-a-kind framework for building and measuring competitive advantages in digital businesses.
This content (articles, podcasts, website info) is not investment, legal or tax advice. The information and opinions from me and any guests may be incorrect. The numbers and information may be wrong. The views expressed may no longer be relevant or accurate. This is not investment advice. Investing is risky. Do your own research.