Key points for the article:
This article provides an examination of JD Smart Logistics Park, a leading player in the transformative field of intelligent logistics networks, through a conversation with its head, Zhe Wenming.
Automation, robotics, and AI are replacing repetitive labor in logistics.
Digitization in the physical world generates high-quality data, leading to better insights and control in logistics.
Combining technology with real-world operations, smart logistics is driving significant efficiency gains in the industry.
***
Those who have been reading me for a while know that I am super interested in the increasing digitization and intelligence of logistics networks. I view smart logistics / IoT networks (at scale) as an entirely new animal.
This business is a national, regional, and maybe international network of:
Autonomous trucks, trains, and drones
Robotics filled warehouses
Dynamic drop off and pickup locations.
With an increasingly intelligent AI and ubiquitous connectivity.
And, unsurprisingly, Amazon, Alibaba Cainiao and JD Logistics all cite smart logistics networks as one of their biggest strategic initiatives. They are pumping billions of USD into this year.
So, I jumped at the opportunity to talk to Zhe Wenming (者文明), who is the head of the smart logistics park at JD.
In this first article, I'll just go through my interview. He was exactly the person I have long wanted to talk to. In Part 2, I'll go through some case studies to show what JD Logistics is doing with companies like Unilever, Nestle and Volvo.
Some Background on Zhe Wenming
Zhe Wenming grew up in Yunnan in Southwestern China (Note: Yunnan was where I hid out during the financial crisis and learned Mandarin). After high school, Wenming moved to Beijing and did a bachelor's degree at Tsinghua University. For those not familiar, getting into Tsinghua (and Peking University) as an undergraduate in China is exceptionally difficult. 10-11 million students in China take the gaokao (the national college entrance exam) each year. According to College Gazette, fewer than 0.1% of students get high enough scores to gain acceptance into Tsinghua University. So, you can assume that Wenming is probably way up there in IQ points.
After graduation, he went on to do a masters at the Chinese Academy of Sciences. And he worked in smartphones after graduation, before joining JD in 2012. He is currently head of the smart logistics park. He is also doing a PhD at Tsinghua.
We had a good discussion. The following are lessons learned. However, these are my impressions and conclusions. They are not statements or the opinions of Mr. Zhe or JD.
Some Background on JD Logistics
JD Logistics is building an integrated logistics and fulfillment network for China. In their filings, management talks a lot about integrated vs. single service logistics and fulfilment. About how they can offer integrated end-to-end fulfilment services, while most others offer only one step in the process (express delivery vs. cargo vs. cold chain). An integrated end-to-end service can be a differentiated solution for several industry verticals.
But I think this is really about the dream of building a smart, automated logistics network at scale. It's an intelligent and increasingly automated system for moving physical objects around China. And probably beyond. It's, in theory, a new animal in in the physical world that is a combination of technology and operations at nationwide scale.
In the filings for JD Logistics, they cite 6 components to their physical operations.
1,400 self-operated warehouses (2022). Plus, over 1,700 owner-operator cloud warehouses under its Open Warehouse Platform. These cloud warehouses are owned and operated by third parties, but JD provides the software, hardware, brand, and connection to the core network.

Note: Total aggregated floor area (GFA) for JD warehouses was approximately 26 million square meters in 2022.

Line-haul transportation network. If we exclude delivery, JD has approximately 95,000 trucks and vans in the company fleet. Plus +200 sorting centers. This is the system for actually moving things around the country.
Last-mile delivery network. In 2022, there were +7,600 delivery stations and +200,000 delivery people. Although they do access other delivery capacity as needed.
Bulky item logistics network. This is 86 warehouses and 102 sorting centers for bulky and heavy items (typically furniture and home appliances).
Cold chain logistics network. 123 warehouses and +1,000 refrigerated vehicles for fresh produce and other perishable items (including medicine).
Cross-border logistics network. In 2022, JD Logistics also had approximately 90 bonded warehouses, international direct mail warehouses and overseas warehouses, covering an aggregate GFA of approximately 900,000 square meters.
They describe this as 6 synergistic networks. But it's really just one big physical network for moving things around.
And they are pioneering hardware (robots, trucks, drones, sensors, etc.) and software to make this network digitized, connected and increasingly smart and automated. Their software and data technology today include:
Warehouse Management System (WMS). For tracking people and inventory in and out of the warehouse network. This is real-time visibility.
Transportation Management System (TMS). For tracking orders and available transport. For deciding optimized routes. For real-time tracking and tracing for goods and vehicles.
Order Management System (OMS). This is quite important. This is for splitting and merging orders that come in from the various channels. Then modifying them in route, if necessary.
This is the network that enables JD Logistics to offer integrated end-to-end logistics and fulfilment solutions to clients. They argue their smart logistics network has:
Improved operating efficiencies. The service can (in theory):

Remove redundant distribution layers.
Improve agility in the supply chain.
Increase inventory turnover.
Optimize inventory management.

Improved customer experience. It can increase delivery speed but can also improve the accuracy of delivery. And for sectors like apparel, it can increase the ease of returns.
Better forecasting and intelligent decision-making.
That's the basics of JD Logistics.
Here are the 4 things I learned from the interview.
Lesson 1: The Big Digital Transformation Steps Have Already Happened
Huawei uses the phrase "ubiquitous connectivity and pervasive intelligence" to describe the next generation of digital infrastructure. They are mostly talking about what happens when there is IoT and edge computing plus 5G connectivity plus cloud/AI. Everything is connected. Everything is intelligent.
That is what we are seeing in smart logistics. And the technology appears to be done. The big transformative steps have been taken. Now it's just about the slow and steady process of implementation and improvement. And the big impact is happening in two areas:
Automation and robots are replacing the repetitive labor work in logistics.
China logistics is still pretty labor-intensive so there is lots of adoption of robots for inbound and outbound logistics. Plus, sorting work. This is already paying off and we can expect this to increase as China's labor growth rate decreases and manual work becomes more expensive.
Digitization and data has more power in the physical world.
Online businesses like ecommerce are completely digitized as they were born digital. But the data they generate can be shallow. The impact of digital transformation in logistics is much more sweeping and it creates far more interesting data and insights. Digitization of the physical world generates lots of high-quality data from robots and devices. It enables far better insights and therefore better management and control of operation processes.
Smart logistics is a particularly powerful combination of operations and tech. It is both in the real world but also quite standardizable. That makes it different than many tech companies which don't have operational challenges. And it makes it different than other physical world operations that are hard to standardize.
Overall, automation plus digitization are already leading to big efficiency gains in logistics.
Lesson 2: The Challenge Is Balancing Efficiency, Cost, and the User Experience (i.e., Speed)
I asked about use cases that are showing clear benefits and Wenming mentioned:
Robots for picking and sorting.
Basically, you want robots to pick up products and bring them to people. Rather than have people going around to get them, which is a lot of what happens in warehouses.
Picking and sorting by robots means QR codes and effective robot arms. And fast connectivity. JD had a 5G upgrade in 2019, which was an improvement from the Wi-Fi guided system.
He also mentioned:
Autonomous delivery vehicles for consumers.
Last mile delivery is a chronically difficult areas where users can benefit from IT-enabled scalable operations. Autonomous vehicles are still struggling to solve this problem and over 400 autonomous vehicles are now being used in the field (including 100 in Shanghai).
What jumps out when looking at these use cases is the need to strike a balance between efficiency, cost, and user experience. Logistics is highly sensitive to cost, so you want to target the big difficult problem. But you also want to solve them as cheaply as possible. You need to spend the least amount of money to solve the hardest problems. Like picking and sort robots and putting autonomous vehicles on the streets. You need to use the right technology at the right cost.
And this gets harder as things become non-standardizable.
Wenming cited fresh produce as a particularly challenging area. A cold chain has higher standards at every step of the process. Fruits get damaged and spoil. Medicine must be maintained at certain temperatures. Plus, there are non-standard products. Even things like apples comes in all different types and quality.
He also cited furniture and bulky items as a challenge. Basically, more non-standardizable items with awkward to carry shapes. Plus, they can be quite large. You can apply RFID tags but it's hard to scan and do inventory because everything is so big.
***
Overall, I underestimated the challenge of deploying technology into logistics when cost is such a dominant factor.
Lesson 3: FMCG is the Most Compelling Situation for JD's End-to-End Fulfilment Solution
JD Logistics has specific end-to-end integrated solutions for FMCG, Bulky Items, Cold Chain, Apparel, and other sub-sectors. But the key question is how much adoption is there by clients?
JD's FMCG Solution appears to have the best adoption (or is one of the best). So that's companies like Unilever, Coca-Cola, Nestle, and others who have particularly complicated fulfilment situations. They have lots of varieties of products. They need to get their products to lots of different locations (supermarkets, convenience stores). And there is a high frequency of replenishment. I'll provide some case examples in part 2.
From their IPO filing, here's JD's solution for FMCG.
For FMCG, it does make sense that integrated warehouse fulfilment and delivery services could lower costs and improve efficiency. And providing end-to-end data is a big part of the value proposition. That helps with warehousing and inventory management planning.
Automotive is also an interesting area.
It's actually quite hard to supply Volvo spare parts to all the repair shops across China. But JD Logistics has a deal with Volvo in this area. I'll also talk about this in Part 2.
Lesson 4: A New Smart Logistics Business Model is Going to Emerge
I have long asked what happens if JD Logistics opens its increasingly data rich IoT logistics network to businesses and developers. Will it enable APIs and share the data? Will it let developers deploy apps that run on the platform like an innovation platform? Basically, is it going to emerge into a new type of operating system?
I've never really gotten an answer on that. But it seems clear that JD will open up in terms of data. Which it will increasingly share with different partners and institutions. This can offer tremendous improvements in industries. However, it also creates security challenges.
And I think it is clear we are going to see a new business model for truly smart logistics at scale.
I think we will see a Production Ecosystem, which I wrote about here: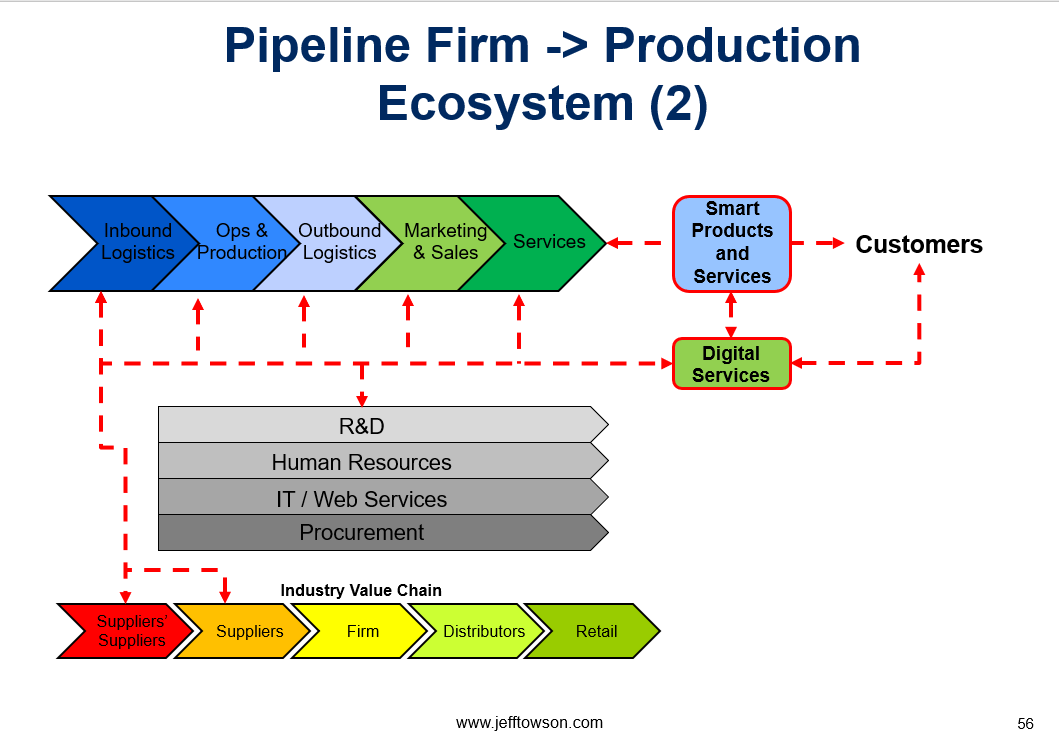 And we will probably see a Consumption Ecosystem, where JD Logistics connects and creates a data ecosystem with complementary services. Perhaps retailers or manufacturers. I wrote about that here:
***
That's it for Part 1. In Part 2, I'll go through some examples.
Cheers, Jeff
————-
Related podcasts and articles are:
From the Concept Library, concepts for this article are:
From the Company Library, companies for this article are: