I attended Huawei's 2022 financial results meeting in Shenzhen and it was mostly a story of "back to normal". As CFO and now rotating Chairperson Sabrina Meng said "In 2022, Huawei gradually pulled itself out of crisis mode. US restrictions are now our new normal, and we are back to business as usual."
The ending title for Eric Xu's presentation was "sustainable survival and development". This is in contrast to their 2021 report which was under the title "Solid Operations, Investing in the Future".
Here are Eric Xu and Sabrina Meng presenting.
Here were the key facts:
Revenue had stabilized at 642B in 2022. This was in contrast to 2021 when revenue had a big 29% decrease. Revenue had dropped from 891B RMB in 2020 to 636B RMB in 2021. But 2022 held solid at 642B, with revenue mostly coming from ICT (354B RMB) and the Consumer Business (214B RMB).
Operating profits fell to 6.6% in 2022. This was a significant drop from the 19.1% operating profits in 2021. However, Huawei's baseline operating profitability is typically 8-10% so it wasn't that big of a decrease. Management's explanation for this in the Q&A was increased supply inputs and increased spending on R&D.
R&D spending increased (yet again), reaching 161B RMB. This was 25% of revenue, a very big increase from their typical 15% of revenue. And it was up from 142B (22%) in 2021, which was already very high.
Overall, the financials showed a company that had stabilized its core businesses – and restructured its business portfolio and supply chain. The financials were a picture of a restructured Huawei operating under its "new normal".
Ok. Fine. And I mostly agree with that basic story.
However…
There 3 other things in the presentations that caught my attention. And that I think people aren't really talking about.
1. Cloud Revenue More Than Doubled to +45B RMB in 2022. This is Now Huawei's Biggest Growth Opportunity.
This was the first year that cloud was broken out as a business unit. It was under Enterprise in 2021, which totaled 102B RMB in revenue for that year. For 2022, cloud revenue reached 45B RMB. It is now a significant business, although still small compared to ICT and Consumer.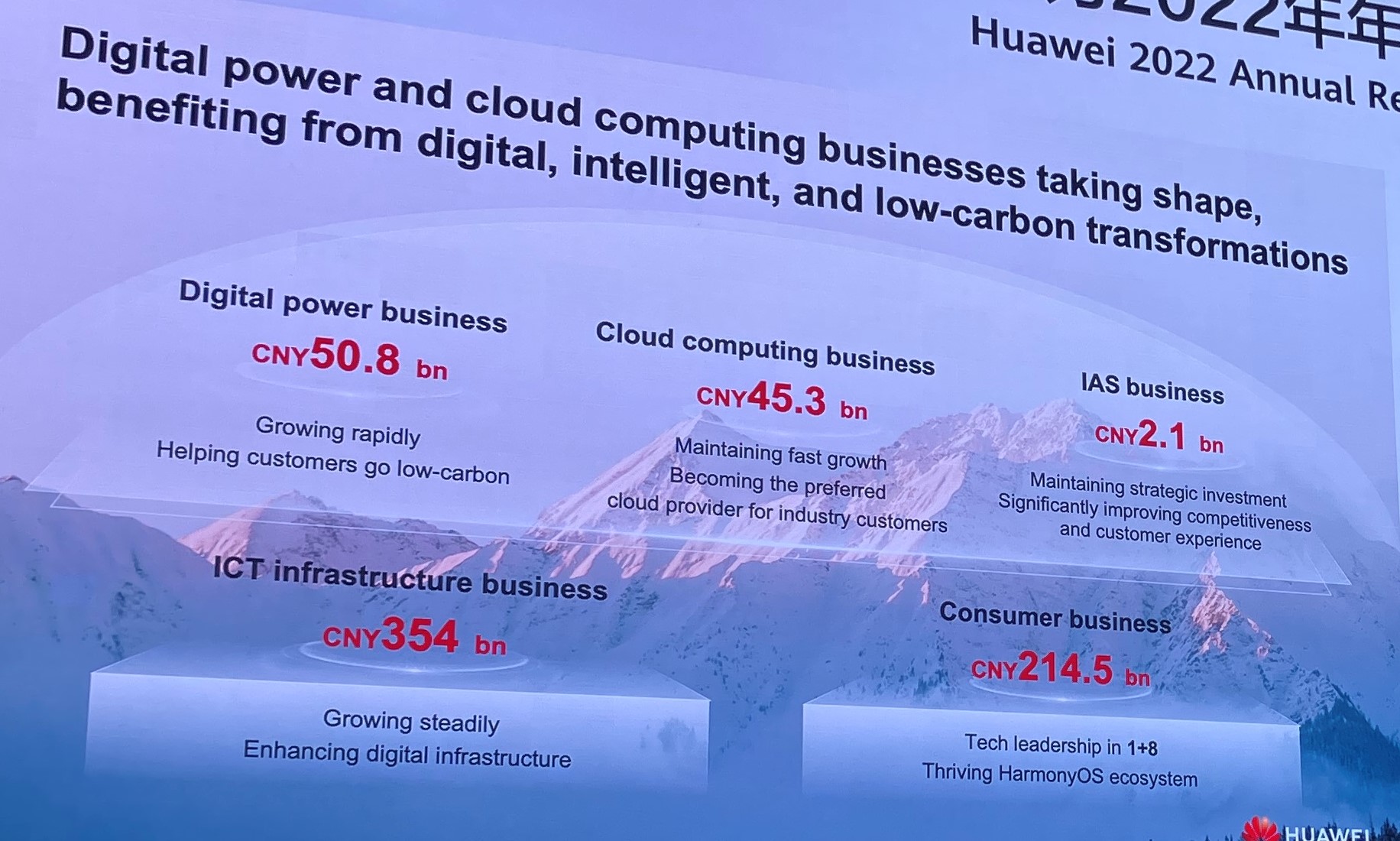 But cloud revenue appears have more than doubled in 2022. The presentation didn't have an exact growth number, but they did use the phrase "maintaining fast growth". This is an increase from the +30% growth in 2021.
Cloud is important because it is now significant in size – and because it is a business that has the potential to grow 10x in the future.
Compare Huawei Cloud to Alibaba Cloud, which had $11B in revenue in 2022. Matching Alibaba would mean another doubling of Huawei Cloud revenue.
Look at AWS as a comparable. Cloud in China does have significantly slower growth and adoption than we see in the US. But the overall markets could be comparable in size one day. If Huawei Cloud were to one day just match the 2022 revenue for AWS, that would mean over 350B RMB in revenue, surpassing ICT in revenue.
For China cloud, Alibaba Cloud is still the market leader. But in 2021, Huawei Cloud was #2 or #3, about tied with Tencent at 17%. And keep in mind, Western cloud companies will never be allowed in much of China, and especially not in areas like government and financial services.
Overall, cloud's top line growth in 2022 looked pretty good (from the outside). It is Huawei's biggest potential revenue growth opportunity. Profits and ROIC are another question.
2. Digital Power Surprised in 2022 at 50B RMB.
Huawei said digital power was "growing rapidly" in 2022. And it was larger than the cloud business at 50B RMB. That took me by surprise.
I have been watching this business for the last 1-2 years in Thailand and Southeast Asia. We see this showing up in solar panels on people's homes across Southeast Asia (which is sunny and hot). It turns out Huawei knows quite a lot about batteries and power. This should not be surprising as all their base stations and telco equipment require power solutions, often in unusual situations.
But Huawei's move into increasingly intelligent power solutions is really interesting. And it was interesting to see this business emerge post entity list ban. Digital power's growth story is not clear to me. And it likely has margins similar to most hardware. But the margins for intelligent power could be surprising.
Overall, I think we can conclude that Digital Power has now become a significant business for Huawei. And unlike cloud, it is likely to be a fairly predictable business. It is far closer to their core equipment manufacturing business than cloud operations. It's a nice addition to the business portfolio.
3. Consumer Business Revenue Stabilized at 214B RMB in 2022.
During the China-US "tech war", Huawei found itself at the center of a political storm not of their making. And in 2020-2021 it impacted quite a bit of their business.
Their ICT business was politically pushed out of several developed markets (UK, Japan, etc.). Either in part or entirely.
Their tech supply chain was hit across the board. The consumer business unit subsequently fell by 50% to 243B RMB in 2021, with international smartphone sales being the hardest hit. And unlike in ICT where the components and supply chain could be restructured, it was not obvious how to overcome limitations on high end chipsets and operating systems.
And yet, the consumer revenue in 2022 was 214B RMB (vs. 243B in 2021). I thought it would be quite a bit lower. Yet, the consumer business appears to have stabilized its previous decline.
I assume this is mostly coming from smartphones in China (their foldable smartphones are awesome) and their "1 + 8 + N" strategy. They were already moving from selling smartphones to selling smartphones plus a suite of 8 ancillary products (earbuds, smart home, etc.). These ancillary products don't require the same chipsets and are compatible with phones everywhere. I used Huawei earbuds which are pretty great.
Overall, Huawei's Consumer Business appears to have successfully shifted its product mix and stabilized its revenue. If this continues, it will defy a lot of analyst expectations.
***
During the height of the political storm, I was pretty bullish about Huawei. I thought it would weather the storm and then fix what it could and pivot where it had to. Plus, I thought it would use the crisis to reinvigorate its culture. And I think we really did see management lean into the "fight for survival" language.
But I have been studying the company's culture for many years and am convinced they are very good at two particular things. They good at innovation-driven growth. And they are good at surviving. This Part 1 is about 2-3 areas of innovation-driven growth. In Part 2, I'll go into survival.
Cheers, Jeff
———
Related podcasts and articles are:
I write, speak and consult about how to win (and not lose) in digital strategy and transformation.
I am the founder of TechMoat Consulting, a boutique consulting firm that helps retailers, brands, and technology companies exploit digital change to grow faster, innovate better and build digital moats. Get in touch here.
My book series Moats and Marathons is one-of-a-kind framework for building and measuring competitive advantages in digital businesses.
This content (articles, podcasts, website info) is not investment, legal or tax advice. The information and opinions from me and any guests may be incorrect. The numbers and information may be wrong. The views expressed may no longer be relevant or accurate. This is not investment advice. Investing is risky. Do your own research.