A few years ago, I wrote about how Alibaba.com was launching an ambitious global strategy around B2B cross-border transactions and solutions. It was a sweeping vision.
Basically, they were creating digital tools and services that enabled SMEs to buy and sell products and supplies like multi-nationals. It was super cool as an idea.
And this is not surprising. Alibaba are masters of digital strategy. It's all they do. Anytime you see anything big at Alibaba, Ant or Cainiao, it is a digital strategy. In the past +20 years:
Alibaba has built large product marketplaces (Tmall, Taobao, Alibaba.com, 1688).
Plus some smaller services (ele.me, Fliggy).
They have built entertainment services (Tudou, Alibaba Pictures).
They are building Alibaba Cloud.
And they launched Ant Financial / Alipay. Later renamed Ant Group.
Which brings me to Alipay+, the newest international service launched by Ant. It's a different company. But it's pretty much the same culture and expertise as Alibaba.
An Introduction to Ant (Pre-IPO)
Ant, as described in its canceled IPO document, was a great example of digital strategy. Here is how it was presented in the IPO prospectus:
To be honest, I can't really figure out that graphic. Investment bankers tend to make these for IPO prospectus. But it is a good summary of all the services provided by Ant (at that time). 
Here's my explanation for Ant. Pre-IPO, it was 3 complementary platforms with 4 network effects. It was:
A payment platform (with additional credit services).
A marketplace platform for simple, high frequency daily life services, such as food delivery, movie tickets and such.
A marketplace platform for financial services, such as insurance, credit, and investments.
I wrote about that here.
And this is how I would show it with graphics. For those of you who aren't into strategy, you can skip these. My main point is this is a management team that is really outstanding at digital strategy. As good as any management team in the world. This is the A-Team of digital.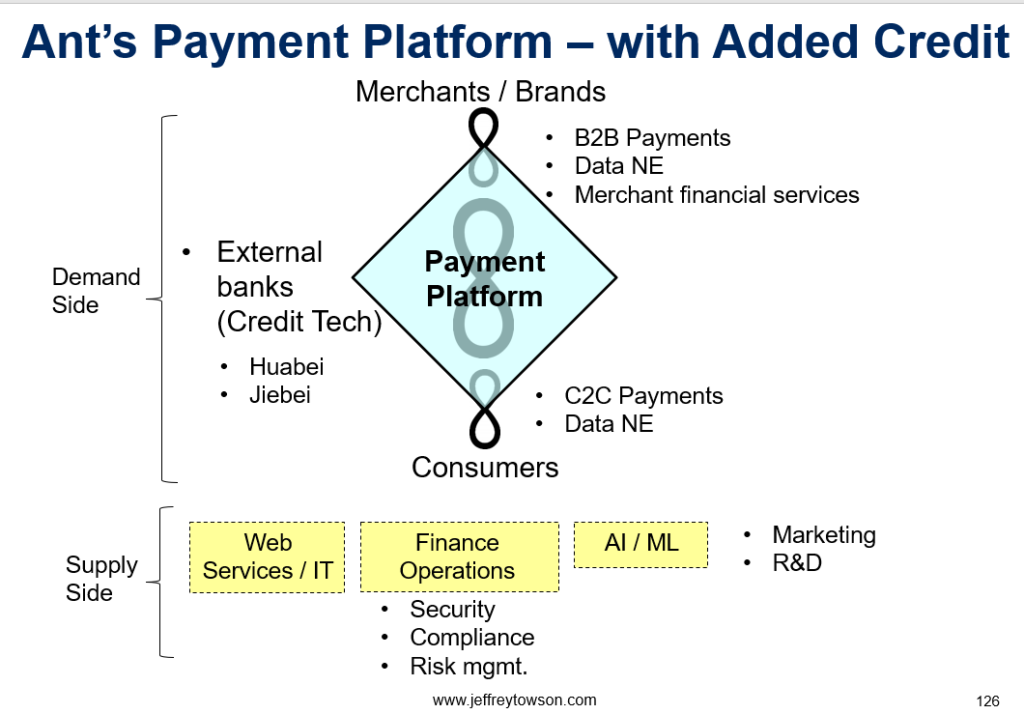 Ant has been restructured since the postponed IPO. And the company has been pretty quiet for the past year, especially about its international ambitions.
However…
Ant has recently launched Alipay+, which is currently being rolled out mostly in Asia, with some developments in Europe. And this appears to be Alipay's big new international (i.e., not domestic China) initiative. So that immediately got my attention. When this team launches something new, I stop and take a look.
And (again for the strategy people), Alipay+ jumps off the page in terms of clever digital thinking. These are still the early days but it's worth looking at.
An Introduction to Alipay+
In September 2020, Ant introduced the concept of "Alipay+" and disclosed that it had launched a pilot for Alipay+ in early 2020. But initial adoption really started in late 2021 – so, we are only a couple of months into this.
It was launched with the following rationale (from Ant):
"Digital payments are…the key to driving the digitalization of business activities. However, the uneven regional development and technical capabilities of participants have led to a lack of interoperability between existing digital payment solutions…resulting in the fragmentation of payment systems across the world."
"Alipay+ provides global cross-border mobile payments solutions which enables merchants, including small and medium-sized businesses, to better serve over one billion consumers (excluding Alipay) from all over the world, (mainly from Asia currently) by connecting merchants with multiple digital payment methods."
"Besides payments, Alipay+ also provides digital marketing solutions, which help global merchants to distribute various kinds of discounts to digital payment method users, helping them to gain and retain consumers across the world."
Alipay+ has a fairly straightforward plan:
To offer merchants and digital wallet providers around the world cross-border payment and cross-border marketing capabilities.
Here's the key chart (from Ant).
An example cited by Ant is Huang's Bakery, a Macao bakery brand. The merchant deployed Alipay+ payment solutions which enabled it to accept payments from multiple digital wallets, including Alipay, AlipayHK and Kakao Pay. So, South Korean consumers can use their own digital wallets to pay in Macao in Korean won, as they do at home. And the merchant can receive payments in the local currency in real time. That's a really good use case.
You can see a clear value proposition for consumers:
It can make your digital wallet work globally. Not just locally.
However, Alipay+ is not connecting directly with consumers. It is dealing with local digital wallets, like TrueMoney and kCash. As well as with local banks, which are increasingly offering digital payment solutions, such as BPI in the Philippines.
But Alipay + is not a digital wallet itself (like Alipay is). It is not competing with local digital wallets or bank applications. It doesn't do domestic payment or marketing services. So it's cross-border B2B, not B2C.
For merchants, it also has a strong value proposition in cross-border payments:
Merchants can now accept payments from foreigners (especially tourists) from lots of other countries.
As long as the consumer's digital wallet back home is linked with Alipay+, the merchant can accept payment. This includes Chinese tourists who are using Alipay (lots of them).
The payment part of the merchant value proposition sounds a lot like the mentioned Alibaba.com B2B service. It eliminated the limitations small merchants have when operating internationally. In this case, Alipay+ handles cross-border payment processing. And it well positioned against challenges in clearing and settlement, forex, data integration, security, and compliance.
Finally, Alipay+ also has a strong value proposition for merchants in cross-border marketing.
Merchants can reach, market to and interact with global (i.e., non-local) consumers.
This is the ability to market to potential and existing customers outside a merchant's country. Merchants can reach those coming to their country soon. It gives merchants the ability to keep communicating with consumers who have visited and are now back home.
This is really where I expect to see a lot of innovation at Alipay+. Cross-border payments are important but are largely utilities (like all payments). But marketing services can grow and improve. This can include:
Promotions and loyalty programs.
Daily rewards, flash rewards, and e-vouchers.
Big promotions for brands.
Shopping festivals and other events.
All of that is compelling. 
Why Alipay+ Is Great Digital Strategy
Ok. So that is the basic idea. And there is just a lot to like about this strategy. Here's my short list.
#1. Alipay+ is positioned against multiple attractive, long-term secular trends.
These include:
Growth in online mobile payments. Mobile wallets already account for about 50% of online payments globally In Southeast Asia it is higher (around 60%) as the region has fewer bank cards (only like 20%). This technology trend will grow.
Growth in offline mobile payments. Mobile wallets are about 30% of offline (POS) payments. Bank cards are still #1. This is also going to grow.
Asia has a large and growing population. Asia is already +50% of the world's population. It's a huge market and growing.
Asia has a large middle class that is increasing in wealth. Payments services are a good way to growing wealth.
All of that is attractive and Alipay+ is well positioned against it.
#2. Alipay+ can leverage lots of Alibaba's strengths.
About +50% of all Asian tourists are Chinese consumers. And they are all on Alipay. So, Alipay+ already have a big consumer base to leverage into cross-border payments.
Millions of merchants in Asia are already on Alibaba's ecommerce sites (Taobao, Tmall, Lazada). They are also increasingly using Alibaba Cloud for their operations.
Alibaba has significant consumer penetration in Southeast Asia via ownership of Lazada.
Alipay+ can leverage the extensive technology of Alibaba, Ant and Alipay.
#4. Payment and marketing solutions across Asia positions Ant for expansion in both geographies and services.
This could be expanded into other countries. Alipay+ can also expand into other merchant services.
***
Ok. There is just a lot to like in this strategy. And in business, you should only play games that have big payoffs if you win.
That said, Alipay+ has big challenges ahead.
Getting adoption for new services is always difficult.
Payment services are facing technological disruption by blockchain, cryptocurrency and decentralized finance (web3).
There are lots of regulatory issues in financial services.
We'll see what happens. 
Cheers, Jeff
——–
I write, speak and consult about how to win (and not lose) in digital strategy and transformation.
I am the founder of TechMoat Consulting, a boutique consulting firm that helps retailers, brands, and technology companies exploit digital change to grow faster, innovate better and build digital moats. Get in touch here.
My book series Moats and Marathons is one-of-a-kind framework for building and measuring competitive advantages in digital businesses.
Note: This content (articles, podcasts, website info) is not investment advice. The information and opinions from me and any guests may be incorrect. The numbers and information may be wrong. The views expressed may no longer be relevant or accurate. Investing is risky. Do your own research.