The IPO filing I have been waiting two years for finally arrived. Alipay / Ant Financial (now called Ant Group) has filed. And their +600 page prospectus is just a fantastic read. But it's a lot. I have 40 pages of notes.
So I thought I would begin with some of the key points. This is an important company in Asia to understand.
For those that aren't familiar with Ant, it began as Alipay in 2004 in Hangzhou. Alibaba launched a payment service to help their fledgling ecommerce business at a time when the buyers and sellers in China didn't trust each other (still don't). This is analogous to how PayPal (Elon Musk, Peter Thiel) was built on the back of eBay.
But in China nobody had credit cards back then (most still don't). So Alipay operated on cash on delivery and later by linking debit cards to an ewallet. And by 2010, Alipay had grown to +300M users.
Some of the key points in their history:
In 2011, Alipay released its mobile app. This was incredibly important. It was the beginning of mobile payment and it took ecommerce from online on a pc (at work and home) – to online and offline everywhere. Chinese consumers began scanning QR codes and paying everywhere with their phones. It became part of daily life services and payments.
In 2013, Alipay launched Yuebao with Tianhong Asset Management. Yuebao translates which means "extra treasure" and it let users put their Alipay balances into a money market fund. This was a big improvement from the tiny rates of return and inconvenience of state banks. And it was Alipay's first big move from payments to investment services.
In 2014, their bank subsidiary MYbank got regulatory approval and the platform begin offering credit to consumers and small merchants. That was their big move from payments into credit services.
In 2017, they partnered with TrueMoney in Thailand. Not hugely important but I thought the readers in Thailand would appreciate it.
In 2018, Alipay expanded into cross-border payments across Asia, usually by partnership.
In 2019, users of Alipay e-wallets reached 1B people.
In 2019, Alipay launched Xianghubao, a mutual benefit insurance product. This is one of their key moves into insurance.
In 2020, they announced their planned listings on Shanghai's Star Market and the Hong Kong stock exchange.
And in the last six months, total payment volumes on Alipay totaled 118T RMB. That right. In the past 6 months, they processed $17 trillion in payments. Compare that to the $100B in mobile payments in the USA for all of 2019.
You can go here to see more of the history of the company, which is pretty interesting.
But the keywords that should jump out of this history are:
Mobile payments
Daily life services
Credit product / services
Investment products / services
Insurance products / services
Which brings me my main point.
Ant is Actually 3 Platforms Combined
Here is the summary of the company from the IPO document.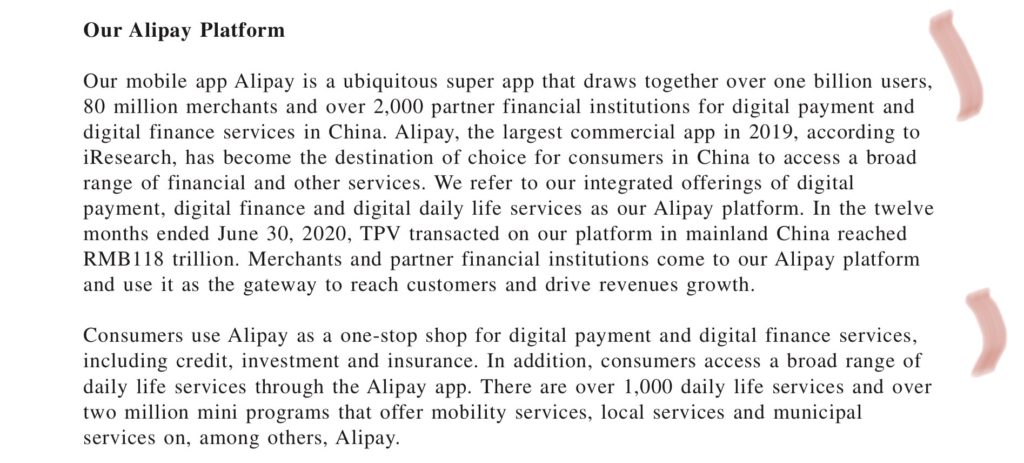 In the first paragraph, they say they are a "super app" that offers payment, digital finance and daily life services.
But in the second paragraph they say they are a "one-stop shop for digital payment and digital finance services, including credit, investment and insurance."
It's kind of weird. It sounds like two different companies. And here is the picture they show.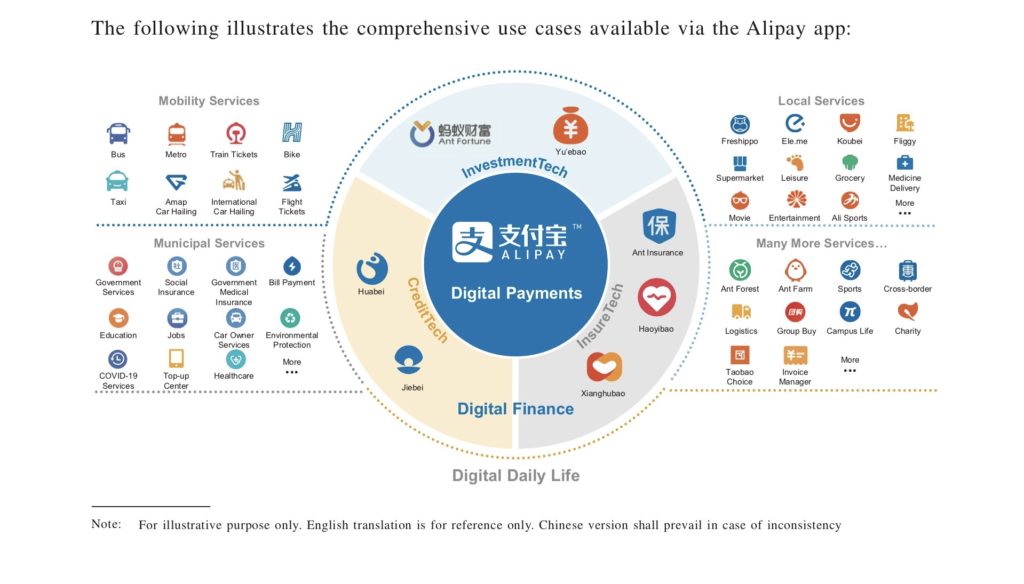 If you're confused by that, don't worry. It doesn't make much sense. They kind of jammed everything together in to one huge graphic.
But here is what they are really doing.
1) A payment platform (with credit services).
This is one of our five types of platform businesses. Merchants are one user group and consumers are another. With a network effect between them. Just like MasterCard.
But with mobile payments, you can also send payments to other consumers. So that is another network effect between consumers. And payment platforms have virality (one of my digital superpowers). So payment platforms can grow rapidly and bring in lots of users naturally by usage.
Ant refers to payments as the "infrastructure" of finance. So this platform business model is really the foundation and is what is creating their network. And it is what most attracts users and creates the highest volume of activity.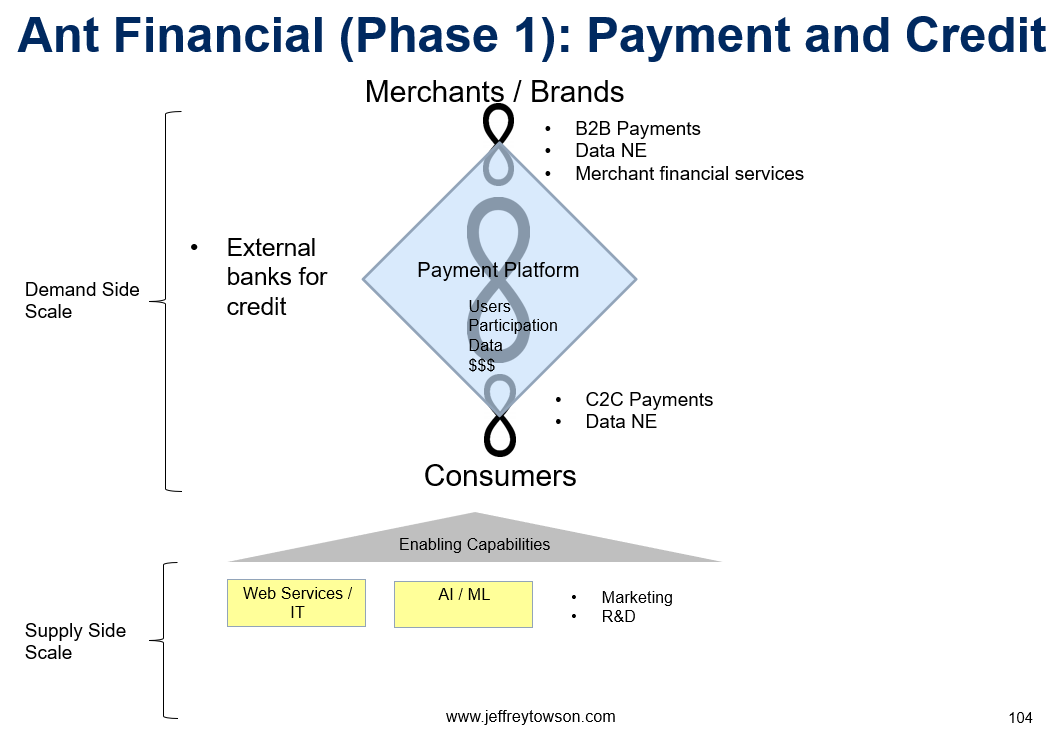 2) A marketplace for simple, high frequency services.
This is basically like Meituan. And they have integrated Ele.me, their Meituan competitor, into Alipay in the past six months. You can see all these daily services, like ordering food and buying movie tickets, in the graphic above.
Most of these services are not huge money. But they do get frequent engagement. And they are fairly simple to provide. Alipay does want to have a super app but it doesn't have a messenger like WeChat. So Daily Merchant Services and Payment are what they are hoping will make Alipay something people use every day.
3) A marketplace platform for financial services (insurance, credit, investments).
This is another marketplace that enables users to do transactions with banks, insurance companies and asset management companies. This actually gets very little activity because people don't buy investment products very often. And they are complicated services that require risk management.
It's hard to build a stand-alone marketplace platform for digital finance. It's hard to get the users and activity levels. But financial services is also where the big money is. It is where rising Chinese consumers are putting their accumulating wealth. So Alibaba is building this on top of the other platforms with higher activity and more users.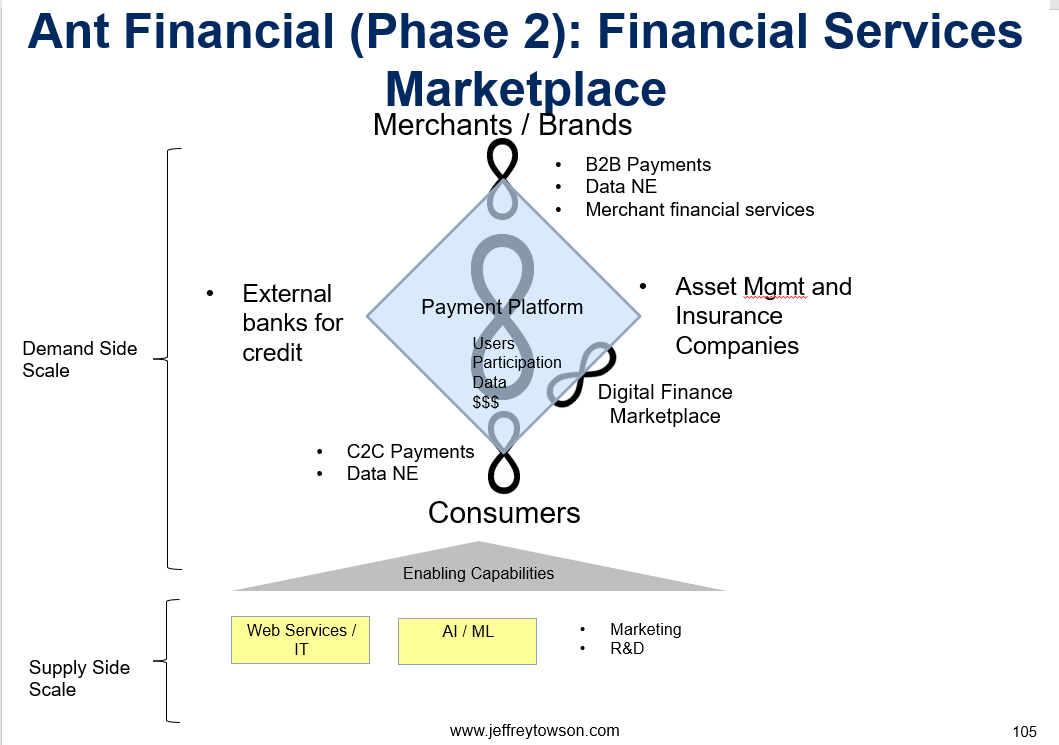 As you can see, Alibaba is endlessly clever. Recall, my standard blue diamond diagram.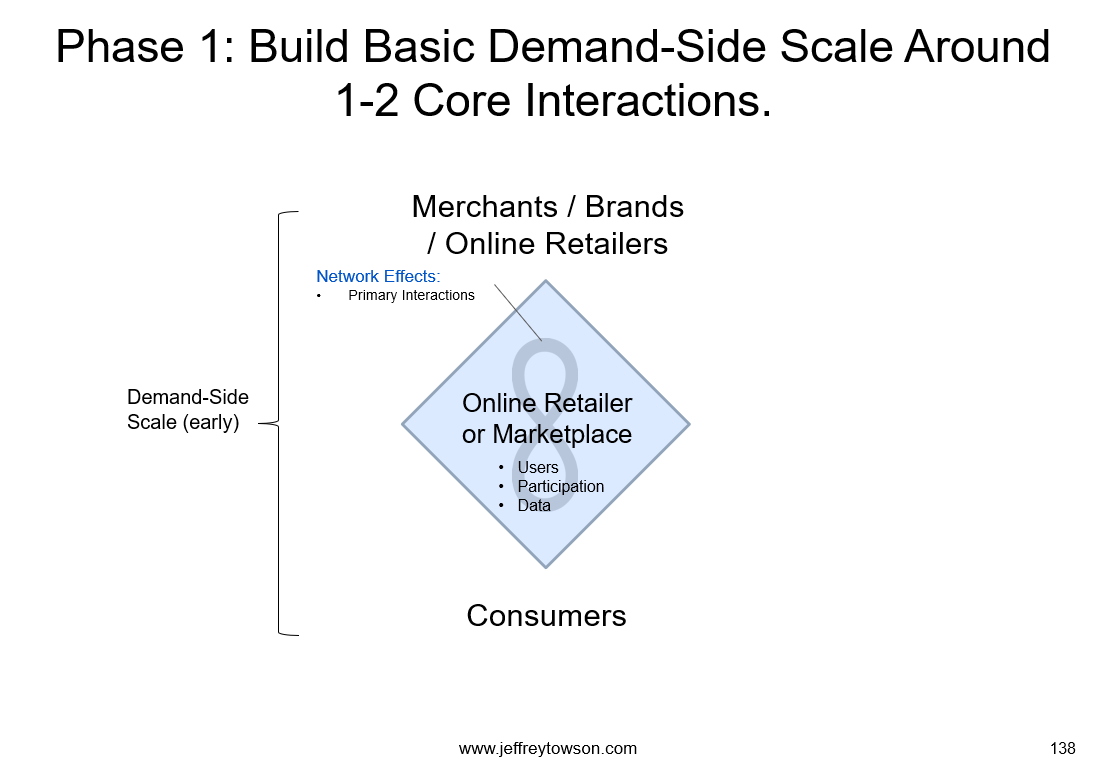 To build a platform you need three intangible assets: users, participation and data. And this platform also needs to be monetizeable throwing off cash flow (a problem for a lot of audience builder platforms).
Putting three platform business models on top of each other gets Ant Group there.
Payment platforms (mobile payment, credit cards) create these intangibel assets quite well. Lots of users, participation, data and cash. So the foundation of Alipay is the payment platform, which is why they refer to it as infrastructure.
Daily Life Services gets you more engagement. People order food and take taxis every day or so. This is the foundation of Meituan. WeChat also has this but it is particularly powerful as a super-app because it also has messenger. But Alipay doesn't have that so it is combining a Daily Life Services marketplace with a Payment Platform to get lots of participation and data (and some cash flow).
The financial services marketplace on top of this is the future cash machine. The credit products and assets under management should bring in the really big cash flow.
So Ant Group is three platform business models on top of each other. And each brings something essential to the platform: users, participation, data and cash flow.
Alibaba is endlessly clever.
————–
I write, speak and consult about how to win (and not lose) in digital strategy and transformation.
I am the founder of TechMoat Consulting, a boutique consulting firm that helps retailers, brands, and technology companies exploit digital change to grow faster, innovate better and build digital moats. Get in touch here.
My book series Moats and Marathons is one-of-a-kind framework for building and measuring competitive advantages in digital businesses.
Note: This content (articles, podcasts, website info) is not investment advice. The information and opinions from me and any guests may be incorrect. The numbers and information may be wrong. The views expressed may no longer be relevant or accurate. Investing is risky. Do your own research.