In Part 1, I talked about my discussion with Lazada CEO James Dong. I think it had some good strategy take-aways for both Lazada and ecommerce in Southeast Asia.
But the most exciting thing happening this year is definitely generative AI. All the digital giants (such as Lazada) are going into this in a big way. So, it was a great opportunity to also chat with Lazada Chief Technical Officer Howard Wang about what they are doing in AI this year. And in tech in general.
We ended up doing a fireside chat at Lazada's Brand Future Forum in Singapore. It was titled "Emerging Tech and AI Disruptions in Ecommerce", which would be a pretty good title for a podcast series.
First, some background.
Howard Wong's Background
Howard has been at the elite level of software / tech engineering for +20 years. You take a quick scan of his background, and you immediately know you're looking at the A team.
Howard started as a computer science major at Tsinghua University in Beijing. For those that aren't familiar, that is like the MIT of China. Except it is much harder to get into. And you have to specify your major in your applications (for some degrees). I went to Stanford, and I've taught at Peking University (down the street from Tsinghua). Trust me on this one. If someone says they went to Tsinghua as an undergrad in something like physics or computer science you are dealing with a super capable and competitive person.
From there, Howard went to North Carolina at Chapel Hill for a masters in computer science. And then to Yahoo, where he spent 8 years in engineering. Then it was over to Twitter, where became a senior engineering manager (2013-2015). And finally, he arrived at Alibaba in 2015.
My take-away from his 12 years at Yahoo and Twitter (i.e., pre-Alibaba) was that he has real depth of experience in search-based advertising.
Howard would spend 5 years (2015-2020) at Alibaba and rose to the head of engineering at Alibaba.com, the global B2B division. That is really interesting.
As mentioned in Part 1, Alibaba's international ecommerce business is now in its own business unit. This business unit includes Lazada and AliExpress, which people talk a lot about. But it also includes Alibaba.com, the cross-border B2B business that people don't talk so much about. B2B at Alibaba doesn't get nearly as much attention.
I've been paying a lot of attention to Alibaba.com over the past years. It has a particularly ambitious vision. It is nothing less than an attempt to digitize and democratize global trade. If successful, it would enable the world's SMEs to trade act like multinationals. This and the associated eWTP program was a major focus for Jack Ma before he stepped out of his operational roles at Alibaba. I've wrote about it here (in 2019).
Doesn't Howard's experience at Alibaba.com sound like the perfect background for Lazada? Which is about international ecommerce and stitching together a hodge-podge of different ecommerce markets in Southeast Asia?
An in May 2020, Howard became Chief Technology Officer of Lazada. He is now in charge of the technology, infrastructure, and AI for building a customer-first experience for brands, sellers, and buyers. His role also puts him in charge of +1,000 engineers across 6 countries. Plus, he's a really nice guy and fun to chat with.
With that, let me just jump to our interview.
Two Important Tech Tools for Merchants / Brands
I like talking with CTOs. It's super interesting.
But I am also aware that tech can be a bit of a rabbit hole where things can be really interesting but also not add much business value. For example, a lot of the web3 excitement was just developers building stuff they though was cool but had little value for customers. If Steve Job's obsession with customers was symbolic of web2, Steve Wozniak's obsession with cool tech was symbolic of web3.
So, I liked that Howard was really focused on how technology can benefit Lazada's customers and brands / merchants. He kept coming back to how technology can improve the user experience. He wanted to use technological innovation to open up new opportunities for their users, sellers, and their various partners.
As the Brands Future Forum was (mostly) for merchants and brands, we mostly talked about them. Specifically:
What should merchants and brands (on Lazada) be focusing on in terms of technology this year? What matters the most?
Howard's answer was to talk about two technologies.
Technology #1 Is for Monetization
This is about using new tools to better target customers with marketing spend. As mentioned, Howard has long been working on search, recommendations, and advertising technology. And this has long been AI driven, with lots of optimizing of algorithms. They enable real-time personalization, which is particularly powerful.  Howard mentioned that AI-powered search recommendations result in about half of the total user transactions. An example is Lazada's AI image-based search, which was introduced in 2019. That can improve both personalization and convenience.
This plays out at most every step in the customer journey. Brands want to be able to better target users. And precise and personalized targeting can convert high intent shoppers into buyers.
In their exhibit hall for the conference, Lazada highlighted some of their tools in this area, specifically their data management and sponsored discovery services.
Technology #2 Is Product Solutions
Basically, these are the constantly advancing tools that make the products being sold more compelling and more complete. Jack Ma usually refers to these as technologies that empower small merchants and solve their problems and limitations.
And there are a lot of the problems and limitations. The ones often mentioned are logistics and payment. But those are supporting / enabling of the products themselves.
How do you advance the actual products being sold?
At the Lazada exhibit, they detailed 4 product solutions they are focused on.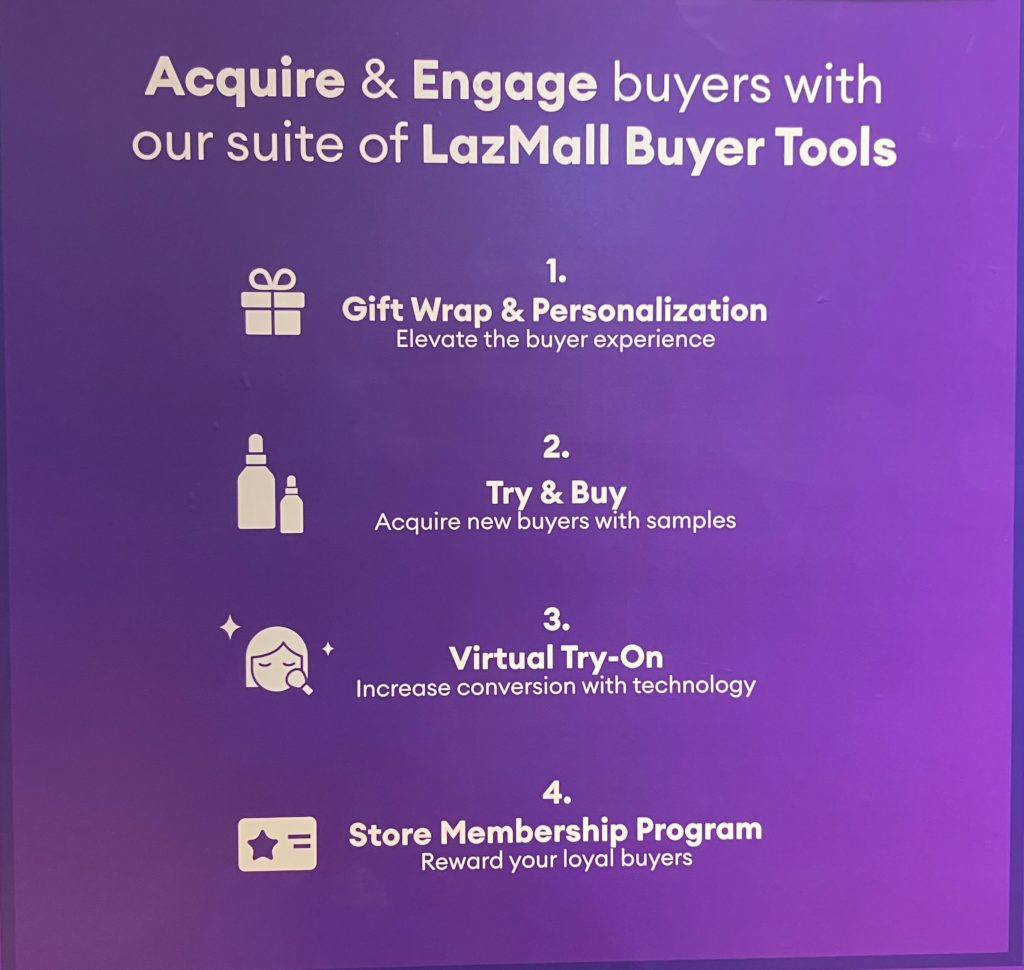 Here is virtual try-on lipstick.
I thought personalized gift wrap was much more compelling (for me).
The product solution Howard talked most about was their skin test solution. Here is the video he showed for this.
Moving on, we switched the topic to generative AI tools.
Lazada's New Generative AI Tools
AI has long been everywhere in ecommerce (especially demand projection, matching and logistics). But generative AI is the hot topic this year. Again, we focused on:
What should merchants and brands (on Lazada) be focusing on in terms of Generative AI this year? What matters the most?
Howard mentioned two things.
GenAI Technology #1 Is Chatbots
Generative AI is creating entirely new type of interface between users and the Internet. And therefore, between consumers and merchants / brands. You can chat with a merchant's chatbot. You can even chat with a merchant's products (i.e., shoes can talk).
This makes the merchant more responsive (i.e., faster). That can be helpful for things like returns and lost items.
But the more compelling use case is using chatbots to significantly improve the user experience. And to get greater engagement. They are also powerful tools for increasing conversion. The head of AI at JD talks about chatbots like a chess program. It is on the other side of the chessboard to you (as a consumer). And it is trying to move you towards a sale over time, which is analogous to capturing the king.
Lazada's current initiative here is LazzieChat, a generative AI chat function built on ChatGPT. Lazada is collaborating with Microsoft Azure OpenAI services, and this was the first AI-powered chatbot in Southeast Asia. Here is the video for LazzieChat.
The collaboration with Microsoft OpenAI is interesting. I mentioned in Part 1 that one of Lazada's competitive strengths is its ties to Alibaba. And that this gives the company a depth of resources to draw on in logistics and IT capabilities. This can be cumulative internal spending and research in logistics and IT spending. But it can also be the ability to create external partnerships, such as with companies like Microsoft and OpenAI.
GenAI Technology #2 Is Improved Creative Content
Most every brand is now in the content business. Compelling content is one of the few ways to get consumer attention and engagement in an age of endless supply. Attention is turning out to be the real scarce resource.
Generative AI obviously is a big tool for brands to create content that enhances and increases their product. This can mean more view, fans and followers. But it's really about just beautifying their content and their products. Think Midjourney and stable diffusion. Think better and more personalized banners. Think better and more personalized advertising.
***
It was an interesting conversation. I liked how focused it was on the customer and seller experience. Ultimately, generative AI is about enhancing the customer experience and creating more value for them. This can be in personalized recommendations, creating novel experiences and optimizing Lazada's processes.
That's it for the conversation. I hope this was helpful.
Cheers from Shanghai, jeff
———–
Related articles:
From the Concept Library, concepts for this article are:
From the Company Library, companies for this article are:
——–
I write, speak and consult about how to win (and not lose) in digital strategy and transformation.
I am the founder of TechMoat Consulting, a boutique consulting firm that helps retailers, brands, and technology companies exploit digital change to grow faster, innovate better and build digital moats. Get in touch here.
My book series Moats and Marathons is one-of-a-kind framework for building and measuring competitive advantages in digital businesses.
This content (articles, podcasts, website info) is not investment, legal or tax advice. The information and opinions from me and any guests may be incorrect. The numbers and information may be wrong. The views expressed may no longer be relevant or accurate. This is not investment advice. Investing is risky. Do your own research.