Southeast Asian ecommerce giant Lazada recently had its Brands Future Forum (BFF). This is their annual event in Singapore for meeting with brands (both large and small), laying out key initiatives and giving awards.
For me, it was a great opportunity to find out what management is focusing on. And what is coming next in SE Asian ecommerce.
And I got the opportunity to sit down (separately) with Group CEO James Dong and CTO Howard Wang. That was a real pleasure. In this article, I'll talk about my discussion with James Dong. In Part 2, I'll talk about my discussion with Howard Wang.
But first, a few comments on ecommerce in Southeast Asia.
Ecommerce in Southeast Asia is Awesome
There are a couple of places in the business world where things are really happening. Where you really want to be.
In AI in Silicon Valley in China.
In financial services in Manhattan.
Not in Hollywood.
But definitely in ecommerce in Southeast Asia.
I keep one foot in Mainland China and one foot in Southeast Asia. I live in both. I study companies in both. I teach in both. And that's not an accident. These are the two areas I am most excited about for digital. China is the leading frontier for so much of digital innovation. And Southeast Asia is one of the fastest developing and most exciting regions for ecommerce.
However, Southeast Asia has lots of interesting quirks as a retail / ecommerce market.
First, it's actually 6-7 pretty different markets, each with their our customs, languages, and quirks. And each is at a different stage of development in ecommerce. You can see this in the regulations, customer behavior, digital infrastructure, and merchant capabilities.
Second, SE Asia has lots of islands and hyper-dense cities. That's a strange combination that has some interesting effects on logistics. There are lots of airplanes, boats, rivers and villages – a challenging logistics network. But logistics within the region's capital cities have big economies of scale based on geographic density.
Third, it's right next to China, which is a manufacturing and digital powerhouse globally. And more so regionally. There is a lot of cross-border activity in products and logistics for sure. But there is also a lot of cross-border activity in flows of capital, data, people, and talent.
Finally, SE Asia is in the world's most rapidly rising region. Asian middle-class families are growing in number, wealth and sophistication. They are arguably the greatest secular trend since American families rose in the last century. It's hard not to be bullish about ecommerce  – as it sits at the intersection of both rising Asia and advancing digital. And Lazada sits right at the intersection of both of these trends.
Ok. Back to Lazada.
Being a Multinational Means Governance and Management Challenges
James Dong was appointed Group CEO of Lazada in June 2022. This was pretty big news.
Alibaba had acquired Lazada in 2016, which was the market leader in those early days of Southeastern ecommerce. However, there had been increasing concerns by investors (and myself) about frequent management changes post-acquisition. New CEOs were appointed almost yearly, both at the regional and at the country level.
As an outsider, it appeared that Alibaba / Lazada was dealing with a pretty standard governance problem for multinationals. There can be interesting dynamics when a large parent company in one country is overseeing a smaller subsidiary in a very different country. Especially if the subsidiary is getting challenged by an aggressive local competitor.
For example, I used to deal with this exact situation a lot in the Middle East. We often had businesses that were subsidiaries and joint ventures with foreign partners. And governance / management was a real challenge. We would often encounter 3 problems:
The management deployed from the parent company to the foreign market was not committed long-term.

They would work hard for 1-2 years but then go home. That is different than a local CEO who lives and dies in the local market. However, local CEOs often hadn't spent sufficient time at the parent company to understand the company and its culture. And if the local CEO left suddenly, it left the parent company in a scramble. There often just wasn't a good solution to this situation.
When I used to hire CEOs and executives to move to the Middle East, I would always ask if they still owned their house back home (say in Canada). Did they sell it? Were they learning the local language? Where was their family based? I ultimately stopped hiring any CEOs who weren't coming to the new market with no plans to go home.

Local management decisions often had to be routed to the parent company, which made the company slow versus local competitors.

One of the reasons why KFC beat McDonalds in China was because they gave their China CEO (Sam Su) almost complete autonomy. He radically changed the KFC menu, which you can still see today. In contrast, McDonalds China was worried about their global brand and major decisions were run through the Illinois headquarters. This made things slower. It could also be frustrating because the people back in Illinois didn't know that much about China.

Smaller foreign businesses can often be a lower priority in the parent company.

Being a smaller and foreign business in a large corporation can result in an orphan status. There is not as much attention from the parent. It doesn't get enough resources. This is because it is distant and because big companies need big opportunities to move the needle in terms of revenue. That's where the focus goes. Note: As I am writing this, JD is closing its B2C operations in Southeast Asia. As small part of the parent company, these foreign ventures never got sufficient resources to compete against companies like Lazada.
None of the above three points is about Lazada. It's just my own experience as the turn-around guy for these situations.
However, when I was looking at Lazada in depth around 2019, my assessment was that Alibaba seemed to be dealing with some aspects of these multinational governance and management challenges.
So, when James got appointed in June 2022, he looked like the type of CEO I had been waiting for. He looked (to an outsider) like just the type of executive I would have wanted in that position. Specifically, he looked like someone who had deep expertise in Alibaba-style ecommerce – and who was going to spend his life and career in Southeast Asia. That would be the ideal combination.
And then six months later, Alibaba announced a big organizational restructuring. Which I don't think the press has really paid enough attention to. It was a big move that could really improve operating performance. And in this restructuring, Lazada was put into a new international ecommerce business unit, with far closer ties to its own capital market. Management quality and incentives tend to get better with greater independence and accountability.
Maybe true? Maybe not.
But this is what was on my mind as I flew to Singapore for the BFF event.
My Interview with James Dong
I met James at a coffee shop the day after the Lazada Brands Future Forum. It's generally not great to do interviews during or right before big events. Everyone is juggling a lot of stuff. However, the day after everyone is super relaxed.
As mentioned, James took over as Lazada Group CEO in 2022. This was after +4 years in the region with the company. And prior to that, James was deeply involved in the original merger with Lazada.
In 2015, James joined Alibaba from McKinsey & Co. He became Head of Globalization Strategy and Corporate Development (2015-2018). That was pretty much dead center in Alibaba's internationalization efforts. Alibaba acquired Lazada in 2016. They invested $1.1B in Tokopedia in 2017. And they acquired Daraz in 2018.
In 2018, he became CEO of Lazada Thailand, which was when ecommerce was really taking off in the country. And Thailand is one of the more developed and quieter (i.e., less crazy) markets of Southeast Asia. It doesn't have the hyper-ambition and frenetic development of Vietnam. It doesn't have the poverty of the Philippines. The physical retail market is particularly mature and well-developed. There is also significant established wealth in a certain segment of the population. It's a steadily developing ecommerce market.
In 2019, James became CEO of Lazada Vietnam. And that's the country I most look at for ecommerce in Southeast Asia. There are a lot fewer established wealthy people in the country. It's a bit more crazy. But there has been a surge of development and growth. The country is pickled in ambition, with a lot of similarities to China in the 1990s.
James became CEO of both Thailand and Vietnam in 2021. And then he became Lazada Group CEO in 2022.
With that brief background, here are my take-aways from our conversation.
Take-Away 1: Improving the Customer Experience is Always Priority #1
My standard question for tech executives is "what are the 2-3 most important strategic initiatives this year?".
These companies are always doing tons of initiatives. But there are usually 2 or 3 that are the major strategic moves. That's where the big long-term investments of time, money and people are going. You ask this of 3 ecommerce companies in a region and you get a pretty accurate picture of what the biggest and opportunities trends are.
For Lazada, the #1 strategic priority is improving the customer experience. And this is nothing new. I suspect this hasn't changed in changed in 10 years. Given that SE Asia is still developing, it's not surprising that this is still their biggest priority. Over time, I would expect this to become more of standard operating procedure. But things are moving pretty quick right now in terms of consumer offerings and behavior.
From the forum exhibit, here are some of the tools LazMall is offering its sellers so they can improve the customer experience.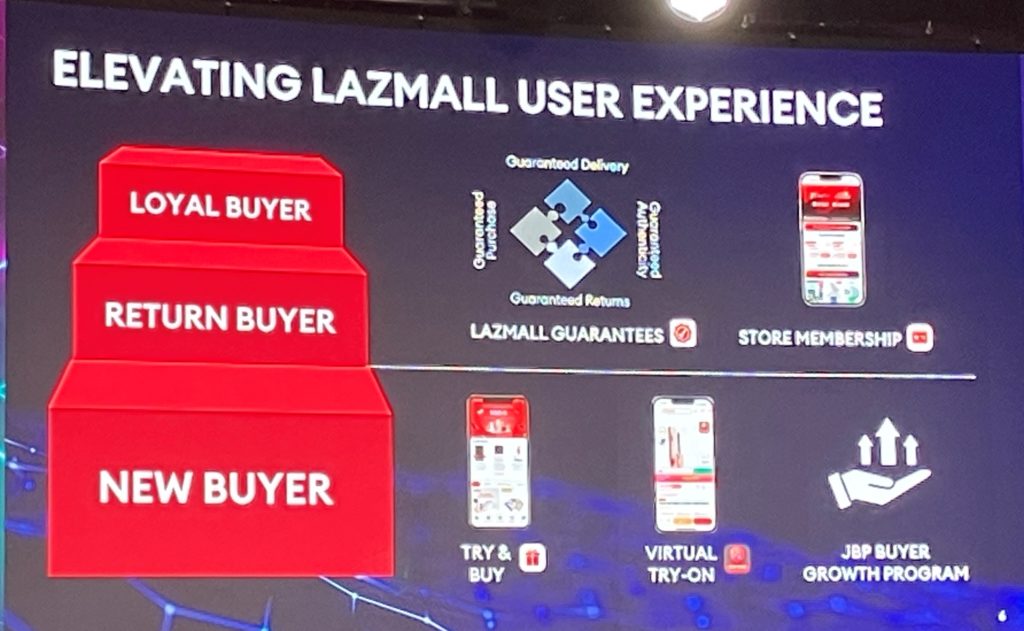 Those 4 initiatives are similar to what we see in other developing economies.
Within this, James mentioned that Priority Delivery was a big part of this right now. That makes sense. Fast and reliable delivery tends to be one of the biggest factors in the consumer experience. Customers can directly feel the benefits of this. It also tends to build trust (also an important part of the customer experience). Much of the Lazada's exhibit at the event was about delivery.
Fast delivery is also one of the big benefits of living in a big capital city in Southeast Asia. You can get almost anything delivered in 1-2 days. Lazada has its "Priority Delivery" program, which is about guaranteeing delivery in 1-2 days within capital cities. Delivery in other regions, such as the thousands of islands and villages of the Philippines and Indonesia, is another matter.
James also mentioned some grocery initiatives in Singapore. Especially  in higher quality steaks and wines. That is pretty interesting. I like anything that is moving in the direction of new retail.
Take-Away 2: AI and Tech Partnerships Are a Big Focus Going Forward
AI, including generative AI, is getting integrated into everything. It's a big focus for most every major tech company. That means lots of internal development plus lots of external partnerships.
I'll talk about this in the article about CTO Howard Wang.
Take-Away 3: Smart Fulfilment Should Be a Big Competitive Advantage for Lazada
One of the biggest advantages Lazada has is its ability to draw on the tech and logistics expertise of Alibaba in China. Alibaba has made massive investments over the past +20 years in these capabilities. There are only a few companies in the wrold that have their scale and expertise in them. Think Amazon and JD. Maybe FedEx and DHL (maybe).
Increasingly smart and automated logistics is an important strategic capability. Forget robotaxis. Think bigger. Think warehouses, drones, trucks, and delivery vehicles that operate 24/7 that reach every home in a region. And that have little human involvement. Think of an intelligent digital nervous system connecting and orchestrating all these assets and their activities. Smart and automated logistics at scale is what Alibaba is building in China, and increasingly internationally. It is one of their biggest strategic priorities. Same with JD.
Lazada has built its own logistics infrastructure (i.e., not part of Cainiao). But they are able to access Alibaba's deep expertise in these areas. That is a big deal. I had always assumed that logistics in SE Asia was different than in a continental economy like the US, Europe, and China. But it appears I was wrong. SE Asia appears to be developing the same smart logistics systems we see emerging in Mainland China. The weather is more extreme of course. Lots of typhoons. But the software and hardware systems function the same.
Here is some of Lazada's material from the forum. This is how they describe what they are doing. Very interesting detail and worth reading.
Take-Away 4: Lazada Is Creating a Different Culture than Alibaba
This was the area I didn't really appreciate before the trip.
Alibaba has a unique culture. Very effective. Very well-developed. It would have been easy to copy a lot of those programs.
But it appears Lazada is creating its own unique culture for Southeast Asia. That is really interesting. The company is 99% not Chinese. And in each country, the staff are +95% local. For example, +95% of the staff in Singapore are Singaporean. So there are some people crossing borders, but the operations are overwhelmingly local.
That raises an interesting question:
How do you build an effective and attractive culture in such a multi-national operation?
Tech companies' primary asset is always their people. Their culture. Their talent, both individually and organizationally. But a regional ecommerce company in Southeast Asia means people in 6-7 countries. It's an interesting challenge.
For example, they recently hosted a Lazada marathon. But it was actually 6 marathons held in 6 countries on the same day. That's an interesting example of culture building across countries.
I'm definitely going to start to dig into more of the cultural and people aspects of Lazada.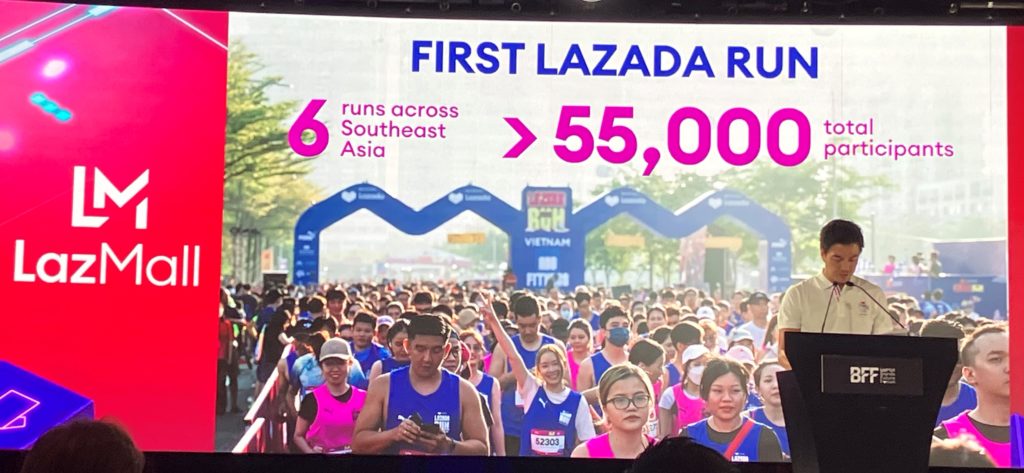 ***
Anyways, that is it for Part 1. It was a great visit. Part 2 is here:
Cheers, Jeff
————
Related articles:
From the Concept Library, concepts for this article are:
From the Company Library, companies for this article are:
————
I write, speak and consult about how to win (and not lose) in digital strategy and transformation.
I am the founder of TechMoat Consulting, a boutique consulting firm that helps retailers, brands, and technology companies exploit digital change to grow faster, innovate better and build digital moats. Get in touch here.
My book series Moats and Marathons is one-of-a-kind framework for building and measuring competitive advantages in digital businesses.
This content (articles, podcasts, website info) is not investment, legal or tax advice. The information and opinions from me and any guests may be incorrect. The numbers and information may be wrong. The views expressed may no longer be relevant or accurate. This is not investment advice. Investing is risky. Do your own research.