This week's podcast is about Ram Charan's new book "Rethinking Competition Advantage". I think it has a lot of great insights about the basics of digital operations. But not much about competitive advantage.
You can listen to this podcast here or at iTunes and Google Podcasts.
Here is the link to the Q&A on Sept 7:
Here is my interpretation of the book's digital operating basics (combined with my own):
Scale and growth and small incremental cost.
Personalization. A personalized consumer experience is key to continued growth. Continually innovating on the consumer experience enables cross-selling more and more products and services to a broad audience. A "market of one" is the ultimate personalization.
A digital core for operations. Algorithms and data are essential weapons.
Ecosystem and connectedness. Every major player needs at least 10 partners for sharing data, meeting a range of consumer preferences, growing faster than it otherwise could and continually refreshing with technology and innovation.
People, culture and work design form a social engine that enables innovation and execution personalized for each customer. Decision-making is designed for innovation and speed.
Operational cash flow. Companies need powerful moneymaking models. Target a big opportunity and increase cash gross margin by innovation and cost reductions over time. Fund multiple experiments against consumer experience. Add revenue streams on the same digital core.
Here are my 6 Levels of Competition: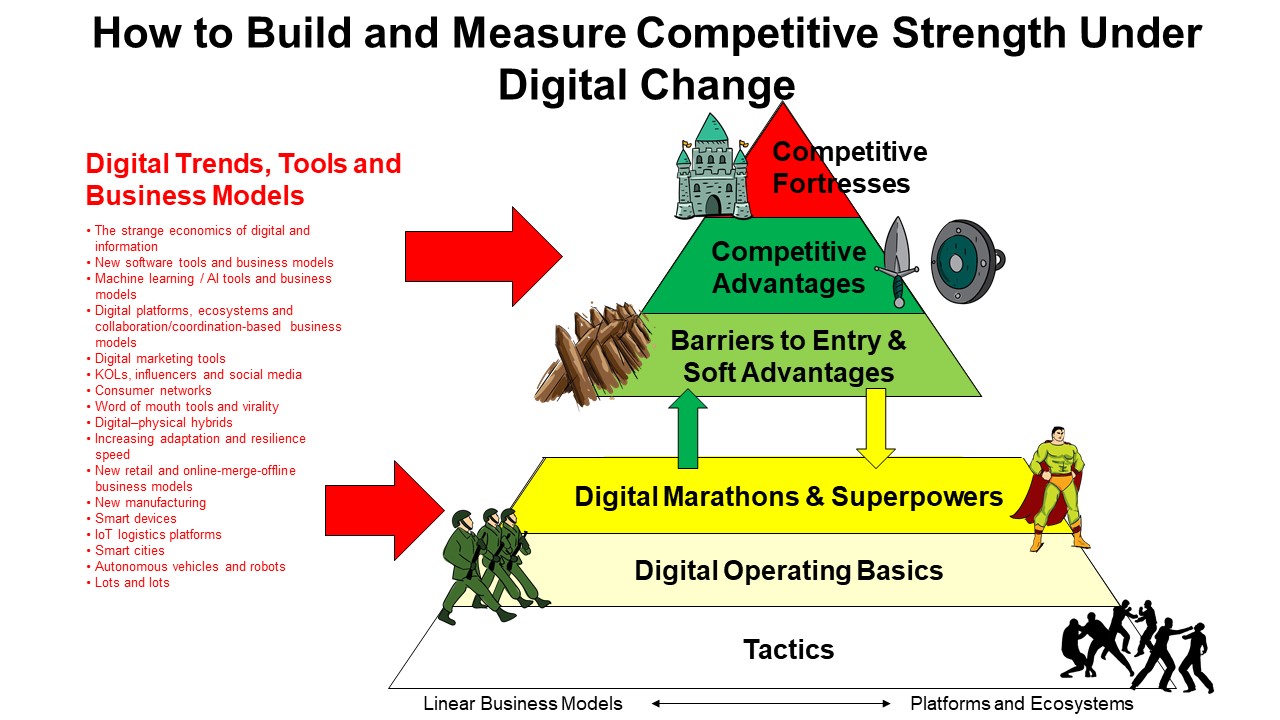 —–
I write, speak and consult about how to win (and not lose) in digital strategy and transformation.
I am the founder of TechMoat Consulting, a boutique consulting firm that helps retailers, brands, and technology companies exploit digital change to grow faster, innovate better and build digital moats. Get in touch here.
I host Tech Strategy, a podcast and subscription newsletter detailing the strategies of the best digital businesses in the US, China and Asia.
My book series Moats and Marathons is one-of-a-kind framework for building and measuring competitive advantages in digital businesses.
With my subscription newsletter, you will:
Get a deeper understanding of the strategies and business models of the best digital companies.
Get specific frameworks for measuring competitive advantage in digital businesses and for traditional businesses doing digital transformation.
Get an edge in predicting what is going to happen next and who is going to win.
Note: This content (articles, podcasts, website info) is not investment advice. The information and opinions from me and any guests may be incorrect. The numbers and information may be wrong. The views expressed may no longer be relevant or accurate. Investing is risky. Do your own research.