So Luckin Coffee has gone public and there are big questions about their revenue growth vs. operating losses. They are building an F&B business fast and aggressively against still unclear demand.
But HeyTea is the Starbucks challenger I am keeping an eye on. They have long been referred to as the "Starbucks of tea". And they have a big tailwind that neither Starbucks nor Luckin has – the fact that Chinese consumers really love tea.
But first…for insights into the digital strategies of the best tech companies
I recently visited a couple of HeyTea stores in Beijing and sat down with Joy Tan, an ex-Didi staffer who is now Chief of Staff at HeyTea. I came away with 6 reasons why HeyTea is worth following.
Reason #1: Chinese consumers like coffee but they love tea.
Krispy Kreme opened and closed pretty fast in China. Which was a shame because their stores had really fast wifi (and lots of empty seats). And while Yum! China has done great with KFC and Pizza Hut, their Taco Bell franchise is still at 1-2 outlets (Note: they are on their second attempt to launch in China).
It turns out Chinese consumers just don't like sweet donuts much. And Mexican food is not that popular. In fact, Taco Bell China has rebranded itself as California cuisine, with pictures of surfboards on the walls.
F&B is hyper-competitive in China. And consumers liking your menu is not enough. You need them to love your menu.
Chinese consumers do like coffee. Overall, consumption is still small (5-6 cups per year per capita) but it is growing steadily. And it is doing well in first and second tier cities. But it is not a home run as a product. Consumers probably like the experience of going to Starbucks more than coffee as a product.
But Chinese consumers love tea (note: they also love hotpot and the NBA). So HeyTea has something that neither Starbucks nor Luckin has: big, proven and enthusiastic demand.
And against this demand, HeyTea was one of the first to position themselves upmarket (similar to Starbucks). They open nice locations in Grade A shopping malls. They use higher quality ingredients. And they price their drinks in the 20-35 rmb range, well above the 15-20 rmb of competitors Yi Dian Dian, Coco. Miguo and Happy Lemon.
This is pretty great market positioning overall. They offer an affordable luxury product for China's rising middle class and their increasing disposable income.
Reason #2: HeyTea's is focused on the basics: thrilling their customers and getting good locations.
So much of the Luckin vs. Starbucks story has been about Starbucks' strength in real estate vs. Luckin's digital-first business model. And this skips over the #1 question for F&B in China: do consumers love your products? Are you a consumer phenomenon?
Walk into any shopping mall in China and you will see 20-30 restaurants, cafes and desert outlets – all furiously competing. They will have menus with 50 pages of items. They will all have unique approaches – like hotpot vs. South Korean pop star focused vs. handmade noodles. They will have attractive young staff trying to grab you as you walk by. It's a ruthless business. And your biggest strength is not digital or even location. It is your ability to continually thrill your customers so they keep coming in.
And HeyTea is good at this. They are known for cheese tea, which is really great. They have interesting fruit teas, that are continually changing. And they make their drinks look really compelling. A typical drink has different colors in multiple layers.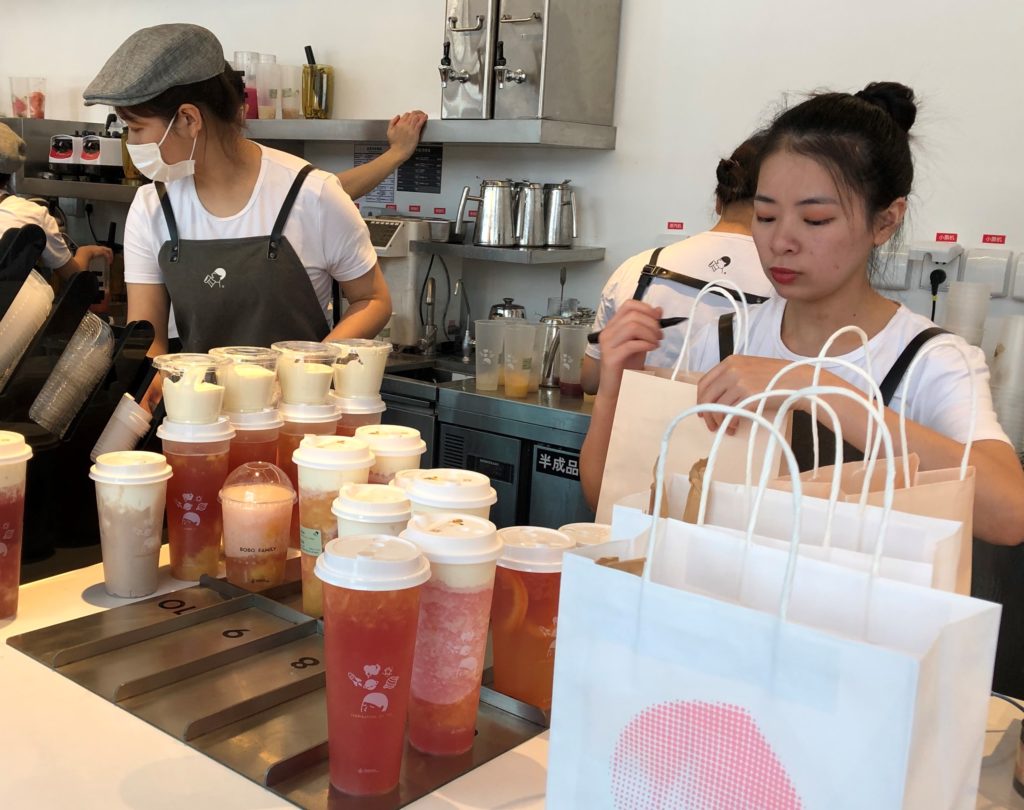 Their bakery is also interesting.
In one of the outlets I visited, they even had a bar-like area with alcoholic beverages. Note: most of their drinks are made with baijiu. They also offer ice cream with baijiu.
Constant new product introductions is standard for China F&B. But refreshing the menu and thrilling your customers is not the same thing. It's a rare thing to actually pull off and I'm never quite sure why some companies can do it and some can't.
One company that comes to mind in this regard is Xiaomi. When they're not trying to convince investors they are an internet company, they are actually a really innovative consumer electronics company. They launch tons of new products that thrill their customers and keep them coming back. Every time I walk into one of their stores, it is filled with customers looking at their smart scooters, smart rice cookers, and even smart chopsticks.
Basically, F&B is really hard anywhere, but especially so in China. You had better thrill your customers or have them addicted to your products (hello caffeine). Anything else is a pretty brutal business.
***
Ok. That's it for Part 1. More in Part 2.
-jeff
——-
I write, speak and consult about how to win (and not lose) in digital strategy and transformation.
I am the founder of TechMoat Consulting, a boutique consulting firm that helps retailers, brands, and technology companies exploit digital change to grow faster, innovate better and build digital moats. Get in touch here.
My book series Moats and Marathons is one-of-a-kind framework for building and measuring competitive advantages in digital businesses.
Note: This content (articles, podcasts, website info) is not investment advice. The information and opinions from me and any guests may be incorrect. The numbers and information may be wrong. The views expressed may no longer be relevant or accurate. Investing is risky. Do your own research.