In recent articles (here, here, here), I laid out my take-aways from meetings with Alibaba management during Singles' Day 2017. And I will be publishing some more serious business analysis on the competitive dynamics of "new retail" shortly.
But today I am drinking on a beach in Thailand so I'm just going to ramble a bit about the whole adventure. If you're looking for serious content, this is probably not your article.
Arriving in Shanghai and my standard routine for nice hotels.
I am a pure-breed analyst. I do literally nothing except study companies. I spend Monday to Friday analyzing companies and Saturday and Sunday writing about them. And I will go anywhere on the planet if there is an interesting case. Hence my unusual career path from the US, to the Middle East to China / Asia. It's also the reason I'm the only guy on this beach with a stack of annual reports.
So an invitation to visit Alibaba was a real thrill, especially on Singles' Day. Spending time at a great company, visiting its facilities and talking with management is about as much fun as I have in life. I was borderline giddy. If they had given me access to their internal financials, I probably would have had a seizure.
So on November 10 (the day before the 11-11 festival), I arrived at the Shangri-la hotel in Pudong, Shanghai. I am a sucker for nice hotels so that was a really nice perk. The Shangri-la is really fantastic. Note: my old boss Prince Alwaleed (yes, the one in jail in Saudi Arabia right now) owns +200 hotels, including the Four Seasons, Movenpick, Swisshotel and Fairmont. So I got to look at lots of them around the world.
I checked in early and did my standard routine for nice hotels, which includes having a drink at the roof top bar, hitting the gym, and then eating all the chocolates in my room. And, of course, I sent my standard note to management about keeping my room info private, due to a long-time stalker situation (that's another story and not as bad as it sounds.).
And then I headed down to the river, which you can see in the video below.
Meeting the Alibaba "global influencers".
The first meeting for our group was 5pm at the hotel. I arrived a bit early and immediately walked into Connie Chan of Andreessen Horowitz. An awesome start as I'm a total fan. For those who don't follow her writing, you should definitely do so (click here). She writes very clearly (which is rare) but infrequently (which is frustrating).
I then spotted Matthew Crabbe of Mintel walking in. I decided this was going to be a great day. Matthew is also someone I always read but had never met (follow him here). He turned out to be a super friendly guy and his thinking on APAC consumers is really interesting.
The rest of the group started arriving and it was great. I was already following virtually everyone in the room, something I highly recommend. The group included:
It was just a fascinating group in terms of China thinking, especially as it relates to retail and e-commerce. My apologies to those I didn't mention.
My own research is on the intersection of competitive dynamics and digital transformation. Basically, how do data and digital tools create and disrupt competitive advantages? And retail in China is pretty much ground zero for that question right now. Chinese automotive and transportation are on deck.
I also got to meet Jennifer Kuperman and Erica Matthews of Alibaba International Corporate Affairs. One of the reasons I like working with great companies is they have really great people. A special thanks to Jennifer, Erica and the team at Alibaba. It was a real pleasure.
Our group then headed off to a press event for Alibaba co-Founder and Vice Chairman Joseph Tsai. This was for the international press and we were just observers in the back. To be blunt, the questions from the press weren't awesome. Joe was gracious but I'm betting he thought they weren't too awesome either.
From there, we went to a dinner with Mr. Tsai. I have written up my take-aways from this dinner here. It was a really helpful discussion on understanding how Alibaba views its strategy.
My only additional comment is that whenever you find yourself at a dinner meeting with a VIP, try to grab a seat halfway down the table – and with your back to the window. The VIP, who usually enters later, almost always sits in the middle and gets the best view. I find this approach works almost every time. And if it is Warren Buffett, you also want to look for any setting that has a Cherry Coke near it (My article on that is here, "I Took 20 Chinese Students to Meet Warren Buffet.")
Photo: Burak Cakmak, Joseph Tsai, Martin Newman

Photo: Kitty Fok, Daniel Zipser and Burak Cakmak
The Singles' Day Gala
Prior to the official launch of Singles' Day at midnight, there is a big gala with lots of entertainers. It is held at the Mercedes Benz Stadium in Puxi. So after dinner, we got herded onto a bus and headed off to the gala.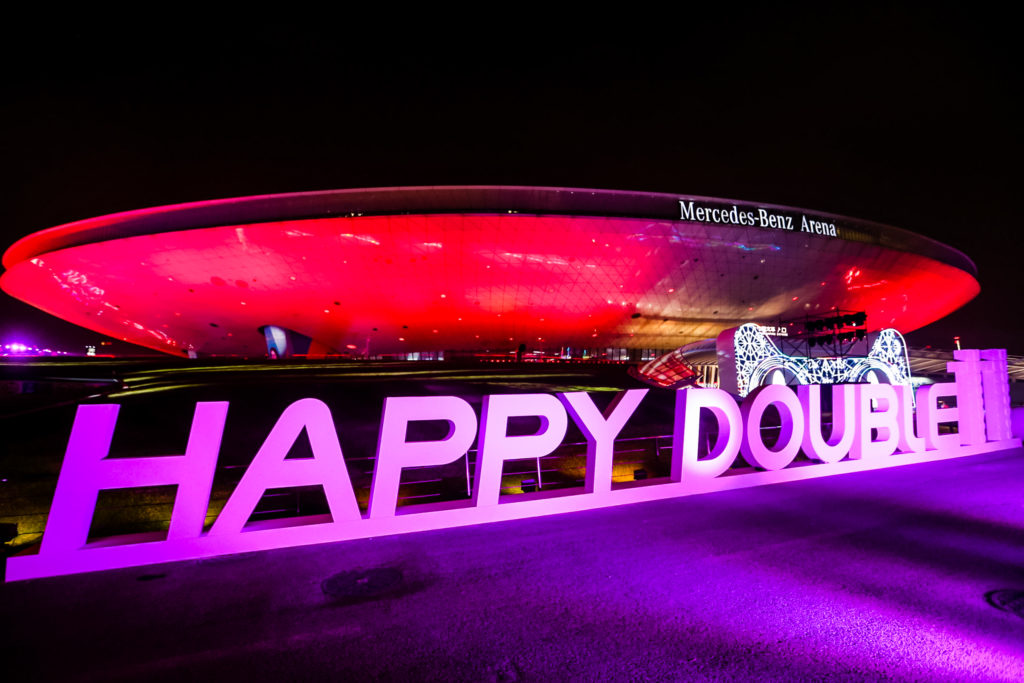 Photo courtesy of Alibaba
A quick comment on the virtual nature of Singles' Day and the big gala. Yes, it's a massive shopping festival and everyone knows the big numbers, but it's worth keeping in mind it is almost entirely virtual. People aren't flooding into the malls or even going on their computers. The festival mostly exists on Chinese smartphones. It is hundreds of millions of Chinese getting messages on their smartphones throughout the day – and then buying stuff. It's an almost entirely virtual phenomenon.
And the big gala is kind of the epicenter of this virtual phenomenon. The event is streamed onto smartphones and is shown on television. And the show is increasingly integrating smartphone activities into the performances. So the various performers will offer ways to vote, things you can buy and so on. The gala, already virtual, is becoming more and more interactive.
Chinese galas can also be a bit overwhelming for foreigners. There is literally nothing that is considered too "over the top". If putting a celebrity in a glowing purple suit is a good idea, then having fireworks shoot out of their hands while they are flown across the stage is even better. Generally, the more extravagant the better.
So we took our seats. Got out our glow rods (very important) and watched performance after performance. You can see a brief video summary below. But my basic take-aways were:
The constant repetition of "Happy Singles' Day!" (shuang shi yi kuai le) really does work. It's been weeks and I still can't get that phrase out of my head.
That song Price Tag by Jessie J ("It's about the money, money, money") is still crazy popular in China. Although I think more people like the Wu Mochou version.
Pharrell Williams only doing like 30% of his song Happy seemed kind of odd. You flew all the way to China and couldn't do the whole 4 minutes?
I still like Riverdance, but I have no idea why it works as an art form.
I still have a thing for Zhang Ziyi, but in a nice way.
There is simply no way a man my age can wave a glow stick in a dignified manner.
(photos courtesy of Alibaba)
The midnight launch at the media center
The festival officially started at midnight and we were hustled down the street to the media center, which shows all the returns on big screens. The media center is great fun (see photo) and I'll talk more about it in Part 2.
Day one finished up at around 2am and I was pretty wiped out. In Part 2, I'll talk about the media center, the visit to a Hema Supermarket and Nicole Kidman.
Cheers from Thailand,
Jeff
–——-
I write and speak about the fight for Chinese consumers and digital China.
Top photo courtesy of Alibaba