*The following is an excerpt from our One Hour China Consumer Book (which is available here.).
"In September 2013, premier art auction house Christie's held its first-ever auction in China. They have had a representative office in Shanghai since 1994. And they have been running auctions out of Hong Kong for decades. But this small auction (about $25M) was their first in the Mainland.
Shortly thereafter, on December 1, 2013, Sotheby's held its first major auction in China. This 141-item Beijing auction broke records for six artists, including Chinese-French abstract painter Zao Wou-ki and Chinese realist painter, Li Guijun. Sotheby's, unlike Christie's, currently operates in China with a JV partner, State-owned Beijing Gehua Cultural Development Group. In both cases, Christie's and Sotheby's were on the home turf of major Chinese auction houses for the first time. And this was really the culmination of a 45-year journey to China for both companies.
A Bit of Background
Sotheby's was founded in London in 1744. Christie's was founded shortly after in 1766. In the nearly 250 years since, these two companies have controlled much of the premier art auction world. As recently as 2007, they had over 70% of the premier art and jewelry auctions between them. Their combined market share has fallen significantly in the last several years and is now closer to 40-50%. However, in 2013, Sotheby's alone still conducted 250 auctions at 90 locations in 40 countries.
And while the China art market is relatively new, these companies have been selling Chinese art successfully for decades. For example, in 1979, Wen Zhengming's Ming dynasty painting, "Master Liu's Garden," sold for the then surprising price of $121,000. And in 1980, Sotheby's hosted its first auction of modern Chinese paintings in Hong Kong.
Christie's and Sotheby's really began competing for Chinese art consignments in the early 1980's. At that time, most Chinese art was sourced outside of China, often from Europe. And because works were sold cross-border (Europe had few buyers of Chinese art), Chinese art sales were driven largely by auction houses rather than by galleries. Chinese art auctions did eventually centralize to Hong Kong over time. The best 19th- and 20th-century works were typically auctioned in Hong Kong, while more traditional Song, Yuan, Ming and Qing dynasty paintings were sold in New York. In 1989, Christie's recorded the first Chinese works to bring in $1M.
This is all a fairly interesting historical confluence. Demand for Chinese art was blossoming at roughly the same time that China opened up to the world – and shortly before newly wealthy Chinese would transform the market. And all of this should have been good news for Christie's and Sotheby's, not unlike when wealthy Japanese and Saudi buyers entered the art scene. However, the Chinese art market has turned out to be a particularly difficult environment for them to navigate.
These Are Still The Wild West Days of China's Art Market
As reported in the TEFAF Art Market Report, the Chinese art market in 2012 was $13.7B, compared to $18.4B in the US. And from 2009 to 2011, Chinese art sales grew by 350%, with auctions approximately 70% of this. By that report's numbers, global market shares were 33% for the US and 25% for China. And the most popular type of Chinese art by value was painting and calligraphy, with 48% of the market in 2012. Ceramics and collectibles were 27%.
However, these numbers draw and deserve considerable criticism. Many of the sales recorded at Chinese auction houses are never collected. And fakes and forgeries are a significant problem. Also, there is evidence that auctions are being used as a front for bribery. Even the sale of Qi Baishi's famous "Eagle Standing on a Pine Tree" painting has come under fire, due to questions of authenticity. Plus, the art market in China has been declining from its peak in 2011. So all of this is pretty fuzzy.
Looking at individual artists gives you better numbers. In 2011, six of the top 10 artists by auction revenue were Chinese. Zhang Daqian (1899-1983), a traditionalist painter who spent much of his life in exile, came in first with $550M in sales. This was about $200M above both Andy Warhol and Pablo Picasso. Another big seller was Qi Baishi (1864-1957), whose work sold for $465M that year. For living artists, three of the 10 most expensive works sold in 2011 were Chinese. This included a work by painter Cui Ruzhuo that was purchased for $16M at a Christie's Hong Kong auction. Other current notable Chinese art stars are Zhang Xiaogang and Zeng Fanzhi.
So the China art market is definitely big and growing (more or less) – but there is still a lot of Wild West-type stuff going on. Counterfeiting is a significant problem. Paintings at auctions are frequently refused due to authenticity concerns. And in Hebei province in 2013, the government closed a new museum when it was reported that most of the works on display were fakes. And, of course, there is the famous village of Dafen.
The Village "Art Factory" of Dafen
Dafen is a small section of Shenzhen, so it is not actually a village per se. But it is well known due to its annual production of about 100,000 paintings, most of which are copycats. It is a place where if you want an outstanding copy of a van Gogh or a Monet, you can get it in about two weeks and possibly for as little as 100 RMB. With more than 1,200 galleries packed into a few small city blocks, Dafen has aptly been called the epicenter of fake art.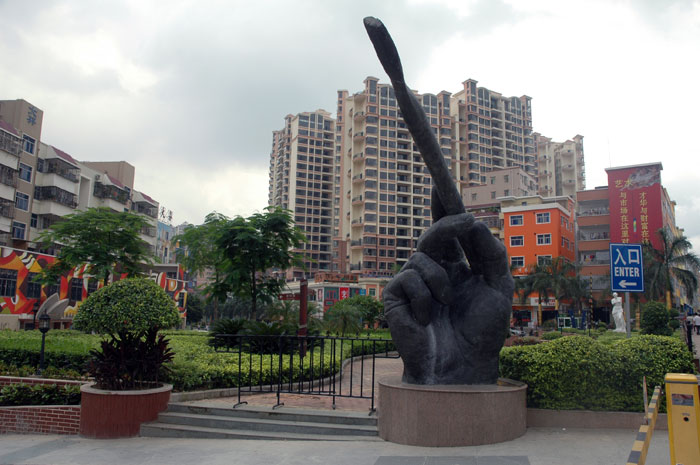 The art village of Dafen. Photo by Michael Mandlberg, Creative Commons license with commercial use
Dafen began as an artists' colony, set up by a Hong Kong artist and dealer in 1989. Using migrant laborers, he and other artists began producing multiple copies of the same work, basically a factory approach. Dafen quickly became known as a place that could do high-quality, high-volume copies of masterpieces for export. And according to the Art Industry Association of Dafen, these exports eventually grew to a reported 1.2B RMB in sales per year. At its height, approximately 60% of the world's cheap oil paintings were coming from Dafen.
The village of Dafen. Photo by David Bailey. Creative Commons license with commercial use.
Since the financial crisis, the Dafen story has changed somewhat. Western paintings for tourists and exports have declined and Dafen's artists have shifted more toward works for domestic sale. This means mass-produced paintings for hotels and office buildings. If you have been in a three-star Chinese hotel, you have probably seen Dafen paintings on the walls.
Dafen is also a good symbol of the aforementioned counterfeiting problem in Chinese art. It's both pervasive and profitable. And this problem isn't limited to China. Recently in New York City, a 73-year-old Chinese immigrant artist was discovered to have created and sold at least 65 fake drawings and paintings to top New York galleries. His paintings had been presented as "newly discovered" works by artists like Jackson Pollock and Robert Motherwell. And they had been selling quite well in the US for years.
Other Wild West-type problems in the Chinese art market are speculation and price manipulation. Individual and small-group investors often buy items and resell them to other collectors quickly at a profit. And art investment funds are particularly motivated to inflate the value of their holdings. As reported by the New York Times, a work by Qi Baishi, "Fish and Shrimp," was sold four different times in a 10-year period, starting at $30,000 and peaking at $794,000, before later selling for $552,000.
It is clear that the discussed rising affluent Chinese consumers are fueling much of the current demand for Chinese art. And that is very attractive to Christie and Sotheby's. However all this Wild West behavior is another example of the ruthless competition that can quickly follow Chinese consumer spending. What is unique in this case is that Chinese art is very important to the Chinese government, so the State is also an active force in the market. Additionally, we are also seeing the emergence of two important Chinese auction houses that are becoming serious challengers to long-dominant Sotheby's and Christie's."
This story is continued in Part 2 here. Thanks for reading, Jeff
*The above is an excerpt from my One Hour China Consumer Book. I consider this the best (and least read) stuff I have yet written. It is available here (for $3.99).
—–
I write, speak and consult about how to win (and not lose) in digital strategy and transformation.
I am the founder of TechMoat Consulting, a boutique consulting firm that helps retailers, brands, and technology companies exploit digital change to grow faster, innovate better and build digital moats. Get in touch here.
My book series Moats and Marathons is one-of-a-kind framework for building and measuring competitive advantages in digital businesses.
Note: This content (articles, podcasts, website info) is not investment advice. The information and opinions from me and any guests may be incorrect. The numbers and information may be wrong. The views expressed may no longer be relevant or accurate. Investing is risky. Do your own research.