This is Part 4 in a series about what I learned on a 3-4 day visit to JD's facilities in Beijing and Shanghai – and from meetings with management. Part 1 is here. Part 2 is here. Part 3 is here.
On day 2 of the trip, our group went to the JD headquarters in Beijing and met with various managers, including Beth Bao, Director of Strategy at JD Logistics. Beth was previously a supply chain manager and was at Accenture before that. First, some of the basic facts about JD Logistics:
It was launched in 2007 as a support function for JD.com
It has +335 warehouses, which includes fulfilment centers, small warehouses, and cold chain facilities
It has +65,000 delivery employees and +17,500 warehouse staff.
It has almost 7,000 delivery stations.
In 2017, JD Logistics became a stand-alone business unit with its own P/L
Beth took us through some of the current initiatives at JD Logistics. Here are my five take-aways:
Take Away 1: Automation is the big, long-term play for JD Logistics.
There is a lot of media discussion about their initiatives in automated warehouses, autonomous vehicles and drones. This has a lot to do with the fact that the visuals for these are pretty cool.
But long-term, automation appears to offer some potentially huge benefits in efficiency. According to staff, automation can increase the efficiency of a fulfillment center by 10x over manual processes.
Automation also offers a potential solution to JD's staffing problems. With exploding e-commerce spending in China, JD has also exploded in size over the past 3-4 years, going from 40,000 to 120,000 employees. And while most of these staff are in delivery, recruiting and retaining warehouse and other logistics staff is a big and likely growing challenge for the company.
Additionally, JD's big investments in logistics have created a barrier to competition from other online retailers. Logistics infrastructure and its fixed assets (and ongoing costs) are one of JD's biggest competitive advantages. However, partnering with China's express delivery giants is another approach that is worth watching.
Finally, automated sourcing, fulfillment and delivery links into (and is likely synergistic with) increasing sales intelligence. As data and predictive analytics get better and better, sales data will become more closely integrated into their automated supply chain and logistics network. And this should play out in sales, costs and inventory financials. It is also something that could be difficult for competitors to copy, including (in this case) the express delivery companies. The combination of customer data and personalization and a highly efficient logistics network is really interesting.
So automation is a very big and long-term opportunity for JD Logistics. I think it's much bigger than the current discussion of it implies.
Take Away 2: Automated logistics is also much more difficult that it seems.
The problem with the above cool story is that it doesn't address delivery. This is where about 70,000 of JD's employees work. And automated vehicles and drones are not going to have an impact on that anytime soon. Automated warehouses are happening right now. Autonomous delivery is still in its earliest stages.
Another problem is in automating a supply chain with differing package sizes. One of the biggest advantages of doing fulfillment manually (i.e., with people), is that your system can handle lots of different type of products – from food and perishables, to toys and cell phones, to refrigerators and washing machines. People are very flexible.
But when you start to automate, you lose a lot of this flexibility (and gain efficiency). You have to make large, longer-term investments in fixed assets that are then expensive and slow to re-arrange and re-deploy. So automated warehouses – with their conveyor belts, elevators, picking robots, etc. – that work well for small-to-medium items such as consumer electronics will likely not work well for large items, like televisions. And they will definitely not work for cold chain. And what about some of JD's new areas like fashion and apparel?
In her talk, Beth mentioned that JD Logistics is organized by three categories of goods: Small-to-medium items, large items (TVs and appliances) and cold chain. For their small-to-medium item system, they have:
Original distribution centers. These centers carry all the SKUs, but are also the inventory furthest away from most customers (usually).
Forward distribution centers . These are in provincial capitals and are more focused on faster moving items.
Centers in small cities, typically in second tier cities in each province.
And for small-to-medium items, they are constantly moving inventory between these centers with trucks (owned and contracted) and planes. You can see the big benefits of automating large parts of this system. But this also creates challenges as JD moves into more and more product categories.
Take Away 3: Building out B2B fulfillment infrastructure is a priority right now.
Beth mentioned that B2B fulfillment is one of their biggest priorities right now. I thought that was particularly interesting. My impression was this is mostly about supplying retail but I could be wrong. The irony here is that JD Multimedia originally started in 1998 with a lot of focus on being wholesale supplier to physical retailers.
Take Away 4: The development of JD's cold chain is something to watch.
Supermarkets and food in general are a big growth area for Chinese e-commerce. And it is a high priority for both JD and Alibaba, with a lot of discussion about Alibaba's new Hema supermarkets right now. And the cold chain that supplies this business is really important. It should eventually include everything from freezers and refrigerated trucks to cross-border shipments of fresh foods. It will have local supermarket platforms that double as fulfillment centers. And there will be rapid, one hour delivery in neighborhoods (say under 3km). It's going to be very interesting to watch. Plus the authenticity and traceability of food is also critical.
Take Away 5: What will be the logistics platform for JD Fashion?
JD Fashion is another of their big initiatives and something I will cover in Part 5. And fashion creates interesting requirements for logistics.
JD has traditionally been heavily focused on consumer electronics, computer and home appliances. And from that they expanded into general merchandise and other products like books.
But the supply chains for those items are very different than what you need for fashion and apparel. For example, fashion doesn't carry as many SKUs. Inventory can decrease in value quite quickly. And people usually want to try on the outfit (in some manner). And so on. I'm curious to see how they handle the logistics for this new business.
My impression is that JD Fashion is handling its own inventory at this point. And, I believe they are flying around a certain amount of inventory with planes. It's another area I am watching – and I will talk about in Part 5.
Final comments about our visit to the Shanghai fulfillment center
After our meetings at the Beijing HQ, our group boarded the high-speed train to Shanghai. Our destination was the Shanghai No 1 fulfillment center. As my area is finance and competition, not operations, I don't know too much about this stuff. So I only have a couple quick comments on this.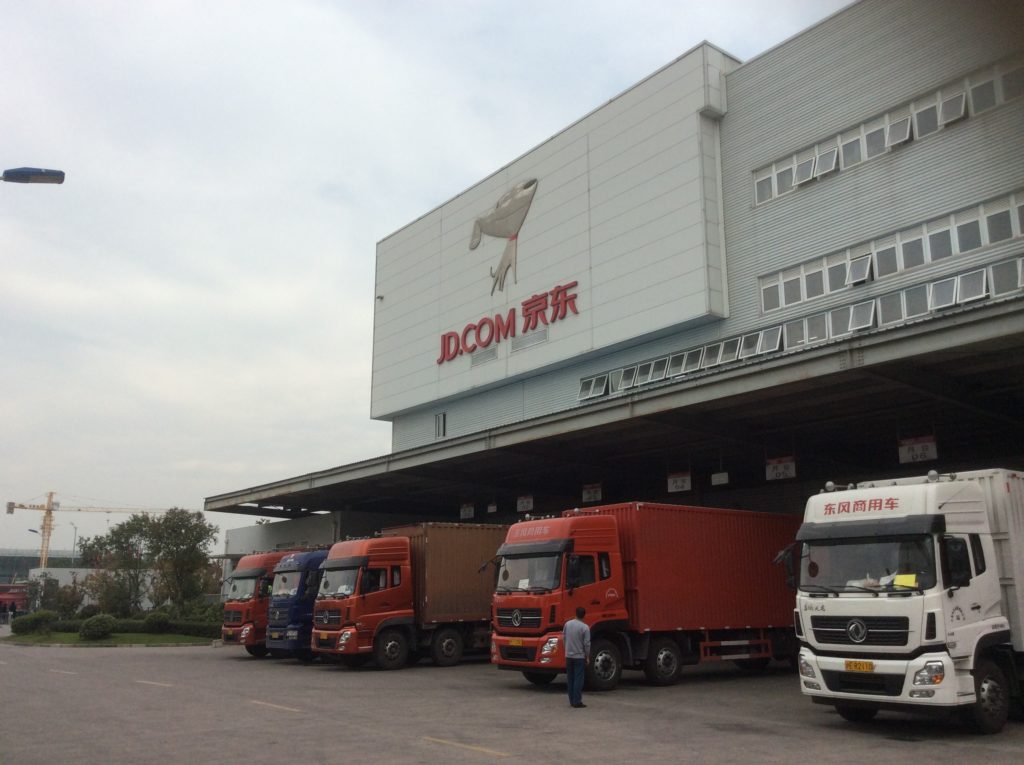 The Shanghai facility is, as you would expect, huge and buzzing. You have the supply trucks delivering, the warehouses being filled, the goods being categorized and placed in pallets, the pallets being pulled (mostly automated at this point), and then the picking process and shipping out of goods.
Within all this activity, my interest was the storage palates that they draw from to fulfill orders. In this facility, the pallets are stored in single-deep pallet racks, basically a series of +20 rows of very long and high shelves. In each aisle, between two rows, there is an automated puller that can reach and remove pallets from either side – and return it the item to the front. And these pullers can move rapidly from the floor up to about 11 levels. This system is now fully automated and it turns over the entire inventory every 28 days. I wasn't allowed to take photos. But take my word for it, it was really cool.
Once the pallets are pulled, the individual orders are picked and assembled – and this is the part of the process they are now automating. Across the street, a new fully automated facility is under construction. It is set to open in 2018. You can see released photos and videos of their automation stuff here.
***
That's it for Part 4. In Part 5, I'll talk about our discussions with Xia Ding, the new Head of JD Fashion, and our visit to Toplife, their luxury division.
Cheers, Jeff
–——-
I write, speak and consult about how to win (and not lose) in digital strategy and transformation.
I am the founder of TechMoat Consulting, a boutique consulting firm that helps retailers, brands, and technology companies exploit digital change to grow faster, innovate better and build digital moats. Get in touch here.
My book series Moats and Marathons is one-of-a-kind framework for building and measuring competitive advantages in digital businesses.
Note: This content (articles, podcasts, website info) is not investment advice. The information and opinions from me and any guests may be incorrect. The numbers and information may be wrong. The views expressed may no longer be relevant or accurate. Investing is risky. Do your own research.
Photos by jeff