This week's podcast is about core vs. adjacency growth. This is a good framework for thinking about growth in digital businesses'.
You can listen to this podcast here or at iTunes and Google Podcasts.
Most of this is a summary of work by Chris Zook at Bain's strategy practice. I am citing the books:
Most all sustainable growth is based on 1-2 strong cores.
A profitable core is centered on the strongest position in terms of loyal customers, competitive advantage, unique skills, and ability to earn profits.

My list for strong cores are growth / market, competitive advantage and attractive unit economics.

Adapting the core can be:

New products / services
New customers – microsegments
New geographies
New businesses.
Six growth adjacencies:
New customer segments:

Micro-segmentation of current segments
Unpenetrated segments
New segments

New geographies

Global expansion
Local expansion

New channels

Internet
Distribution
Indirect

New products

New to world
Complements
Support services
Next generation
Just new products / services

New Businesses

New to world needs
New substitutes
New models
Capability adjacencies

New value chain steps

Forward integration
Backwards integration
Sell capability to outside
How to assess an adjacency move:
Factor 1: Adjacency is tightly tied to a strong core.

Economic distance is short. How much does it overlap?
Need a strong core or a strong position in a channel, customer segment or product line in weaker core.
Usually the linkage is considered superficially. Snapple is close to Gatorade? Production is totally different. So are customers and advertising. And points of purchase and distribution.

Factor 2: An attractive adjacency market in terms of profit pools
Factor 3: The ability to capture economic leadership in that market. Competitive advantage as an attacker and then an incumbent.
Digital adjacencies are moderate, relentless expansions versus big trees.
A great quote from Beyond the Core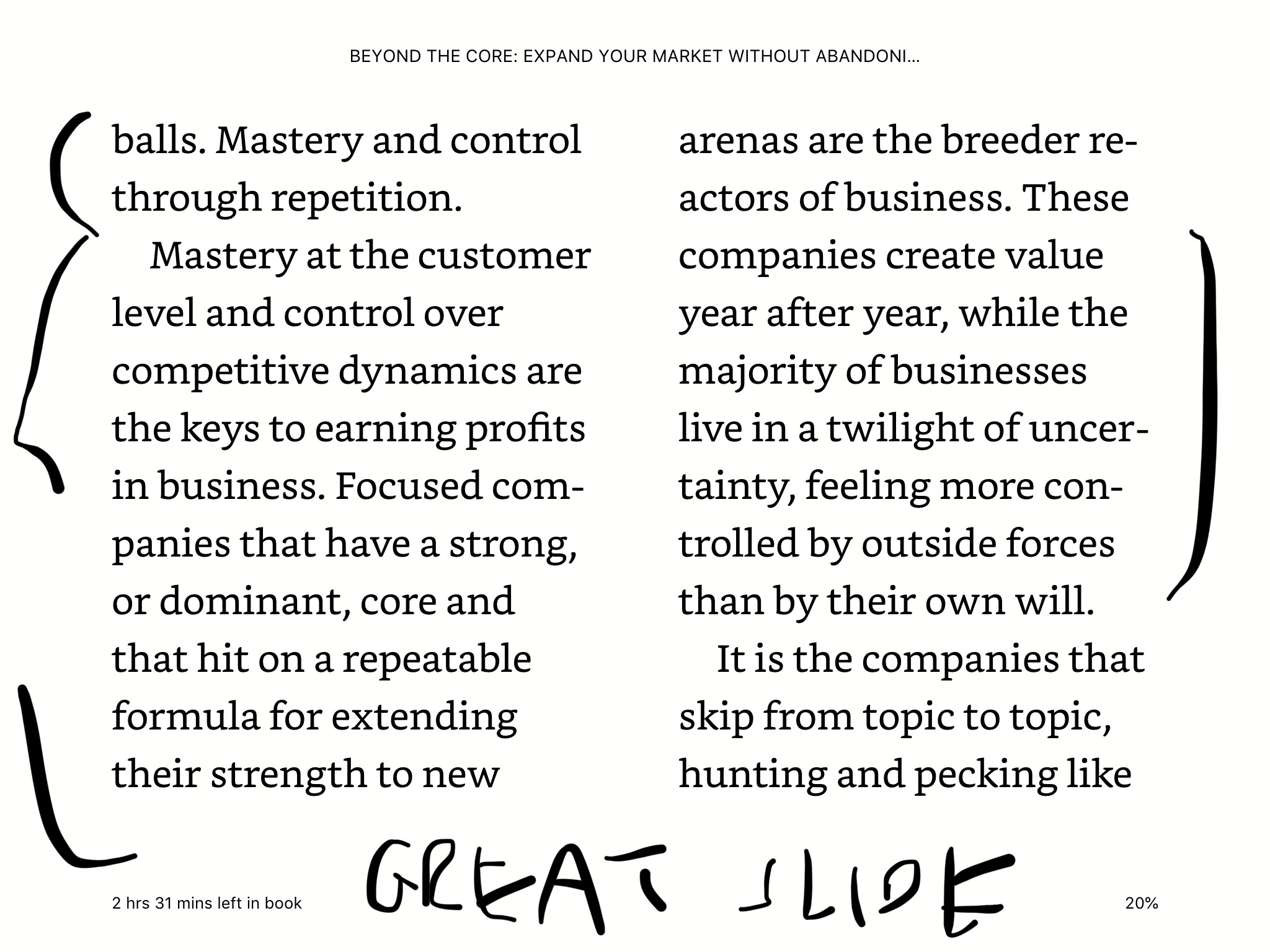 ——-
I write and speak about digital competition and China / Asia's leading tech companies.
I also run Asia Tech Strategy, a podcast and subscription newsletter on the strategies of China / Asia tech companies.
My subscription newsletter offers:
Deeper insights into the strategies of the tech giants of China / Asia. I help investors see around the corner – both with tech giants and rising companies.​
See the big picture. Get a better understanding of Asia's digital ecosystem. What are the important tech themes? What will the future look like? Where to hunt for opportunities?​
A unique view from on the ground of digital China / Asia.
Note: This content (articles, podcasts, website info) is not investment advice. The information and opinions from me and any guests may be incorrect. The numbers and information may be wrong. The views expressed may no longer be relevant or accurate. Investing is risky. Do your own research.