China's digital giants are going international. Sort of.
Asia is viewed as a strategic requirement by many (Alibaba, JD). So we see a lot of moves there (Alibaba acquired Lazada). Payments (Alipay) and hotel bookings (Ctrip) are following Chinese tourists abroad. So they are going pretty much everywhere. For example, Ant Financial recently tried to buy MoneyGram. And there is a lot of cross-border e-commerce activity, which is mostly about bringing foreign merchants into contact with Chinese consumers.
But the big, hanging question is: do China's digital giants actually want to capture foreign consumers – and foreign markets?
And that is where Latin America is looking increasingly interesting. Mobike is operating drectly in Mexico, Chile and Brazil. Tencent has invested in Brazil's NuBank. And Didi is now operating directly in both Brazil and Mexico. After Southeast Asia, Latin America may be emerging as the big next market for digital China.
So I recently visited the Didi headquarters in Sao Paolo, where they have acquired local ride-sharing company 99. My goal was to figure out how Didi is different in Latin America. Note: I also went to the Mobike launch in Mexico City earlier this year for the same reason. Articles here and here.
***
I was in Sao Paolo to give a couple of China talks at the Inniti Group, which is run by Joseph Teperman. They do governance and executive search services for top companies across Brazil and are definitely a company to keep an eye on. Plus, Joseph is a really great guy. You can learn more about them here.
But first, I took a week to relax in Rio, which is my yearly gift to myself. Then it was off to Sao Paolo.
As soon as you arrive in Sao Paolo, transportation immediately comes up as an issue. It is unavoidable. Traffic is a real problem. The public transit (metro, buses and trains) can be difficult due to the volume of people. And security and safety are an issue in general in Brazil (i.e., you aren't going to walk by yourself with a bag or laptop at night.). So the question of taking a taxi or ride-sharing comes up almost immediately. And ride-sharing companies like Uber, Didi-99 and Cabify are really important.
The Didi headquarters is in a nice Western part of Sao Paolo, right near the river. And walking down the street, I noticed I was passing lots of new yellow ride-sharing bikes. However, these were not Ofo bikes (they look pretty similar). These are Brazil's new Yellow Bikes. This company was recently launched by Ariel Lambrecht and Renato Freitas, who prior to this founded ride-sharing company 99 (and sold it to Didi). Yellow Bikes has also recently received an investment from GGV Capital (article here), whose partner Hans Tung is active in both Silicon Valley and China. So per my earlier point, there is a really interesting situation happening in digital between China, Silicon Valley and Latin America.
First, a bit about the Didi-99 headquarters. Cause it's really nice. They occupy three floors in a fantastic building.
And they have all the fun stuff common to successful internet companies. There was the fooz ball table, cool meeting areas, comfy chairs, food and snacks, and so on.
Plus, the whole office has a bit of a transportation theme, with roads and street signs painted on the walls and floors. It is kind of a cross between an office and a young boy's bedroom.
And, as this is Brazil, this is also churrasquiera on the roof deck for cooking meats. It's the first internet company I have seen with one of these. And apparently they use it all the time.
The roof deck is also pretty awesome.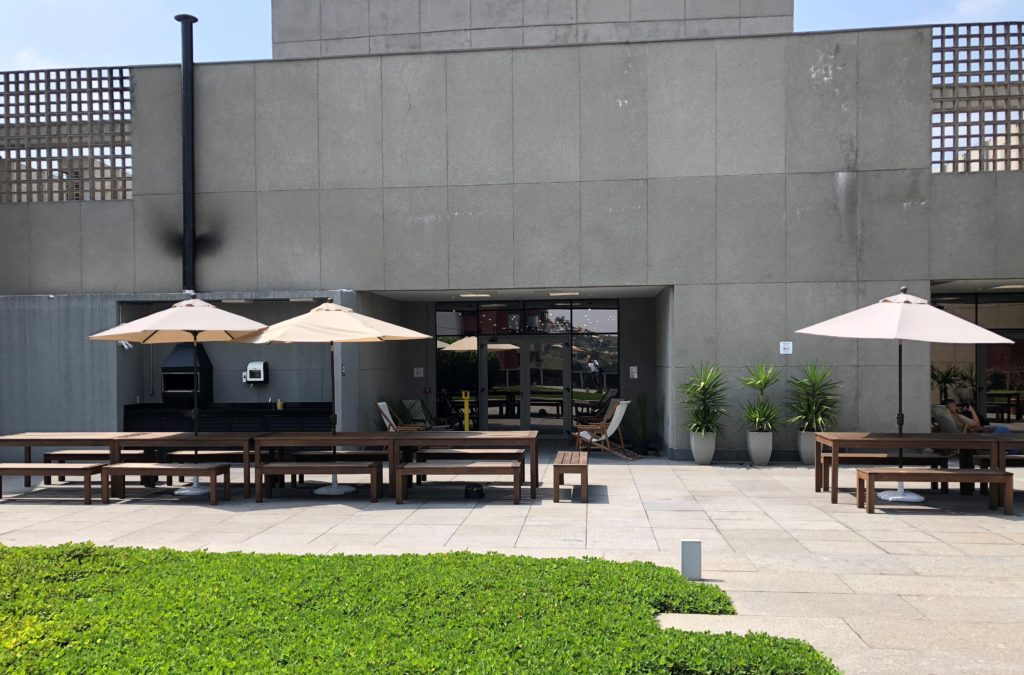 ***
Ok. Back to my question of how Didi and ride-sharing are different in Brazil.
I sat down and spoke with Davi Miyake Dos Santos, who is the Strategy and Planning Director. A friendly guy, he gave me a tour and helped me understand better what Didi-99 is focusing on post-acquisition.
Difference with China #1: The interests and services for drivers are different in Brazil – and getting more so.
I recently did an interview with a Didi driver in Shanghai (article here) and it was clear that driving on a ride-sharing platform in China is very different than in the USA. And when I was in Mexico, I spoke with some Uber and Didi execs and it was the same. The needs and expectations of riders appear pretty similar across the world (although there are some differences between developed and developing economy consumers). But the situation with drivers can be very different – and seems to be getting more so. For example:
In the USA, being a ride-sharing driver is often considered a source of extra income and an opportunity for increased flexibility. It is often referred to as the on-demand or gig economy. And there is a lot of discussion about whether this type of on-demand workforce is better or worse than traditional or unionized labor.
However in China, driving for Didi is a pretty nice job, relative to a lot of job options. The drivers I spoke with all said Didi is a good company and they appear to be building their careers on the platform. Plus, they are buying their own cars and many are starting their own small businesses on top of the Didi platform.
In Mexico, the situation was different again. Drivers usually don't own their cars. Other people own them and rent them to drivers. And there were significant concerns about health and other types of insurance (important for the drivers' families).
In Brazil, the driver situation also seems to be different.
The recent economic problems have apparently led to lots of people not having as much income, but owning cars. As unemployment goes up, driving is an option for income for many.
Speed of payments is an issue for Brazil drivers. Some don't have a lot of cash and need their payments for gas.
Many drivers (and riders) don't have bank accounts. And mobile payment is not yet a big thing in Brazil. For this and the above point, Didi has introduced cards that get the drivers paid within 15 minutes of completing a ride.
And as Didi pushes more into smaller and usually lower income cities in Brazil (especially the northeast), these sorts of driver situations and needs are going to be an interesting area to watch.
Note: all of the above points are just anecdotal information from conversations I have had. So none of that is data-driven. But I do hear really different driver issues raised in Brazil, China, Mexico and the USA. And that makes the area of driver services really interesting.
Beyond getting big, it's actually hard to differentiate yourself to riders as a ride-sharing platform (it's mostly price, brand and convenience). But you can really differentiate yourself and build in stickiness on the driver side. Note: Didi is doing some awesome stuff in driver services in China right now (article here).
***
That's it for Part 1. In Part 2, I go into more differences in Brazil. And in Part 3, I'll go into Didi versus Uber in Brazil.
Cheers from Beijing – jeff
———
I write and speak about digital China and Asia's latest tech trends.
My latest book Alwaleed, Khaled and Mohammed: An Insider's Tell-All About the Risks of Doing Business in Saudi Arabia is coming out in 2019. This book is a tell-all of my experiences at the highest levels of Saudi Arabian business. It is what I think every foreign company and investor should know before doing business in the Kingdom. I detail my experiences in KSA and do a deep dive into the past projects of Alwaleed bin Talal (Kingdom Holding), his son Khaled Alwaleed and others. You can get more information at alwaleedkhaledmohammedbook.com.