In February 2017, I chaperoned 20 business students from Peking University to meet Warren Buffett in Omaha. It turned out to be a once-in-a-lifetime trip, an investment pilgrimage of sorts.
In 4 articles, I document what happened and what we learned. I have included a lot of detail, especially on the Berkshire companies we visited and on Warren's comments. So this is a pretty long account. This article is Part 3 (Part 1 is here and Part 2 is here)
Part 3: Lunch with Warren
After the 2.5 hour Q&A at Anthony's Steak House, we got a huge surprise. Warren came over to the Peking University table and had lunch with us. Nobody saw this coming. He spent the next 1.5 hours answering virtually every question the PKU students had. And we made sure every student got to chat with him personally. Everyone was pretty stunned.
As for me, I found myself sitting next to Warren Buffett for a couple hours, someone I had studied for a decade. I first knew something was going on when his assistant walked over and put a Cherry Coke at the empty reserved place next to me. I immediately tried to recall how much the last auction to have lunch with Warren Buffett had gone for (note: it was $3.4M).
So Warren came over and sat down (and immediately started drinking his Cherry Coke). I believe his first comment was mentioning that there will soon be Cherry Coke in China. I pointed out that you can actually already get it through other means (as a rule, if Chinese consumers want something, they get it one way or another.) I then asked if he was aware that the Dairy Queen in China uses him in its promotions. If you go to a Dairy Queen at a mall in Beijing, it will have his picture on the side (does this happen in any other country?). He was aware of that and mentioned that the Green Tea Blizzard is really popular (true, it's pretty awesome).
But he was clearly here to talk with the students from China (not a foreign professor) so I shut up (for a while) and began trying to push as many students in front of him as possible. This turned out to be unnecessary as they all did that themselves. Not surprising at all. My students are basically unstoppable.
Below are my notes from the conversations he had with the table:
He said he has never sold a share of Berkshire stock. And that he had never really benefited financially from building Berkshire. That was a real surprise. He has taken a basic salary and clearly has some personal wealth (which he has been investing and compounding). But his ownership in $400B Berkshire Hathaway never actually came to him. He created it and now this great wealth is going entirely to others. Note: One of the students found an older interview where he said lived on about $100k per year.
He joked that 25% of his calories come from Coca-Cola.
He pulled a gold card out of his wallet that is a lifetime free lunch card for McDonalds. It specifies that it only works in Omaha. I suggested he should try to use it elsewhere and see if they call him on it.
He said Cherry Coke is coming to China and his face will be on the can. I found he really likes talking about his companies in China.
He has an unbelievable memory for numbers and facts. He can recite prices and the dates going back 30 years. When he told the story of meeting Bill Gates, he mentioned the specific month and day in 1991 it happened. I think he is actually a lot smarter than he lets on. I asked him how he could remember so much yet people say he doesn't know the color of his office walls. Isn't that an odd combination? He said it was because he was just oblivious to those things.
I asked about healthcare and if he was interested in it, since Berkshire had invested in Devita healthcare. He says he can't predict healthcare. I said that's why I like it. Because lots of smart people cannot predict it. That got a smile and a "good idea".
He said he had been looking at insurance businesses in China.
He says Jorge Lemann (3G Capital) is a great guy. He wished he had started investing with him earlier. He knew him from being on a board with him and has stayed at his house. I asked if 3G was going to take-over Coca Cola. He basically said no. Note: this was the same day that 3G / Kraft Heinz made their take-over offer for Unilever.
I asked him if he had read Warren Buffett Invests like a Girl. He said he had not. There are too many books written about him to follow them.
He said he never stops thinking about investing.
He said his sisters were just as smart as him. But society expected different things from them when they were growing up.
He said he wants China businesses. He brought this up multiple times. If any of us had a China business, he would be on the plane the next day. However, he also said Charlie Munger is much more into China than he is. I mentioned that Li Lu / Himalaya Capital teaches at Peking Univerity, which he didn't know.
I said we study his Petrochina and BYD investments at Peking University. One of the questions we discuss about Petrochina is why he sold so fast, which seemed uncharacteristic for Berkshire. He said it was entirely about valuation. It had gone from $35B to +$250B. He also said he found that company himself, just by reading the annual report. He decided it was very undervalued. And as 90% is owned by the Chinese government he bought 15% of the 10% that trades in Hong Kong.
I asked about doing a valuation class, like he suggested. He said to focus it on Aesop and the "bird in the bush" idea. It's about knowing a business well enough that you can predict how many birds will be in the bush. And when they will appear.
He said he would have been a failure as a person without his wife. He would not be this Buffet if he had not married her. She was 19 when he married her. She did 95% of the work in raising their kids.
During the lunch, he made a clear effort to talk to the women at the table. Both about business and about how to combine family and career. When he first got to the table, we noticed that he was sitting near mostly men and so we moved people around as he sat down. He noticed this and made an noticeable effort to talk to everyone during the lunch, but especially the women. A factoid from today's news: China has more self-made women billionaires than any other country.
He told me he followed an inner scorecard. Something he learned from his father.
I asked him about Rose Blumkin and whether he knew what percent of Berkshire companies were founded or run by immigrants. He said no but it was an interesting question.
He liked the question a PKU student asked about money and how he sees wealth now versus when he started. His answer to this is in Part 2.
He considers his optimism as something that comes from analysis. Everyone in the room is richer than the world's wealthiest person when he was born in 1930.
Overall, between the Q&A and lunch, he talked for 4 hours straight without a break. It was pretty amazing. The students at our table pretty much ran out of questions. I have tried to recall everything and I think I got 90% of it in these posts.
After lunch, each student group got a picture with Warren (the only photo allowed) and Warren got back in his black Cadillac. The students were pretty stunned at this point. A couple took pictures with his Cherry Coke (mildly weird). One unnamed student took a bite of his food (definitely too weird).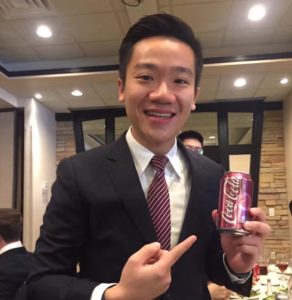 We all went outside and took some more photos with the giant cow on top of Anthony's. We had two more company visits to do but everyone was buzzing and chattering. Nobody had imagined we'd end up having lunch with him and talking for so long. Needless to say messages were going out on Chinese social media like crazy.
That's it for Part 3. In the final Part (coming tomorrow), I will detail our company visits to Borsheims and Oriental Trading Company. Part 4 is here.
Cheers, jeff
——–
I write (and speak) about digital China and Asia's latest tech trends.