Last week, I went to Shanghai for the annual Huawei Connect conference, which is awesome by the way.
Unlike the Mobile World Conference and other events, this is the one that goes deep into enterprise tools and digital transformation for companies. This means there is a lot of information about cloud. And now it means there is a lot about artificial intelligence. Especially this year with generative AI.
Overall, this is the event that really hits my priority topic: the digital and AI transformation of businesses. In China, Asia and increasingly internationally.
The event took place at the Shanghai Expo center. And it filled the +7 floors of ballrooms and event rooms with tons of seminars and keynotes. Pretty much every topic you can imagine for digital transformation (education, media, financial services). All this year it was all with the theme of "Accelerate Intelligence". Awesome.
Plus, the Shanghai Expo is a nice place to have coffee with a view of the Huangpu River. For us older China hands (we prefer the term "chinasaurs), this was where the Shanghai Expo was held in 2010. The entire riverfront was covered in pavilions constructed by each country. The event had massive visitor numbers and people would wait for hours to get into the best pavilions (China, Japan, Saudi Arabia). My assistant at the time got into all of the pavilions in one day by wearing a fake pregnancy belly and then walking to the front of each line.
I arrived early to hear the opening keynote, which was by rotating Chairwoman and CFO Sabrina Meng. The topic was Huawei's new "All Intelligence" strategy. I have 3 main takeaways.
Take-Away 1: Huawei's "All Intelligence" Strategy Is an Update to their "All Cloud" Strategy
Sabrina's talk was about intelligence capabilities for businesses. In fact, that's what the whole conference was about. But everyone was also hoping there would be some comments about the new Mate 60, which had just shocked the world (especially the US government) with its 7nm chips and its 5G capability. Sadly, this was not mentioned during the conference at all. It also wasn't mentioned at Huawei's big product day the following week. Oh well.
In her talk, Sabrina summed up Huawei's AI ambitions pretty clearly. They are doing a deep dive into foundational AI technologies – so they can provide AI models for all industries and scenarios. They are expanding their role as a provider of digital infrastructure to include intelligence capabilities. China is their core strategic market. But they also want to provide additional options for the rest of the world.
The pitch to businesses and governments is products and services that will enable to take advantages of the many new opportunities created by artificial intelligence. Sabrina described this as the emergence of an intelligent society. Just as the industrial age gave way to the information age. This is now giving way to the intelligent age. That's a huge opportunity that Huawei enables businesses to capture.
It's also necessary. She argued that change and disruption are now the norm for business (true). And the only way to deal with this is to increase innovation and reaction. Businesses must transform in digital and AI.
My take-away from this was this new "all intelligence" strategy was really an updating of their previous "all cloud" strategy.
Huawei has traditionally described its enterprise strategy as integrated, end-to-end solutions that go from edge device to connectivity to cloud / computing.
They make smartphones, tablets, IoT devices and other edge / end user devices.
They provide connectivity. Currently up to 5G but now expanding to 5.5G.
They increasingly provide cloud and other computing products and services.
This was part of the "All Cloud" strategy announced about 10 years ago. And they announced their goal of becoming one of the top 5 cloud companies globally about 5 years ago. It is a fairly impressive value proposition that few companies can match. And their integrated, end-to-end solutions are positioned as better solutions for certain sectors, such as transportation, financial services, government, and healthcare. Within this strategy, they often used the terms pervasive intelligence and ubiquitous connectivity.
So, the "All Intelligence" strategy discussed was really just the newest version of something we have been hearing for quite a few years. It's a natural evolution or upgrade, recognizing that AI capabilities are advancing at startling rates. In fact, they kind of added the world intelligent to a lot of stuff. They talked about:
Intelligent perception. This is an upgrade to the edge computing / devices they have long talked about. But these devices (such as cameras and microphones) are assuming a new role within intelligence capabilities. Now they are about gathering data, which is mostly unstructured. How data is gathered, ingested, and categorized is critical in AI.
Intelligent connectivity. Huge amounts of data are required in AI. And it needs to be standardized and shared to work. Collaboration on data is also key. For intelligent systems to work, data needs to flow upwards, and intention and action need to flow downward. So, this is a different type of connectivity than just ICT>
Intelligent computing. This is also very different. Large AI models requires tremendous amounts of computing power.
If we put those three together, we see the same end-to-end, integrated solutions picture as with "all cloud". But these components are different when it's for AI and intelligence. For this, businesses need big data, powerful LLMs and lots of computing power. Sabrina mentioned computing power as the biggest single constraint. It's not just the big general LLM models (GPT, LLaMA, Pangu) that need to be trained. Industry-specific models will also need to be trained (and frequently retrained).
Here is a fuzzy photo (sorry) showing the evolution from All Cloud to All Intelligence.
Take-Away 2: Huawei Wants to be the Provider of Foundational Technology for Intelligence
Intelligence / AI has a different tech stack than traditional software based on rules and mostly structured data. And the big new component in the tech stack are the foundational large language models. That means shifting from lots of smaller models to foundational large language models, such as GPT. And for Huawei that means Pangu.
Huawei has released their reference architecture for intelligent transformation. I'll go into Huawei's tech stack in detail in Part 2. And I'll talk about President of Enterprise David Wang's keynote on this.
My main take-away is that Huawei is staying in their traditional position as infrastructure that others build upon. Huawei traditionally provided telco connectivity. Which evolved into digital connectivity. Then devices and cloud. And now Huawei is really a digital infrastructure company. They don't do apps themselves. They don't really do use cases. They are in the business of providing infrastructure and tools (equipment, hardware, software) that others (mostly developers, businesses, and institutions) build on.
For intelligence capabilities, that means providing hardware and large language models that others can use and build on. This includes their own large language model Pangu as well as from other parties. It means leaning heavily into open source and compatibility. And it means working with partners to help develop industry-specific models. And from there into scenario-specific models.
Here is Sabrina's slide on that. Again, fuzzy (sorry). My point is really the focus on the bottom two levels:
Computing backbone. That includes their Ascend hardware and data centers.
Pangu plus third-party large models.
Sabrina mentioned four attributes of Huawei's intelligence solutions:
Open source
Synergistic (i.e., integrated from end device to cloud)
Agile (i.e., enabling self-directed development)
Trustworthy
Those all speak to their role as digital infrastructure provider that others build upon. And not to proprietary in-house models and capabilities.
Take Away 3: Expect Huawei to Make a Major Push in Ecosystems, Partnerships and Talent
This goes hand in hand with Take-Away 2. To become the foundational technology, lots of developers, businesses and institutions need to use and build with your tools. That means building ecosystems that work together. It means lots of partnerships.
This is really interesting for Huawei. Over the past ten years, the company has moved from hardware to software. In the process, it has become much more of an ecosystem builder, something it rarely did as an equipment manufacturer. The development of HarmonyOS is an interesting example of this. It is the first major challenge to the Android / iOS global duopoly.
Note the center of the following slide.
It shows industry and ecosystem alliances intertwined with talent alliances. That means lots of open-source software. Lots of integration with other models and software. Lots of partnerships. As mentioned, you can see Huawei doing this with HarmonyOS aggressively right now. I expect the same with Pangu.
It also means alliances with developers, students, and institutions. This is why so much of what Huawei is doing in software is open source. It's an interesting counterstrategy. They have become a hardware plus software company. And they appear to be mostly monetizing in hardware (hard to know). That' an interesting counterstrategy to AWS in cloud. And to OpenAI in LLMs.
Take-Away 3: Huawei is Giving the World an Alternative
Last point. Huawei has long wanted to in the top 5 globally for cloud. It says it has now achieved this (not sure but definitely close).
Now Huawei is aiming to lead in the foundational technologies of AI and cloud. And not just in China. Also, internationally. Note the language in the below slide.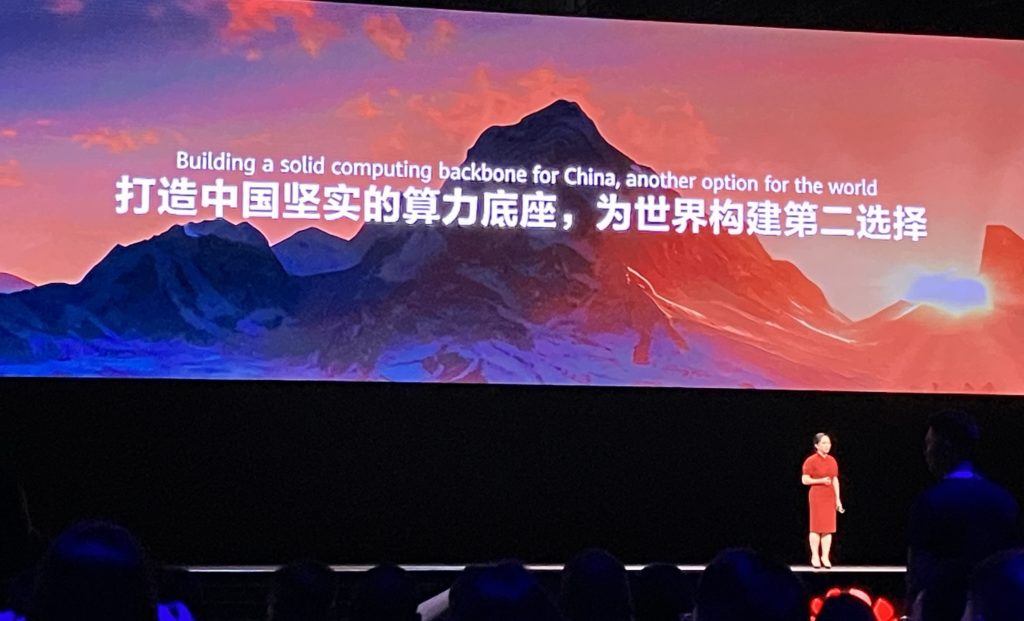 I thought that was interesting language. Their strategic market is China. They are going to become very large domestically in intelligence. Almost for sure.
But their global ambition in intelligence is described as providing an alternative. That could be a pretty compelling argument for lots of geographies, such as SE Asia. Most companies are going multi-cloud. They don't want to be dependent on one cloud provider. And much of Asia and some other markets are using capabilities from both the US and China. We should see a similar pattern for intelligence. Businesses in many geographies will work with multiple providers and from both China and the US.
Anyways, my take-away is they are definitely going global. We already see Huawei Enterprise and Cloud moving fast in Asia. I expect intelligence to be the same.
***
That's it for Part 1. In Part 2, I'll go into the intelligence tech stack in detail.
Cheers, Jeff
———
Related articles:
From the Concept Library, concepts for this article are:
Artificial Intelligence
Cloud
From the Company Library, companies for this article are:
———-
I write, speak and consult about how to win (and not lose) in digital strategy and transformation.
I am the founder of TechMoat Consulting, a boutique consulting firm that helps retailers, brands, and technology companies exploit digital change to grow faster, innovate better and build digital moats. Get in touch here.
My book series Moats and Marathons is one-of-a-kind framework for building and measuring competitive advantages in digital businesses.
This content (articles, podcasts, website info) is not investment, legal or tax advice. The information and opinions from me and any guests may be incorrect. The numbers and information may be wrong. The views expressed may no longer be relevant or accurate. This is not investment advice. Investing is risky. Do your own research.