I'm on a flight home from a visit to JD's new E-Space in Chongqing. It was quite cool and I've been mulling over its implications – for new retail, for ecommerce and for online-merge-offline in China. Here is my current thinking.
But first…consider joining Tech Strategy, my podcast and subscription newsletter on the strategies of the best tech companies.
Take-Away #1: Chongqing is awesome.
I really like going to Chongqing. It's a fascinating place.
It's a massive city. It's China's most populous municipality, but most people outside of China have never heard of it. It has about 30M people and is roughly the size of Austria.
It's one of the major city clusters in the geographic center of China. Like Chengdu, it has a commanding position in the economy of middle China.
It's sort of the gateway to Inland China, which is the 50% of China nobody talks much about. When companies like Ford move their production facilities to Chongqing, it's like a big move West.
The city has an interesting position on the Yangtze river. It's downstream from the three gorges dam, one of China's stunningly large water projects (China is a very dry country so the most ambitious government projects are usually in water). It's also upstream from many of the factories that ship products down the Yangtze, through Yangshan deep water port near Shanghai and out into the world. When people talk about China being the factory of the world, a lot of that is stuff being shipped down the Yangtze.
And the geography of Chongqing is stunning. It's a mess of hills, bridges, and the intersection of the Yangtze and Jialing rivers. The climte is sub-tropical so there is lots of rain and greenery. But it's also mountainous. Skyscrapers stick out of the sides of green hills. Getting around town means lots of curvy roads, bridges and tunnels.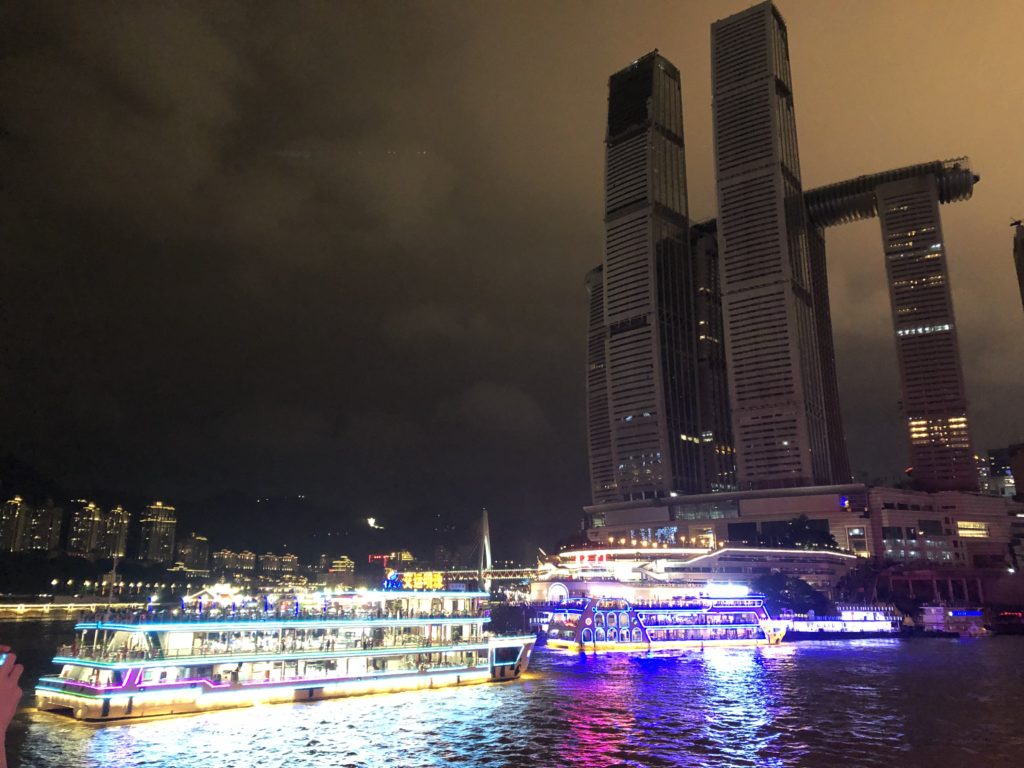 Anyways, I'm always happy to go to Chongqing. I thought it was an interesting choice for JD's first e-space project.
Take-Away #2: E-Space 1.0 is a "Destination Site" for Home Appliances, Consumer Electronics and Computers.
Ella Kidron (JD media relations) and I headed to the north of Chongqing where the new E-Space is located. It's a 50,000 sqm retail space and is located away from the crowded downtown areas. That's interesting. It means the E-Space is more of a customer destination, a place customers have to be drawn to. That is a different strategy than going after a high traffic and high visibility location – like being in a downtown shopping center or walking street.
I initially thought the E-Space was going to be a third location in urban life. Somewhere you just go to as part of life in the city – as opposed to somewhere you travel to specifically for purchases. I got this wrong. It's a destination site.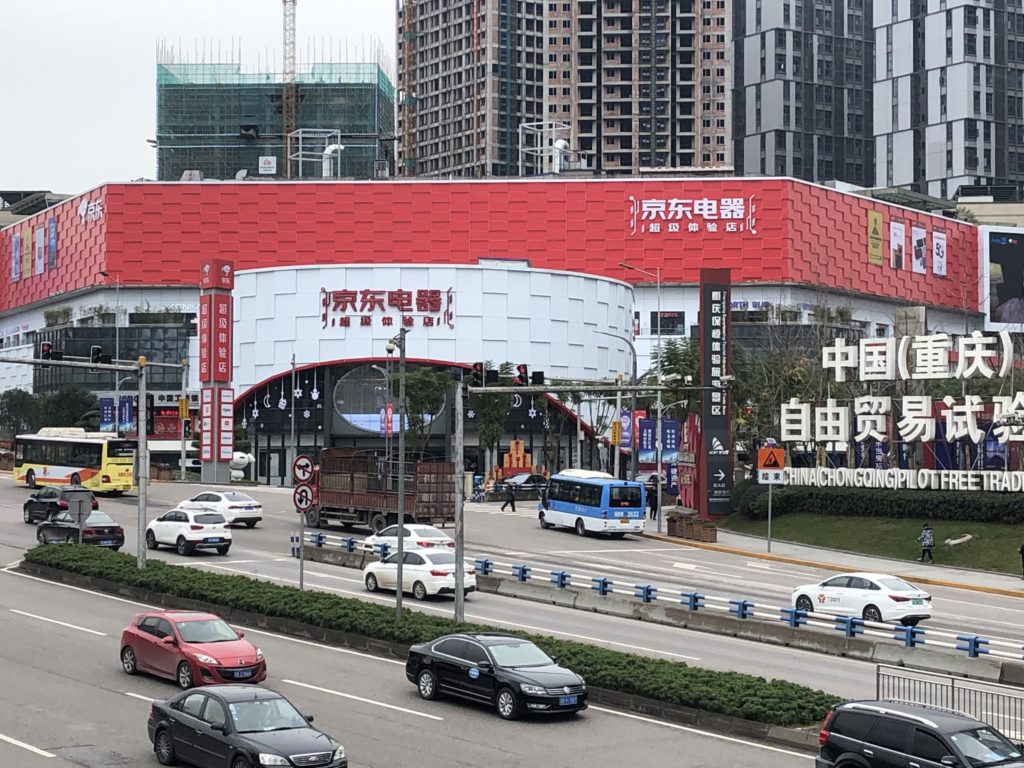 Version 1.0 of the store is also mostly about home appliances, consumer electronics and computers. There are some smaller spaces for make-up, coffee, drones, wine and others things – but it is mostly about the major categories right now. Whether this is the long-term plan or just their first step is not clear to me.
Take-Away #3: JD Is More Ambitious Than Alibaba in Department Stores.
When I visited Alibaba's new retail version of a department store (i.e., Intime) in Hangzhou, I noted that they are mainly pulling three big levers at this time (see my previous article How Alibaba and Intime Are Pioneering a New Digital Lifestyle in China.) They have:
Moved all the customers to a mobile app. This creates an ongoing two-way relationship with consumers in the local area.
Launched on-demand delivery. This effectively extends the radius of the store to 2-3 km.
They are digitizing operations. They are using the various Alibaba services like Cainiao and Alipay. They are using data to choose inventory. This is all about increasing efficiency (i.e., no cashiers cause staff use mobile phones with payment)
Overall, I thought Intime 1.0 was mostly a digital upgrade to an existing department store than anything else. But it wasn't a big change in the consumer experience within the store. It pretty much looks like a traditional department store.
I think the JD's E-Space is a bolder strategy. It is pulling the same three levers as well.
Everything is ordered through a mobile app, in this case a WeChat mini-program.
Everything can be delivered within 24 hours locally.
Operations are somewhat digitized. Prices in the store are sync'd with online prices. Communications and marketing and via smartphones. There are no cashiers.
But the store is also focused on dramatically improving the consumer and brand experience. They are attempting to reinvent the experience – with a focus on "experiential" retail.
Take-Away #4: "Experiential" Retail Means Consumers Can Try Literally Anything.
Walking around the store with the local retail head, the thing that really got my attention was that you can try anything. Yes, anything. You try all the blenders and microwaves. You can practice taking pictures with the new Canon DSLR cameras.
You can try out the Dyson vacuums on carpet and wood floors.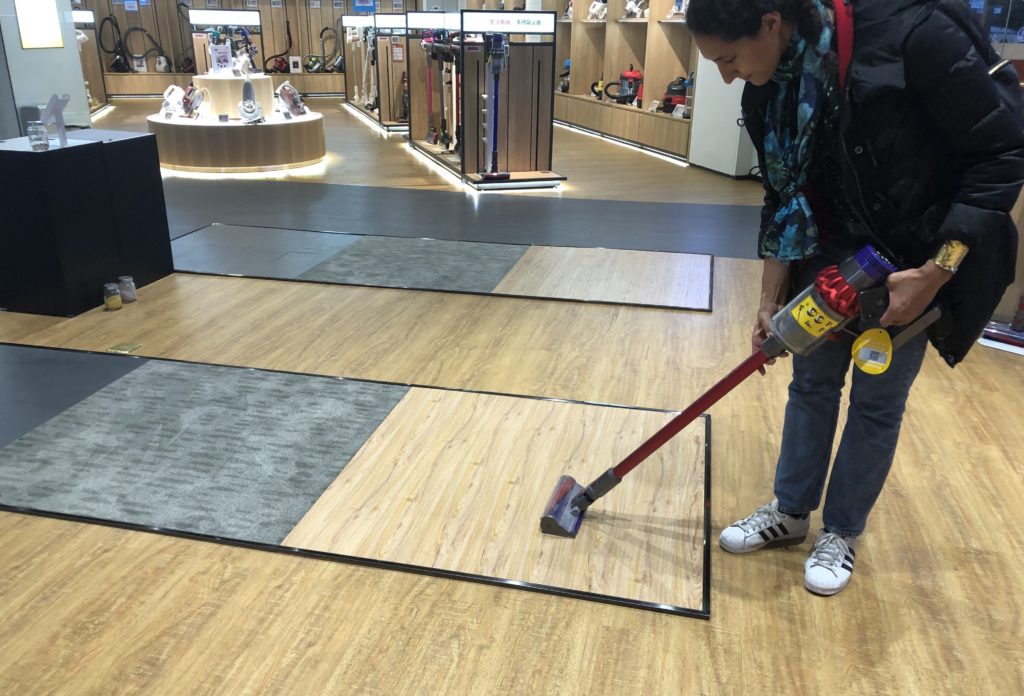 You can make coffee with the Nestle machines. You can even drive the Ninebot karts around the store. And not just in the Ninebot area. I started driving all over the store.
You can wash your clothes in the washing machines (they are connected to water. See below). Not sure who would do that really.
You can even fly the drones in the store. But only within the netted areas, which seems reasonable.
So when JD says this "experiential" retail, they are being literal. According to the retail head, you can try out absolutely everything in the store.
But does experiential retail significantly improve the consumer experience? Does it improve the merchant / brand experience and capabilities?
That's kind of the key question from my visit.
Digital Superpowers and Where Experiential Retail Matters
In my Asia Tech Class , I argue that digital tools can enable new use cases, products, services and sometimes business models. Often this is not a big deal (nobody needs a smart toaster). And most times these are just tech upgrades (ATMs are good but didn't make other banks obsolete). But every now and then, a digital tool can be a real game changer. Digital tools create sometimes new use cases, products, services or business models that make existing offerings obsolete. It's like you are fighting a competitor and they suddenly get a superpower. And I keep a list of 8 digital superpowers to watch out for. One of these, which is what I was looking for in the E-Space, is when the user experience dramatically improves.
Can experiential retail dramatically improve the experience such that more traditional department stores are in trouble and need to adapt quickly? Here's a graphic from McKinsey & Co that argues that experience is an important way to differentiate.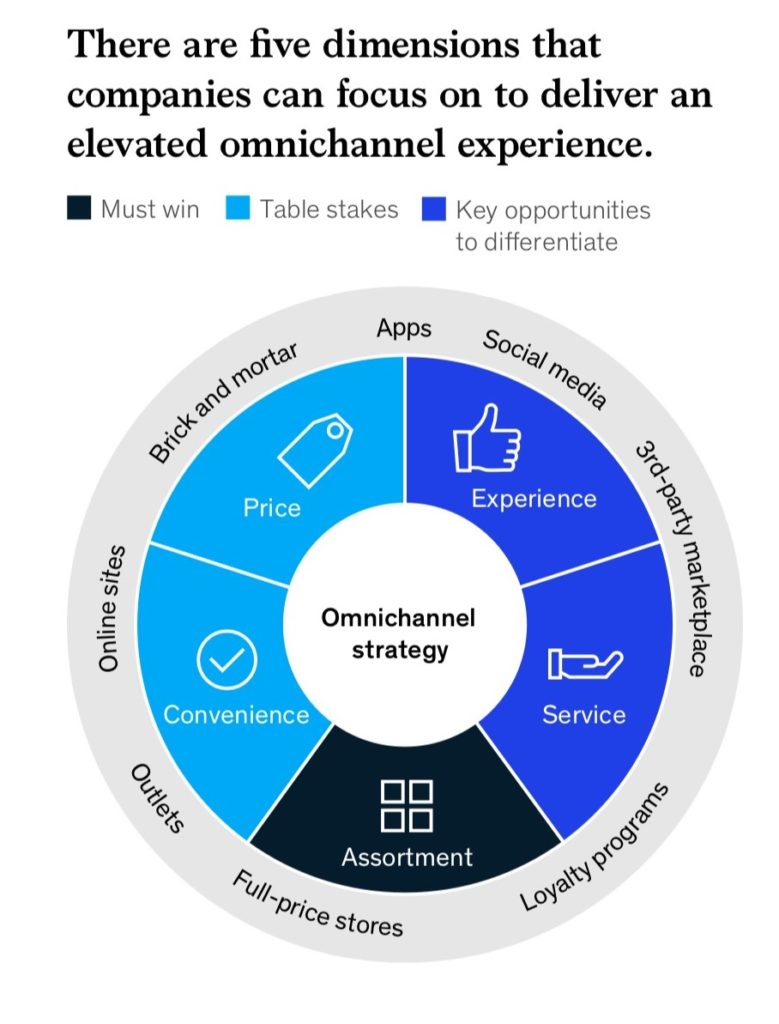 I left the E-Space with a list of 6 situations that could be interesting in this regard. Which is what I will detail in Part 2.
Thanks for reading, jeff
———-
I write, speak and consult about how to win (and not lose) in digital strategy and transformation.
I am the founder of TechMoat Consulting, a boutique consulting firm that helps retailers, brands, and technology companies exploit digital change to grow faster, innovate better and build digital moats. Get in touch here.
My book series Moats and Marathons is one-of-a-kind framework for building and measuring competitive advantages in digital businesses.
Note: This content (articles, podcasts, website info) is not investment advice. The information and opinions from me and any guests may be incorrect. The numbers and information may be wrong. The views expressed may no longer be relevant or accurate. Investing is risky. Do your own research.